Oklahoma QB Mayfield takes blame for loss to Houston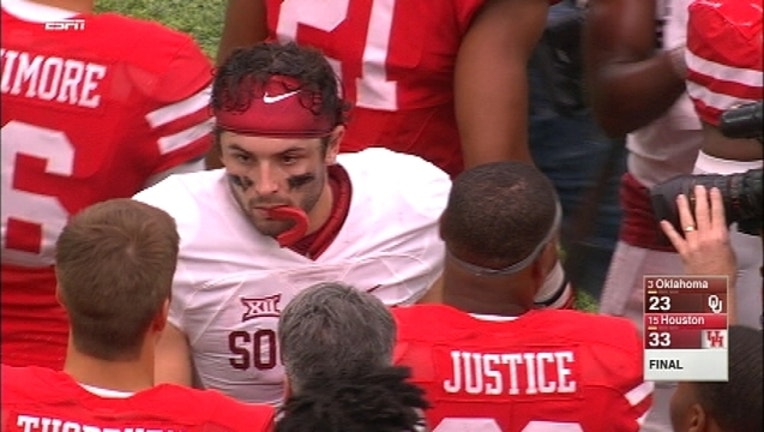 article
NORMAN, Okla. (AP) — Oklahoma quarterback Baker Mayfield entered the season high on many Heisman Trophy watch lists.
After week one, he'd settle for just winning a game.
Mayfield put up big numbers in the season opener against Houston, but the third-ranked Sooners lost 33-23 to the 15th-ranked Cougars last Saturday. Mayfield took much of the blame and vowed to improve before Oklahoma opens its home slate Saturday against Louisiana-Monroe.
"I've just got to be better," he said. "I know what to expect of myself, and knowing how the team reacts to my play, it's even more important."
Though Mayfield passed for 323 yards and two touchdowns, he was sacked five times and he missed open receivers at times and forced throws in other cases.
Oklahoma coach Bob Stoops said Mayfield got greedy.
"I think probably pressing trying to make the big play instead of the simple play and the obvious play," Stoops said of some of the miscues.
Mayfield went 9 for 9 for 162 yards and a touchdown in the first half and wasn't sacked. In the second half, he connected on 13 of 24 passes for 161 yards and a score, but he was sacked five times and he lost a fumble.
"I didn't get the ball out as quick as I wanted," Mayfield said of his second-half effort. "They brought a couple different blitzes. Missed some holes where they left people open. Just decision making, knowing when they're going to blitz and what kind of gaps they're going to leave in their defense __ you've got to take advantage of it."
It's a challenge for Mayfield to rein in his tendency to go for the big play. With his strong arm and ability to improvise, he believes he can make something big out of nothing every time.
"That's not how the offense operates," Stoops said. "We had guys in certain spots that would have been easier throws and would have helped us."
It was Mayfield's first time in a pressure situation at Oklahoma without Sterling Shepard, his star receiver and security blanket last season. Mayfield at times looked hesitant to throw, and in one instance, he was sacked on a fourth-and-16 in the fourth quarter.
"A guy like Sterling always stepped up in big moments, so yeah, it hurts to lose him, but we have guys that should be able to step up," Mayfield said. "I've just got to get the ball out of my hands. At certain points, there were people open. I've just got to get the ball out of my hands instead of scrambling around a little too much or just not taking a chance on them __ trusting what they're doing and getting it in their hands."
On the next drive, Mayfield trusted Mark Andrews, and the tight end made a spectacular grab in the end zone for a 25-yard touchdown. Andrews' catch ended an 8-play, 80-yard drive.
"It was kind of more of getting back to what we did in the first half — tempo and doing what we do best, getting the ball out of my hand, not taking any sacks, not doing anything dumb," Mayfield said. "Just moving the chains and keeping it moving."
___
AP college football site: http://collegefootball.ap.org
___
Follow Cliff Brunt on Twitter @CliffBruntAP .