Ohtani RBI and pickoff in Angels' 7-2 win for sweep at Texas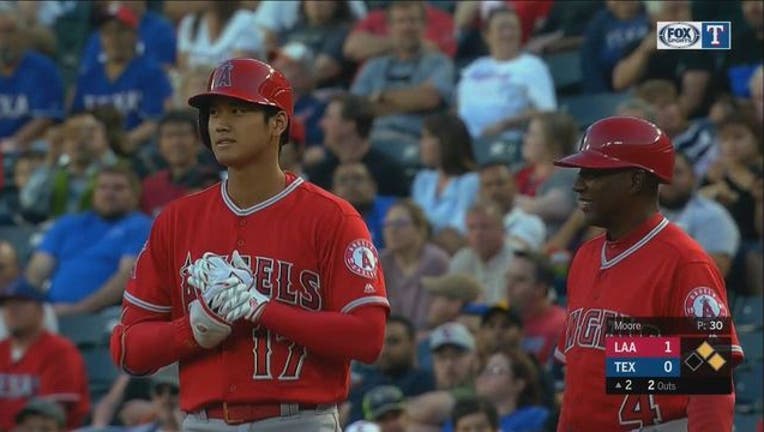 article
ARLINGTON, Texas (AP) - Shohei Ohtani never saw such a quick pickoff move by Chris Martin when they were teammates in Japan.
Ohtani had an RBI single in the second inning that put the Los Angeles Angels ahead to stay, but was picked off first base in the eighth by his former teammate in a 7-2 victory Wednesday night over the Texas Rangers.
"It wasn't like really a funny moment or anything," Ohtani said through his interpreter. "I've never seen him pick off that fast with the Fighters, so that surprised me, but something that I know for the next time I'm on base against him."
Ohtani was in the lineup for the first time since homering in each of his three starts as designated hitter last week. The 23-year-old rookie two-way sensation put the Angels up 1-0 in the second with his opposite-field single and finished 1 for 3 with a walk.
The Rangers were swept in the three-game series, became the first team in the majors with 10 losses and now will be without their shortstop and No. 3 hitter.
Elvis Andrus has a broken right elbow after being hit by a pitch in the ninth inning. Andrus was clearly in pain when he dropped to the ground.
Dr. Keith Meister, the team's physician, did initial X-rays and an examination at the stadium, and the team said those indicated the probability of a fracture. Andrus' elbow was put in a splint and he will be examined further Thursday, the team's first off day this season.
"Listen, you don't replace guys like this. It's such a huge part of the lineup and on the field defensively," manager Jeff Banister said of Andrus, who at 29 is in his 10th season as their starting shortstop.
Kole Calhoun had three hits, including a two-run single, and scored twice as the Angels improved to 10-3 for the first time since 1982. They are alone atop the AL West after defending World Series champion Houston lost 9-8 earlier Wednesday in Minnesota.
Jaime Barria (1-0) allowed one hit, a home run, over five innings to win his major league debut. The 21-year-old right-hander struck out three, walked three and hit a batter.
Matt Moore (0-3) gave up three runs while allowing seven hits and three walks in five innings as the Rangers lost their fourth straight game.
After Ohtani drew a leadoff walk in the eighth, Martin came on as the fourth Texas pitcher. The two played together with the Hokkaido Nippon Ham Fighters the last two seasons.
Ohtani was called out on an attempted pickoff by Martin, but umpire Bill Miller's call was overturned on a replay challenge. Martin then got Ohtani out on another move to first.
"He got caught in between. ... They almost picked him off the one time, and then the second time picked him off," manager Mike Scioscia said. "I guess he forget (Martin) had that move."
It was Ohtani's first DH start since pitching seven scoreless innings with 12 strikeouts against Oakland on Sunday to improve to 2-0 on the mound. He grounded out as a pinch-hitter Tuesday.
In six games with an at-bat, Ohtani is hitting .364 with three homers and eight RBIs. He also took a called third strike Wednesday and was retired leading off the sixth when reliever Matt Bush snagged a comeback liner.
"There was one at-bat with runner on third and less than two outs and I struck out, couldn't drive that run in," Ohtani said. "So that's an at-bat I need to reflect and think about and get better for next at-bat in that situation."
TRAINER'S ROOM
Angels: RHP Matt Shoemaker will continue to undergo treatment without throwing after tests this week showed no new findings of nerve irritation. Shoemaker felt discomfort in his forearm in first start of the season March 31. Shoemaker missed half of last season because of a forearm issue.
YOUNG ANGELS
At 21 years, 267 days old, Barria was the youngest Angels player to make his big league debut since Mike Trout at 19 years, 335 days on July 8, 2011. Barria was optioned to Triple-A Salt Lake City after the game.
OTHER RUNS
Ryan Rua led off the Texas third with his first homer. ... Rene Rivera immediately followed Ohtani in the second with another RBI single. Jefry Marte and Zack Cozart both had run-scoring triples.
UP NEXT
Angels: After completing their first series sweep of the season, the Angels open a four-game series at Kansas City on Thursday night.
Rangers: Texas is the last team in the majors to get a day off after playing 14 consecutive days to start the season. The Rangers will be off Thursday before opening a three-game series Friday night against the Astros.
___
More AP baseball: https://apnews.com/tag/MLBbaseball