No. 8 Texas Tech makes history at home, 72-71 over No. 2 WVU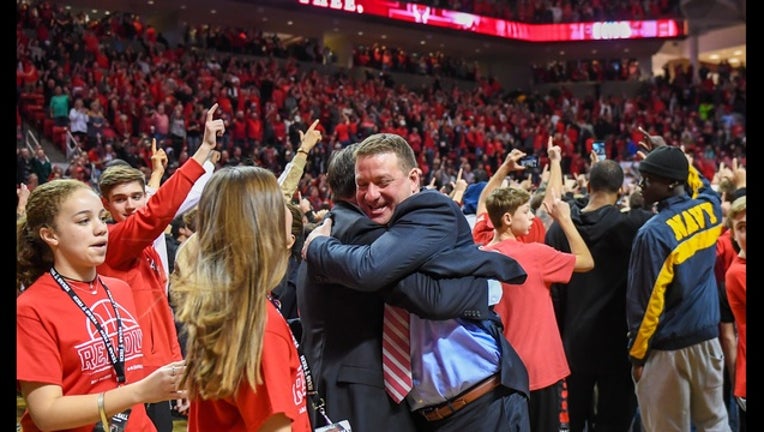 LUBBOCK, Texas (AP) - Freshman Zhaire Smith cradled the inbounds pass as the final eight-tenths of a second ticked off the clock and the frenzied Texas Tech fans rushed the court.
The Red Raiders will savor this moment, even if the rough-and-tumble Big 12 is just getting started.
Keenan Evans scored 20 points, Brandone Francis had a career-high 17 and No. 8 Texas Tech won the first-ever Top 10 matchup on its home court, beating second-ranked West Virginia 72-71 on Saturday.
The Mountaineers (15-2, 4-1 Big 12) couldn't hold an 11-point lead in the final 13 minutes and had their nation-leading 15-game winning streak stopped.
They were the last team in the Big 12 with a perfect league record. Now Texas Tech (15-2, 4-1) is part of a four-way tie atop arguably the nation's toughest conference - with 13 league games to go.
"I've got a great friend who this week told me, 'Prince today, frog tomorrow,'" Texas Tech coach Chris Beard said. "And for some reason, in the heat of the game - you might think about what I wonder in these moments - I kept on thinking about that.
"I know we're going to be a frog again at some point. It's the Big 12. But I want to be a prince one more day."
Jevon Carter scored 28 points - one off his career high - for West Virginia, which was denied its first 5-0 start in its sixth season in the Big 12. Esa Ahmad added 18 in his season debut following an NCAA academic suspension.
Sagaba Konate had a game-high 11 rebounds, but one of his misses on an ill-advised long jumper signified West Virginia's game for coach Bob Huggins.
"We just had guys that were really out of character," Huggins said. "We got our center shooting whatever that was, a 3-point shot from the top of the key. We just did a lot of things out of character from what we normally do."
Evans hit a lean-in jumper to give the Red Raiders a four-point lead in the final minute. Carter made a 3 for the final margin with less than a second to go, and the Mountaineers couldn't foul Smith before the buzzer sounded, prompting a wild celebration.
"It was amazing," Francis said. "It feels good to play in that kind of atmosphere out there. Thanks for having our back throughout the entire game. It was great you had our back."
It was the first time Texas Tech won a Top 10 matchup. Two of the three in school history were this week, starting with a 75-65 loss to No. 9 Oklahoma on Tuesday.
Smith's alley-oop dunk from fellow freshman Jarrett Culver sparked a 12-2 run to help the Red Raiders wipe out most of the 11-point deficit. Smith had nine points and eight rebounds.
BIG PICTURE
West Virginia: After struggling in a home win over Baylor earlier this week in the first game with their highest ranking since Jerry West's senior season in December 1959, the Mountaineers couldn't keep the raucous crowd out of it when it looked like they were in control.
Texas Tech: The Red Raiders may have found another key contributor in Francis, a junior transfer from Florida who sat out last season. His only previous double-digit game was 10 in a 34-point blowout over Savannah State. Francis seemed to relish the moment, staring down his teammates on the bench after each big shot in the second half. He was 5 of 6 from the field.
ZACH SMITH OUT
Beard said senior forward Zach Smith, who didn't play, has a broken foot and his status for the rest of the season is uncertain. Smith has been a starter and team leader. He averages 6.5 points per game and started the day tied for second on the team at 3.9 rebounds per game.
AHMAD'S RETURN
Ahmad's impact was immediate after coming off the bench early in the first half. While the numbers weren't big early, he finished 6 of 12 from the field, hit a couple of 3s and added six rebounds.
BACK AND FORTH
There were three lead changes and three ties late in the second half before Niem Stevenson hit two free throws to put the Red Raiders in front for good with 2:07 remaining. Evans was 8 of 9 from the line and Stevenson made all six of his free throws as Texas Tech went 24 of 28.
UP NEXT
West Virginia: No. 12 Kansas at home on Monday.
Texas Tech: At Texas on Wednesday.
___
More AP college basketball: http://collegebasketball.ap.org and http://twitter.com/AP_Top25