No. 8 seed Oklahoma State beats Texas to win Big 12 Tourney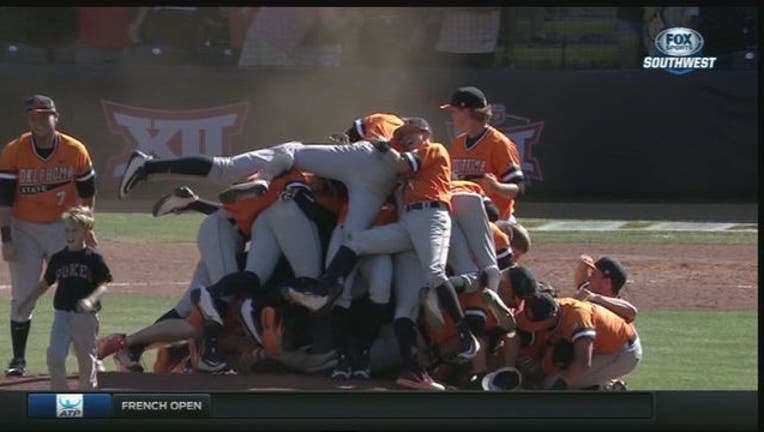 OKLAHOMA CITY (AP) - Ryan Cash had four hits, and Oklahoma State became the first No. 8 seed to win the Big 12 Tournament with a 6-5 victory over Texas on Sunday.
The Cowboys (30-25) had to win their final two regular-season games against Oklahoma just to qualify for the tournament. They made it, then won all four games in Oklahoma City to earn an automatic regional berth.
Bryce Fischer had three hits, including a solo homer, and Garrett McCain had three hits and knocked in three runs for Oklahoma State. Blake Battenfield (5-4) got the win for 1 1/3 innings of work in relief of starter C.J. Varela.
Connor Mayes (1-2) took the loss for No. 6 seed Texas (37-22). He gave up three runs in 1/3 of an inning.
Kacy Clemens and Bret Boswell each had three hits for the Longhorns. Texas had won its first five title-game appearances.
The game was played at Chickasaw Bricktown Ballpark, about an hour's drive south of Oklahoma State's campus in Stillwater. Its fans turned it into a virtual home game.
The Longhorns led 3-1 when they pulled starter Morgan Cooper after three solid innings. The first-team All-Big 12 pitcher allowed one run on three hits and struck out five before he was replaced.
Oklahoma State took advantage in the fourth. Cash singled with the bases loaded to knock in two runs and tie the game at 3, then McCain's single knocked in Cameron Dobbs to give Oklahoma State its first lead.
The Cowboys added a run in the sixth when McCain doubled to score Cash, and Fischer's blast in the seventh made it 6-3.
Texas scored twice in the bottom of the seventh to trim Oklahoma State's lead to 6-5, but Carson Teel pitched two scoreless innings to earn the save.
___
Follow Cliff Brunt on Twitter: www.twitter.com/CliffBruntAP .