No. 6 Cincinnati routs short-handed SMU for 16th win in row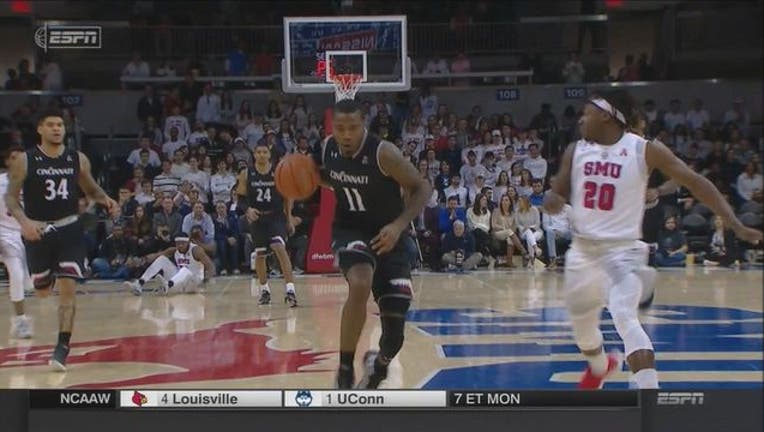 DALLAS (AP) - Kyle Washington had 17 points with eight rebounds and No. 6 Cincinnati remained undefeated in American Athletic Conference play, stretching its overall winning streak to 16 games with a 76-51 victory over short-handed SMU on Sunday.
The Bearcats (23-2, 12-0 AAC) missed their first seven shots in the game, but were down only 5-2 when they finally scored just more than 3 minutes in on a dunk by Nysier Brooks. That started a 9-0 run that put them ahead to stay.
Jarron Cumberland had 12 points and Gary Clark 11 for Cincinnati, which finished 44 percent (28 of 63) overall from the field. Washington was 8-of-12 shooting.
Jimmy Whitt and Jahmal McMurray each had 19 points for SMU, which has lost three straight and seven of 10. It was still only the second loss for the Mustangs in 40 home games coached by Tim Jankovich.
This was the most-lopsided loss by SMU (15-10, 5-7) in its five seasons as an AAC member. The previous low mark was a 76-56 loss at Cincinnati just a month ago, when the Mustangs still had a full roster.
SMU was down to six available scholarship players for the rematch with preseason AAC player of the year Shake Milton missing his third straight game because of an injured right hand. Freshman forward Ethan Chargois sat out because of an ankle injury. Jarrey Foster (left knee) and Everett Ray (left foot) were already sidelined by season-ending injuries.
Cincinnati hit 11 of 13 shots during a stretch after halftime stretching its 11-point halftime lead to 62-27 midway through the second half.
BIG PICTURE
Cincinnati: The Bearcats now have their longest winning streak in coach Mick Cronin's 12 seasons. Cincinnati got to SMU last February also with a 22-2 record and a 15-game winning streak. The Mustangs won the matchup of ranked teams 60-51, but Cincinnati still went on a 30-win season.
SMU: Despite three wins over teams ranked 14th or better, the fade in conference play has been dramatic for a team already mathematically eliminated from a chance to defend its AAC title. Getting back to the NCAA Tournament for the second year in a row has also become more of a longshot each day.
UP NEXT
Cincinnati plays Thursday at Houston, which 80-70 to the Bearcats on Jan. 31. They have three straight home games after that.
SMU is home against Memphis and looking for its seventh straight win in that series.
___
More AP college basketball: https://collegebasketball.ap.org and https://twitter.com/AP_Top25