No. 4 Baylor plenty of offense in 56-21 opener at SMU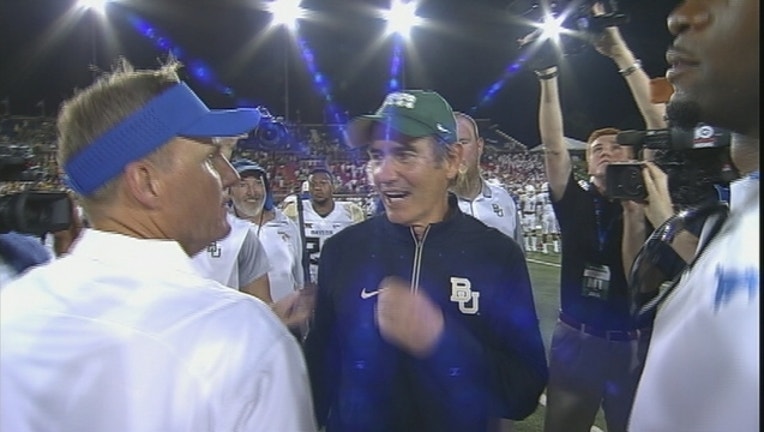 article
DALLAS (AP) — Seth Russell threw for 376 yards with three of his five touchdowns to Jay Lee, and the new starting quarterback also ran for a score as fourth-ranked Baylor finally got back on the field with 56-21 victory at SMU on Friday night.
The Bears got to start fresh after the long, long offseason that followed their playoff snub despite a second consecutive Big 12 Conference title, and then blowing a 20-point lead in the fourth quarter in a Cotton Bowl loss to Michigan State.
Russell succeeded two-year starter Bryce Petty and the Bears kept rolling on offense, as has become usual under eighth-season coach Art Briles. Russell completed 15 of 30 passes and had a 4-yard TD run as Baylor had 723 total yards. They averaged 582 yards and 48 points a game last season.
SMU played its first game for new coach Chad Morris, Clemson's offensive coordinator the past four seasons.
The Mustangs, who scored only 12 total points their first four games last season including a 45-0 loss at Baylor, had 21 points in the first 1 1-2 quarters. They were still in the game until two impressive TD catches by Lee in the third quarter.
Russell hit Corey Coleman for a 42-yard gain on the game's first play and Baylor got in the end zone on all four of its possessions in the first quarter. The Bears' first two drives each took less than a minute to cover 75 yards in four plays.
With dual-threat quarterback Matt Davis, the Mustangs immediately responded with touchdowns on their first two drives. Davis threw a 46-yard TD to Courtland Sutton on their first offensive play of the season, and they later connected on a 31-yard score.
Davis finished 16 of 23 passing for 166 yards with two touchdowns and two interceptions. He ran 24 times for 115 yards.
But with SMU at the 3 and within 28-21, Davis was sacked on the final play of the first half. The Mustangs were out of timeouts and couldn't get lined back up for another play.
Davis redshirted as a freshman in 2012 behind Johnny Manziel at Texas A&M, where he went after being recruited by then Clemson OC Morris. After one junior college season, Davis went to SMU and was the starter by the end of last season before Morris became his coach.
The opener came two days after Baylor hired a Philadelphia law firm to do an independent investigation into the university's handling of sexual assault complaints, including one that led to a conviction last month against former transfer Sam Ukwuachu. The defensive end never played a down for the Bears.
Coleman had five catches for 178 yards and KD Cannon caught three passes for 104 yards, each scoring a touchdown. Both were 1,000-yard receivers last season.
Baylor went ahead to stay when Russell hit Lee for a 7-yard TD to make it 21-14 with just under 4 minutes left in the first quarter. All three of Lee's catches went for scores.
In the third quarter, Lee had a 22-yard TD after he caught the ball near the 15, spun around a defender and stayed inbounds along the right sideline. On the next Baylor drive, Lee had a 41-yarder after making a back-shoulder catch at the 20 and shedding a defender before making it 42-21.
Baylor was without two All-Big 12 starters on defense. Big end Shawn Oakman and safety Orion Stewart were suspended for the opener for violation of unspecified team rules.