NFL teams finally get to see QB hopefuls at combine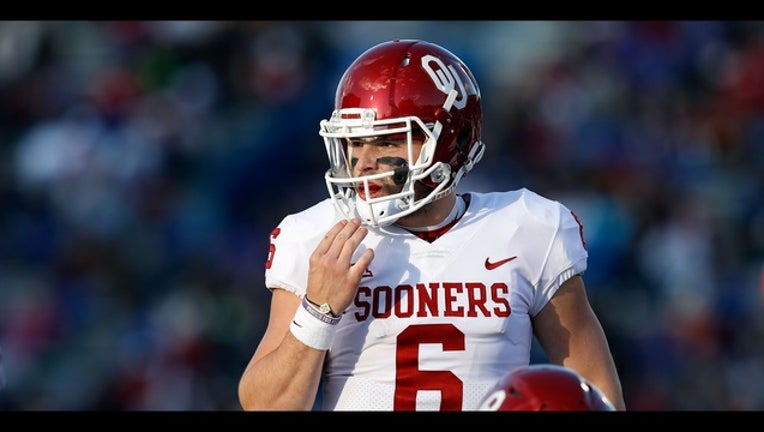 INDIANAPOLIS (AP) - This year's deep class of quarterbacks features as many as a half-dozen first-round NFL prospects full of hope, hype and hazard.
There's Oklahoma's Baker Mayfield , and questions about the Heisman winner's size and stature. A lot of teams would love UCLA's Josh Rosen for his skills and strength, but wonder if he's a good fit in the locker room and with their organization.
Wyoming's Josh Allen has enviable size, but faces questions about his regression last season. USC's Sam Darnold has to answer queries about his ball security and why he's not throwing at the NFL combine this weekend like the other prospects.
Louisville's Lamar Jackson , the 2016 Heisman winner, needs to prove he's a better pro prospect throwing the ball than catching it. And teams wonder if Oklahoma State's Mason Rudolph can transition to the pro offense after operating exclusively out of the shotgun.
No inquiry is out of bounds.
"Absolutely. They're investing a lot of money in these guys they're drafting, so they can ask any question," Mayfield said. "This whole process is about finding out what's wrong with you. It's pointing out flaws, seeing if they can look past them, seeing if they can work with it. So, anything they ask is fair game."
Teams are asking themselves whether these guys can be the next Carson Wentz, who ignited the Philadelphia Eagles' Super Bowl run in just his second season before getting hurt and rooting on Nick Foles from the sideline.
Or whether they're the next Paxton Lynch, the 2016 first-round flop whose inability to grasp the complexities of the pro game has Broncos GM John Elway once again among those searching for answers at the position.
Elway has found it difficult to land a franchise quarterback from the college ranks like he did in free agency with Peyton Manning six years ago. Elway could go after a veteran again in free agency such as Kirk Cousins. But the Broncos own the fifth pick in the draft and this group of quarterbacks is unusually deep and top-heavy.
"There is a possibility of some really good quarterbacks coming out of this draft," Elway said.
Maybe not like his own class in 1983, which produced three Hall of Famers in himself, Dan Marino and Jim Kelly, but this year's crop of quarterbacks is filled with intrigue and promise.
And plenty of questions.
Among them:
TALL ORDER
Is Mayfield too short? He measured in just over 6 feet tall with a hand size of 9¼ inches.
"Height doesn't matter," Mayfield insisted. "You see guys like Tyrod Taylor, (Drew) Brees, Russell Wilson. They've proven that it doesn't matter. If you want to say anything else, I've got three years of tape you can watch. I think I have fewer batted balls than all the other guys here, and I'm pretty sure I'm shorter than them, too."
Elway, for one, isn't concerned, about Mayfield's measurements, saying, "I think that (stigma) has been broken."
Nor is Elway turned off by Mayfield's crossing the line at times, such as when he grabbed his crotch and swore at the Kansas sideline after the Jayhawks wouldn't shake his hand last fall.
"A lot of times you get tied up in the emotions of the situation and where he is. I like to see a guy with that kind of passion," Elway said.
HOT WATER
Rosen's time in Westwood was defined as much by his proclivity for creating headlines away from the field.
A viral photo showed a hot tub he brought into his dorm room. Another photo showed Rosen playing golf and wearing a headband that disparaged then-presidential candidate Donald Trump.
Questions have arisen about how well Rosen will get along with his new teammates in the NFL, but two Bruins here at the combine vouched for their QB.
"I don't really have anything negative to say about him," said tackle Kolton Miller.
Neither does center Scott Quessenberry, who labeled as unfair the negative rap of Rosen "because of the type of guy that he is and the type of stand-up human being that he is, and the type of pro that he's going to be.
"He's a great dude, I love hanging around him and being with him, and whoever gets him is extremely lucky," Quessenberry said. "They're getting a once-in-a-millennium talent."
CATCH AND THROW
Some teams envision the dual-threat Jackson as a wide receiver even though he never caught a single pass at Louisville, where he threw for 9,043 yards and 69 touchdowns, ran for 4,132 yards and 50 TDs in 38 games.
"I thought I did a good job at quarterback, I thought I did," Jackson said with a chuckle Friday while dismissing the notion he'll run routes with receivers Saturday at Lucas Oil Stadium or even operate the wildcat as a pro.
"No sir. I'm a quarterback," he said.
While Darnold has chosen not to throw at the combine because he'd rather show off his arm with his own receivers at USC's upcoming pro day, Jackson said he'll be slinging it around Saturday but won't run the 40-yard dash or the other drills designed to measure quickness.
"Film speaks for itself as far as showing off my speed and showing I can make people miss," Jackson said. "I've just got to show off my arm - because that's where they're doubting me."
___
For more NFL coverage: http://www.pro32.ap.org and http://www.twitter.com/AP_NFL
___
Follow Arnie Melendrez Stapleton on Twitter: http://twitter.com/arniestapleton