NFL Draft preview: Offensive player primer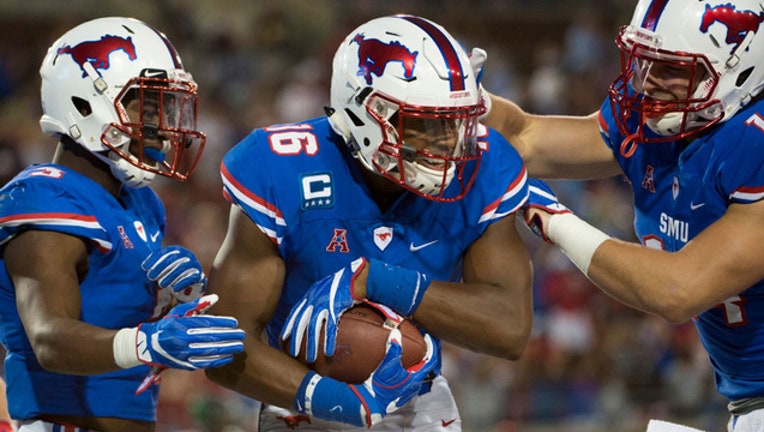 A look at the top prospects available at each position in the upcoming NFL draft (x-denotes early entrant):
OFFENSE
QUARTERBACKS
Position outlook: This is a quarterback draft. There could be as many as six taken in the first round and five in the first 15 picks. It's not crazy to come up with a scenario where four quarterbacks are taken in the first five picks.
x-Sam Darnold, 6-3, 220, USC
Strengths: Excellent arm, good size and can make accurate throws - or the occasional positive run - when the pocket breaks down. Works his progressions.
Weaknesses: Ball security. Ball security. Ball security.
Fact: His grandfather, Dick Hammer, was an Olympic volleyball player and an actor who played the Marlboro Man.
Gone by: Pick No. 3.
x-Josh Rosen, 6-4, 226, UCLA
Strengths: Polished passer with excellent mechanics and nice touch.
Weaknesses: Durability issues in college. Will force plays unnecessarily.
Fact: Was an elite youth tennis player.
Gone by: Top five or so.
Baker Mayfield, 6-1, 215, Oklahoma
Strengths: Accuracy, competiveness, and command of the offense. Gets the ball out quickly and decisively.
Weaknesses: Undersized. Elusiveness and mobility that was a plus in college might not translate to the NFL.
Fact: Went from walk-on to 2017 Heisman Trophy winner. Plus, had two other top-five Heisman finishes.
Gone by: Pick 15.
Josh Allen, 6-5, 233, Wyoming
Strengths: Arm strength, athleticism, size. It's all ideal.
Weaknesses: Accuracy and ability to change speed on his throws while still being on target.
Fact: Had no major college scholarship offers coming out of high school.
Gone by: Top 10.
x-Lamar Jackson, 6-foot-3, 200 pounds, Louisville
Strengths: All the arm a team would need, plus speed and elusiveness unlike anything the NFL has seen from a top quarterback prospect since Mike Vick.
Weaknesses: Repeatable and consistent throwing mechanics for reliable accuracy.
Fact: Won the Heisman Trophy in 2016 and finished third in 2017 voting.
Gone by: First 20 picks.
Mason Rudolph, 6-5, 235, Oklahoma State
Strengths: Size, strength, and ability - and willingness - to throw deep.
Weaknesses: Limited mobility. Was asked to make limited reads in the offense.
Fact: Completion percentage and yards per pass increased each of last three seasons.
Gone by: Early second round, but could be sixth first-round QB.
Others to watch: Luke Falk, Washington State; Kyle Lauletta, Richmond; Mike White, Western Kentucky.
RUNNING BACKS
Position outlook: Saquon Barkley is the No. 1 player on a lot of experts' boards, but there are several backs that could provide great value outside the first 20 picks.
x-Saquon Barkley, 6-0, 233, Penn State
Strengths: Quick feet, sharp cuts, top-end speed, powerful lower body, solid pass catcher, willing blocker and, by all accounts, excellent work ethic.
Weaknesses: The one knock: He needs to use that power to run through more tacklers and push piles forward.
Fact: The first Penn State player to reach 3,000 yards rushing and 1,000 yards receiving.
Gone by: Browns at No. 4.
Sony Michel, 5-11, 220, Georgia
Strengths: Three-down back with good speed, decent receiving skills and ability to pass protect.
Weaknesses: Limited shiftiness.
Fact: Ran for 3,638 yards in four seasons at Georgia while mostly sharing carries with Nick Chubb.
Gone by: Middle of second round.
x-Derrius Guice, 5-10, 212, LSU
Strengths: Runs violently once he breaks the line of scrimmage and has breakaway speed.
Weaknesses: Some durability concerns. Might not be a three-down back.
Fact: Set an SEC record with three career 250-yard games.
Gone by: Middle of second round.
x-Ronald Jones II, 5-11, 200, USC
Strengths: Darting, tough runner who finishes runs by falling forward.
Weaknesses: His style at that size could limit him in NFL.
Fact: Broke Charles White's USC freshman rushing record in 2015.
Gone by: Late second round.
Others to watch: Nick Chubb, Georgia; Rashaad Penny, San Diego State; Kerryon Johnson, Auburn.
WIDE RECEIVERS
Position outlook: No first-round locks, but expect at least one or two to go on Day 1.
x-Calvin Ridley, 6-0, 189, Alabama
Strengths: Game-breaking speed and explosive out of his cuts.
Weakness: Slender. Can he play through contact at the line?
Fact: Surpassed 1,000 yards receiving as a freshman, but limited passing game by Alabama held his numbers down in 2016 and '17.
Gone by: Top-25 pick, likely first receiver taken.
Courtland Sutton, 6-3, 218, SMU
Strengths: Big, physical red-zone target.
Weaknesses: Possession receiver-type speed.
Fact: Was recruited as a defensive back out of high school.
Gone by: A need-and-fit pick who could slip to third round.
x-D.J. Moore, 6-0, 210, Maryland
Strengths: Elusive after the catch. Excelled with underwhelming quarterback play.
Weaknesses: Needs to improve on catching contested passes.
Fact: Big Ten receiver of the year in 2017 while catching passes from four quarterbacks.
Gone by: Middle of second round.
x-Christian Kirk, 5-10, 200, Texas A&M
Strengths: Good hands and slippery runner. Could be a game-breaking return man.
Weakness: Size could limit him to slot receiver.
Fact: Returned six punts and one kickoff for touchdowns in three seasons at A&M.
Gone by: End of second round.
Others to watch: James Washington, Oklahoma State; D.J. Chark, LSU; Dante Pettis, Washington.
TIGHT ENDS
Position outlook: Some intriguing athletes and potential receiving mismatches, but no early-off-the-board picks.
Mike Gesicki, 6-5, 247, Penn State
Strengths: Big-time athlete who can make plays downfield.
Weaknesses: Blocking needs a lot of work.
Fact: A highlight-reel dunker on the basketball court.
Gone by: Maybe Day 1. Maybe Day 2.
Dallas Goedert, 6-5, 255, South Dakota State
Strengths: Was used effectively all over the field.
Weaknesses: Needs to refine route running and be a more physical blocker.
Fact: Two-time AP FCS All-American.
Gone by: Middle of second round.
x-Hayden Hurst, 6-4, 250, South Carolina
Strengths: Good hands. Powerful runner.
Weaknesses: At 24, concerns that he has limited ceiling.
Fact: Drafted by the Pittsburgh Pirates in the 17th round in 2012, played two seasons of minor league baseball before college football.
Gone by: Late second round.
Others to watch: x-Mark Andrews, Oklahoma; Ian Thomas, Indiana; Troy Fumagalli, Wisconsin.
OFFENSIVE TACKLES
Position outlook: A lack of clear left tackle prospects and some tackles who might have to move to guard.
Mike McGlinchey, 6-8, 312, Notre Dame
Strengths: Good athlete, solid technique and team leader.
Weaknesses: Could use more bulk and might be better suited for right tackle.
Fact: Four-year starter.
Gone by: Top-20 pick.
x-Kolton Miller, 6-9, 310, UCLA
Strengths: Length, quickness and effort.
Weaknesses: Pass protection technique needs work.
Fact: Only played one season at left tackle in college.
Gone by: Middle of second round.
x-Connor Williams, 6-5, 320, Texas
Strengths: Good footwork and strong technique with his hands.
Weaknesses: Size and power issues have led to projections as a guard.
Fact: Missed much of last season with a knee injury, but played like an elite prospect in 2016.
Gone by: Late second round.
x-Orlando Brown, Oklahoma
Strengths: Massive man who plays with a healthy mean streak.
Weaknesses: Lacks athleticism across the board.
Fact: Brown's late father, Orlando "Zeus" Brown, played 11 seasons in the NFL.
Gone by: Bad combine. Better pro day. Difficult to predict when he goes. Late Round 1? Day 3?
Tyrell Crosby, 6-5, 325, Oregon
Strengths: Gets good push off the line as a run blocker.
Weaknesses: Pass protection technique could land him at guard.
Fact: A foot injury cost him much of his junior season or he would likely already be in the NFL.
Gone by: End of Day 2.
Others to watch: Martinas Rankin, Mississippi State; x-Brian O'Neill; Pittsburgh; Chukwuma Okorafor, Western Michigan.
GUARDS
Position outlook: Not a position that NFL teams see as great draft value, but the top players here are probably better prospects than the top tackles.
Quenton Nelson, 6-5, 329, Notre Dame
Strengths: Maybe the most likely to succeed of any player in this draft class. Powerful, tenacious and sound.
Weaknesses: Not much to complain about. Could do better at getting off the line and getting to second level.
Fact: Watch Nelson block and expect to see plenty of defenders being pushed to the ground.
Gone by: Pick 10. And that would probably be about five picks too low.
Will Hernandez, 6-2, 345, UTEP
Strengths: Quick feet for a massive and powerful player.
Weaknesses: A little short in height and arm length.
Fact: Four-year starter.
Gone by: Top-40 pick.
Isaiah Wynn, 6-3, 313, Georgia
Strengths: Good athleticism and attitude.
Weaknesses: Power to drive defenders off the line could use improvement.
Fact: Played left tackle last season and did it well, but that height makes him an NFL guard.
Gone by: Versatility gets him off the board in top 75 picks.
Others to watch: Braden Smith, Auburn; Wyatt Teller, Virginia Tech; Austin Corbett, Nevada.
CENTERS
Position outlook: A few low-risk prospects who could step into starting roles right away.
Billy Price, 6-4, 312, Ohio State
Strengths: Very strong. Very aggressive. Played at lot of guard with the Buckeyes, too.
Weaknesses: That aggressiveness can lead to sloppiness.
Fact: Started a school-record 55 games at Ohio State.
Gone by: End of second round.
x-James Daniels, 6-3, 295, Iowa
Strengths: Quick off the line and into linebackers.
Weaknesses: Straight-up, one-on-one power could be a problem.
Fact: Played with brother, running back LeShun Daniels, during first two seasons at Iowa.
Gone by: Early second round.
Frank Ragnow, Arkansas
Strengths: Big and powerful with good awareness.
Weaknesses: Lacks great athleticism.
Fact: Ragnow's father, Jon, died of a heart attack during the 2016 football season. Frank managed to play, and play well, through the season.
Gone by: End of third round.
Others to watch: Bradley Bozeman, Alabama; Mason Cole, Michigan; x-Will Clapp, LSU.
___
More AP NFL: https://pro32.ap.org and https://twitter.com/AP_NFL