Nevada rallies, tops Texas 87-83 in overtime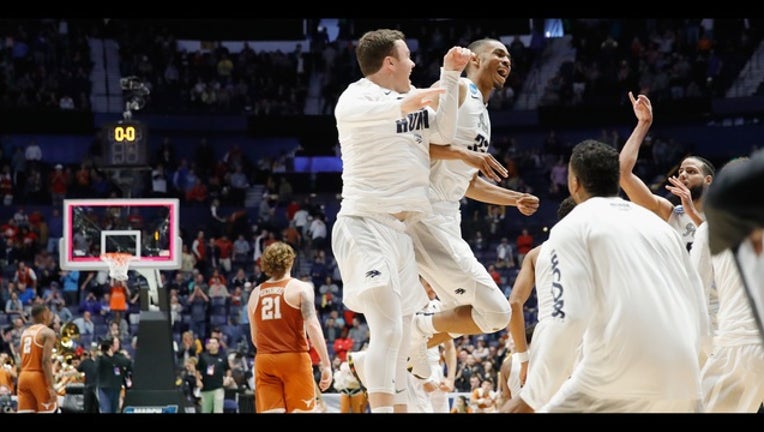 article
NASHVILLE, Tenn. (AP) - Nevada's Caleb Martin had just missed a potential game-winning shot at the buzzer and didn't feel all that disappointed. The junior forward just knew his team would finish the job in overtime.
And then he helped make it happen.
Martin shot 3 of 3 from 3-point range in overtime and finished with 18 points Friday as Nevada rallied to beat Texas 87-83 for its first NCAA Tournament victory since 2007.
"We were comfortable," Martin said. "It's one of those things where you could tell the other team didn't want to go into overtime with us. You could kind of feel the energy on the floor when we walked back out there. You kind of knew it was kind of in our favor."
The Wolf Pack, seeded seventh in the South Region, advanced to a Sunday matchup with No. 2 seed Cincinnati (31-4). The Bearcats beat Georgia State 68-53.
Nevada (28-7) erased a 14-point, second-half deficit and rallied again after trailing Texas by four early in an overtime session that featured combined 34 points. Nevada made all six of its field-goal attempts in overtime after Texas forward Mohamed Bamba fouled out with 3.8 seconds left in regulation.
These two teams with contrasting styles provided the kind of thriller that had excitable Nevada coach Bill Musselman particularly amped up. Musselman opened his postgame press conference with an apology after television cameras caught him shouting obscenities during a locker-room celebration.
"What an unbelievable game," Musselman said.
Martin's 3-pointer with 2:26 left in overtime gave Nevada its first lead since opening the game on a 5-0 run. Texas' Matt Coleman took a jumper that went around and out, and Martin hit another 3 that extended Nevada's lead to 81-77 with 1:36 left.
After Coleman cut Nevada's margin to 81-79, Martin passed to twin brother Cody for a layup that made it 83-79 with 53 seconds remaining. Tenth-seeded Texas later got within two on a 3-pointer by Kerwin Roach II with 15.5 seconds left, but that's as close as the Longhorns got.
Roach had a career-high 26 points for Texas (19-15) and shot 6 of 10 from 3-point range. Coleman had a career-best 25 points.
Caleb Martin also had 10 rebounds and five assists. Cody Martin had 14 points, eight rebounds and five assists. Nevada's Kendall Stephens had a team-high 22 points.
This was the kind of moment that brought the Martins to Nevada after the 6-foot-7 twins decided to transfer from North Carolina State.
"This is what we came here to do," Cody Martin said. "This is what we wanted to do all year. When we got here, I knew we had something special with this team."
They sure produced a special comeback.
Nevada rallied after Texas grabbed a 77-73 lead in overtime on a four-point play from Roach, who sank a 3-pointer while getting fouled.
"I actually felt like we'd weathered the storm," Roach said.
Texas led 40-26 early in the second half before Nevada clawed back and finally tied it when Jordan Caroline hit one of two free throws with 3.8 seconds left in regulation.
Texas' Dylan Osetkowski then threw an inbounds pass half the length of the court to Jericho Sims, who knocked the ball out of bounds. That turnover gave Nevada the ball about 20 feet from Texas' basket with 1.6 seconds left.
Martin missed the potential game-winner at the buzzer. He wouldn't miss again the rest of the day.
BIG PICTURE
Texas: A tough loss ended a remarkable season for Texas, which relied on three freshman starters to bounce back after going 11-22 in 2016-17. Texas earned an NCAA bid even after losing Andrew Jones, who was the Longhorns' second-leading scorer when he was diagnosed with leukemia in January.
Nevada: The Wolf Pack's dynamic offense awakened after a dormant first-half performance. Nevada shot 39.3 percent (11 of 28) and scored 26 points in the first half. The Wolf Pack shot 60 percent (21 of 35) and scored 61 points in the second half and overtime.
BAMBA'S FUTURE
Texas' next step is finding out what the future holds for Bamba, a potential NBA lottery pick. Bamba said after the game that he hasn't set a timetable for deciding whether to return for his sophomore year.
"I'm not really worrying about that right now," Bamba said. "I'm still processing what just happened."
QUOTABLE
"In a game like today, we need to add one or two more winning plays," Texas coach Shaka Smart said. "That's the difference. One more stop. One more rebound. It's a cruel, hard assessment But in games like that, that go in overtime - and we've been in as many as anyone in the country - one play does make the difference."
UP NEXT
Texas: The Longhorns wait on Bamba's decision.
Nevada: The Wolf Pack face Cincinnati on Sunday.
___
More AP college basketball: https://collegebasketball.ap.org; https://twitter.com/AP_Top25 and https://www.podcastone.com/ap-sports-special-events
___
Follow Steve Megargee at https://twitter.com/stevemegargee