McElhinney has 39 saves, Kadri 2 goals as Leafs beat Stars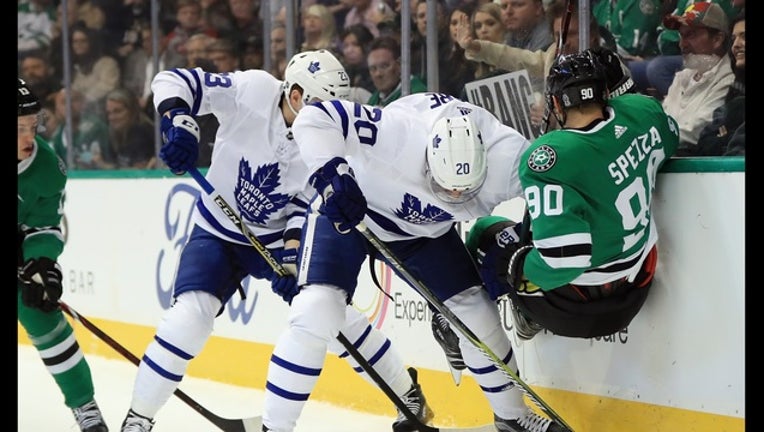 article
DALLAS (AP) - Curtis McElhinney made 39 saves while playing for the first time in more than a month, helping the Toronto Maple Leafs beat the Dallas Stars 4-1 on Thursday night.
Nazem Kadri scored twice, and Zach Hyman and Auston Matthews had one each for the Maple Leafs.
McElhinney's effort turned around the recent fortunes of two teams in playoff position at the All-Star break.
Toronto, third in the Atlantic Division at 28-18-5, had been 2-3-2 in the previous seven games. Dallas, coming off a 4-0-1 stretch, still holds the first wild card in the Western Conference at 28-18-4.
The Leafs' Jake Gardiner had three assists for the second time in four games. William Nylander assisted twice.
Tyler Seguin scored to bring Dallas within 3-1 late in the second period, but Matthews restored Toronto's three-goal lead at 2:38 of the third.
Ben Bishop had 25 saves for Toronto.
Kadri scored the game's first goal at 15:50 of the first period. With three Leafs in front of the net, Mitchell Marner passed across the goal mouth to Kadri, and Bishop had little chance to stop him.
After Toronto finished a penalty kill, Hyman extended the Leafs' lead to 2-0 at 1:55 of the second. Nylander's shot from the left circle went off Bishop, over his left leg, and fell just short of the goal line. Hyman was there to put it in.
A good bounce gave Kadri his second goal, on the power play at 9:29 of the second. His pass to the top of the slot went off Dallas' Mattias Janmark, down the slot and into the net to the right of Bishop.
The Stars scored at 17:43 of the second. Jamie Benn won a faceoff in the Leafs' end. Alexander Radulov corralled the puck and sent a backhand pass to Seguin in the slot for his 23rd goal.
Nylander passed across to Matthews at the inside edge of the right faceoff circle for his team-leading 22nd goal.
NOTES: Kadri has three goals in the last two nights after a seven-game scoreless streak. ... McElhinney was playing for the first time since Dec. 20. In contrast, Bishop has started 14 of the Stars' past 16 games. He had a season-high 41 saves in shutting out Edmonton 1-0 on Dec. 10. ... Radulov has 16 points (six goals, 10 assists) in the last nine games. ... In three career games against Dallas, Marner has four points (one goal, three assists). ... A second-period fight between Stars LW Antoine Roussel and Toronto D Connor Carrick was the seventh in Dallas' last two games. ... The Leafs have played a league-high 51 games.
UP NEXT
Maple Leafs: Return home for a game Wednesday night against the Islanders.
Stars: Complete a three-game homestand Tuesday night vs. Los Angeles.
___
More AP hockey: https://apnews.com/tag/NHLhockey