McDuffie leads No. 13 Wichita State past SMU 84-78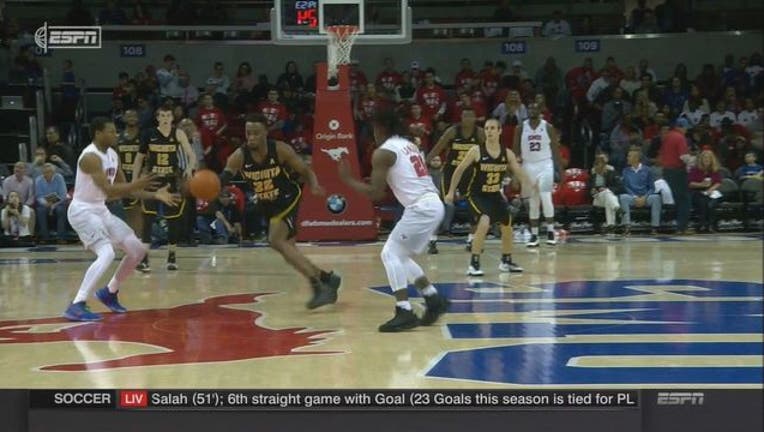 article
DALLAS (AP) - Markis McDuffie scored a season-high 26 points off the bench, including nine during the first four minutes of the second half, to lead No. 13 Wichita State to an 84-78 win over SMU on Saturday.
The Shockers (23-5, 13-3 American Athletic Conference) have won six straight games and are one-half game behind first-place Cincinnati. Wichita State will host Cincinnati on March 4 in the regular-season finale for both teams.
SMU (16-13, 6-10) lost for the sixth time in seven games since leading scorer Shake Milton (18 points per game) was sidelined with a hand injury.
McDuffie added to Wichita State's 37-35 halftime lead on the first possession of the second half with a midcourt steal leading to a three-point play. A 10-1 run put the Shockers ahead 56-43 with 12:18 to play, and they led by as many as 17 points.
McDuffie, a junior forward, led Wichita State in scoring last season but missed this season's first 11 games because of a stress fracture. He has primarily been a reserve since returning.
Jahmal McMurray led SMU with 28 points. McMurray has topped the Mustangs in scoring in five of the past six games.
Shaquille Morris had 21 points and 10 rebounds for Wichita State. Landry Shamet returned after missing the Shockers' previous game because of illness and scored 10 points in 27 minutes, playing only eight first-half minutes because of foul trouble.
Because of injuries and NCAA-mandated scholarship limitations, SMU played with seven scholarship players on Saturday and has had seven or fewer during its past seven games.
Wichita State failed to pull away during the first half despite a 21-12 rebounding advantage. The Mustangs shot 45.4 percent during the half and the Shockers 41.4 percent, both hitting six 3-pointers.
Wichita State got even for one of its two home losses this season, 83-78 on Jan. 17.
BIG PICTURE
Wichita State: The Shockers are 8-2 in true road games this season with one to play. Since the start of the 2013-14 season, they lead Division I in road wins (48) and road winning percentage (.857). They avoided a conference opponent's sweep of a two-game season series for the first time since 2012-13 (Evansville, Missouri Valley).
SMU: The Mustangs opened the season 12-3, including wins over then-No. 2 Arizona and then-No. 14 USC, but have since gone 4-10. SMU will finish with a losing league record after winning the AAC last season at 17-1.
UP NEXT
Wichita State will visit UCF on Thursday.
SMU hosts Houston in its final home season of the season on Wednesday.