McCown, Browns on same page amid Dallas trade rumors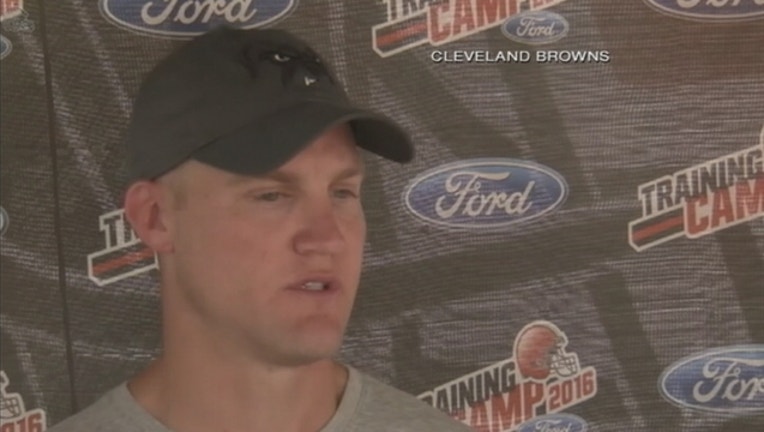 article
BEREA, Ohio (AP) — Josh McCown knows he might not be in Cleveland much longer.
That hasn't diminished his focus on helping the Browns to get better.
McCown is reportedly a trade target for the Dallas Cowboys, who are looking to replace recently injured backup quarterback Kellen Moore.
The quarterback has discussed the situation with the Browns' front office and said that everyone involved is "on the same page."
"I'm aware of it," McCown said of the reported trade rumors. "My job and my heart is here and doing everything I can to help the Cleveland Browns be good."
Browns coach Hue Jackson said that he didn't have anything to report regarding the rumors and indicated that the team would be upfront with McCown if any moves were to be made.
"I would hope that we do that with every player," Jackson said. "We're very forthcoming. At the end, we're always going to do what's best for us but in respect to the player."
Moore fractured the fibula in his right leg in practice on Tuesday, leaving a void behind quarterback Tony Romo. Without the four-time Pro Bowler, the Cowboys are 1-14 since 2014.
Following the injury to Moore, Dallas reportedly turned its attention to McCown, who played in eight games and threw for 2,109 yards with 12 touchdowns for the Browns in 2015.
The 37-year-old's season was cut short after he broke his collarbone in a 33-27 loss to the Baltimore Ravens on Nov. 30.
The respected veteran is in a competition with Robert Griffin III for the starting job in Cleveland, but hasn't seen many reps with the first-team offense thus far in camp.
Griffin is expected to be selected as the starter before Cleveland's first exhibition game on Aug. 12, but that hasn't changed McCown's mindset as the competition continues.
"We're all about helping each other and helping each other play at a high level," McCown said. "No matter what the reps are, what everything is, we just come out and compete and push one another."
Jackson said on Wednesday that McCown has been instrumental in helping Griffin to improve and that the veteran is very important to the Browns.
The quarterback's ability to mentor, however, won't guarantee him a spot on Cleveland's 53-man roster.
"In my honest opinion that has nothing to do with him remaining on the team," Jackson said. "That'll be an organizational decision about all of our quarterbacks. ... It's about what's best for our organization."
While McCown's on-field contributions were key for the Browns last season, his off-field actions endeared him quickly to his teammates, who hope the rumors don't become reality.
"Having him in the locker room is a great thing," offensive tackle John Greco said. "That's the business end of it, so I can just only hope he's with us."
While McCown has tried to avoid the trade noise as much as possible, the Jacksonville, Texas, native has been inundated with phone calls and text messages from his family in Texas.
He admitted too that he grew up a Cowboys fan.
"I've worn No. 12 most of my career because of Roger Staubach," McCown said. "Obviously the Cowboys, if you grew up in Texas, is near and dear to everybody's heart."
Though the Sam Houston State product will always have a soft spot for the Cowboys, he has come to enjoy Cleveland in his short time with the Browns.
"Once you cross over into the business portion of this life, those allegiances kind of fly out the window and you have a job to do," McCown said. "You spend five minutes in this city and it's easy to be all-in, because of how the people feel about this team."
NOTES: OL Cam Erving (forearm), TE Gary Barnidge (sports hernia), WR Andrew Hawkins (hamstring) CB Tramon Williams (rest) and OT Joe Thomas (rest) were amongst the players held out of practice on Thursday. ... Greco returned to practice after missing the first five of camp with a hamstring injury. ... Rookie OT Spencer Drango took most of the first-team reps at right tackle, replacing veteran OT Alving Bailey, who came into camp as the starter. ... The Browns will hold a scrimmage on Friday night in Berea, during which the team will participate in live-hitting and game-type situations.
___
AP NFL website: www.pro32.ap.org and http://twitter.com/AP_NFL