Mazara, Desmond homer as Rangers rout Indians 9-2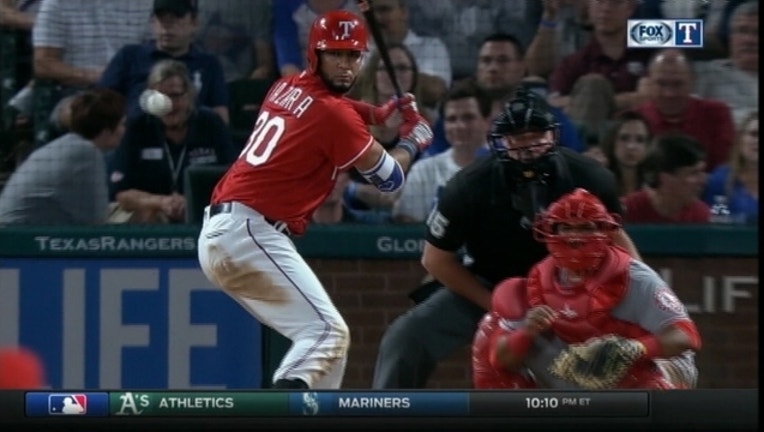 article
CLEVELAND (AP) — Nomar Mazara hasn't played like a rookie in the first two months of the season for the Texas Rangers.
He hit a three-run homer in the fourth inning Monday night and Ian Desmond had a two-run shot in the first, as Texas beat the Cleveland Indians 9-2.
Mazara's homer to dead center field, his ninth of the season, capped a four-run rally. The left-handed hitter has five home runs and 12 RBIs in his last 11 games.
"Another grown-up home run," Rangers manager Jeff Banister said. "He sure doesn't give you the impression that he hasn't been in the major leagues for very long."
Derek Holland (4-4) pitched six innings and gave up one run — a homer by Mike Napoli — to win for the first time since April 30.
Josh Tomlin (7-1) lasted 3 2/3 innings and lost for the first time since Sept. 15. The right-hander was 12-0 in 13 starts following a Cleveland loss dating to last season.
Desmond, the game's second batter, gave Texas a quick lead with a homer into the bleachers in left. Elvis Andrus was 3 for 4 with an RBI and has hit safely in 28 of 29 career games at Progressive Field
Texas, which leads the AL West, has won eight of 10.
"I'm trying to do my job and produce runs," Desmond said. "When we score, we win."
Indians manager Terry Francona was ejected in the third inning by plate umpire Manny Gonzalez. Francona argued that the Rangers' Mitch Moreland should have been called out for running inside the baseline while going to first base after hitting a ground ball. Moreland was hit in the back of the helmet by a throw from Tomlin, allowing a run to score and giving Texas a 4-0 lead.
Francona came on the field and had a lengthy discussion with Gonzalez. He was ejected after he went back to the dugout, and then returned to the field for a heated argument with the umpire.
"I don't know what he saw," Francona said. "I didn't get a very good explanation. I couldn't get any explanation. And then when I went out the second time, after he threw me out, he wouldn't talk to me. I'm still waiting."
Marlon Byrd was 4 for 4 with a home run for Cleveland, which committed four errors, three by third baseman Juan Uribe.
Tomlin was charged with eight runs, four of which were unearned thanks to his own throwing error in the third and Uribe's double error in the fourth.
Austin Adams relieved Tomlin and allowed Mazara's home run.
Holland, who broke a three-game losing streak, gave up six hits and struck out two. Cesar Ramos pitched the final three innings for his first save.
HOMECOMING
Left fielder Ryan Rua, who grew up in Northeast Ohio, played his first game at Progressive Field and went 1 for 4. He was born and raised in Amherst, which is 30 miles west of Cleveland. Rua had about 100 supporters at the game, including family members and friends.
Holland and outfielder Jared Hoying are other Ohio natives who played in front of cheering sections. Holland is from Newark, a suburb of Columbus, while Hoying is from Fort Loramie, located in western Ohio. Hoying walked as a pinch hitter in the ninth.
TRAINER'S ROOM
Rangers: OF Shin-Soo Choo (strained left hamstring) is taking batting practice and continuing a running program in Arlington.
Indians: RHP Carlos Carrasco (strained left hamstring) could rejoin the rotation this week. He threw a bullpen session Monday.
UP NEXT
Rangers: RHP Colby Lewis (4-0) is seeking the first 5-0 start of his career. He was the winning pitcher against the Angels on Wednesday despite allowed a season-high six runs in five innings, his shortest outing of the season.
Indians: RHP Corey Kluber (4-5) has won his last two starts and looks to even his record. He allowed three earned runs over 14 innings, beating the Red Sox and White Sox.