Mavs take 7-foot Purdue center A.J. Hammons with 46th pick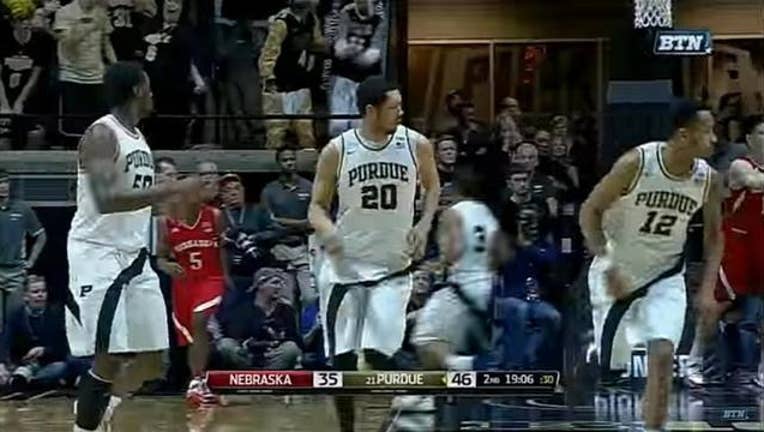 article
DALLAS (AP) — The Mavericks need a starting center and figure to use free agency to find one.
That didn't stop Dallas from taking 7-footer A.J. Hammons from Purdue with the 46th overall pick in the middle of the second round of the NBA draft on Thursday night.
Hammons played all four years with the Boilermakers, averaging 15 points, 8.2 rebounds and 2.5 blocks per game as a senior. He joins a mostly wide open position battle, depending on who the Mavericks add when free agency opens July 1.
"We feel he's definitely a first-round talent," coach Rick Carlisle said. "There were a lot of weird things happening in this draft, guys moving into the first round unexpectedly and some guys that slid. We're fortunate that he slid."
Hammons apparently slid because of questions about how motivated he will be.
"I just talked to him on the phone. He sounds like he's really energetic to me," Carlisle said. "Now it's our job to make sure that he has a long and productive NBA career. I think we can get him fired up about playing with us."
The Mavericks had just one pick because of the ill-fated Rajon Rondo trade that sent their 2016 first-round choice to Boston in a five-player deal during the 2014-15 season. Once again, the significant offseason upgrades for Dallas will have to wait for free agency next week. The Mavericks are in the market for a point guard, center and possibly small forward if Chandler Parsons ends up going elsewhere.
The Mavericks are likely looking for two starters with Parsons and Deron Williams opting out of the final years of their contracts to become free agents. Dirk Nowitzki did the same, but is expected to rejoin Dallas for a 19th season.
Zaza Pachulia was the starting center last year, and he isn't expected to return.
"Everyone knows we have a hole at the center spot, so it'll be a nice addition for us," president of basketball operations Donnie Nelson said. "And it gives us a nice young piece but at the same time a four-year college guy that can come in and give us some really nice punch."
The other returning starter is shooting guard Wesley Matthews, who signed a max contract at four years and $70 million last year when Los Angeles Clippers center DeAndre Jordan changed his mind after agreeing to join Dallas in free agency and then stayed with his old team.
Dallas also likes several young players locked up for next season, including 2015 first-round pick Justin Anderson and 7-foot-2 Tunisian center Salah Mejri.
As a 29-year-old rookie, Mejri showed promise as a shot-blocker and scorer in the second half of the regular season and a first-round playoff loss to Oklahoma City.