Mavs getting C Andrew Bogut in deal with Warriors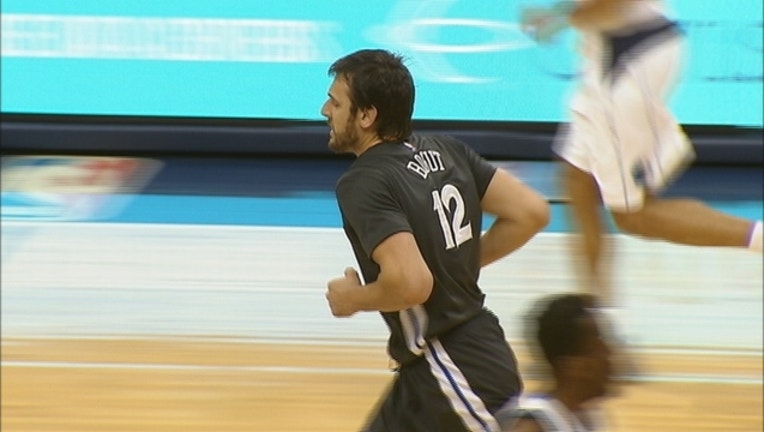 article
DALLAS (AP) — Andrew Bogut is headed to the Dallas Mavericks from Golden State thanks to the Warriors' successful pursuit of Kevin Durant.
A person with knowledge of the deal said Monday that the Mavericks have agreed to acquire Bogut with the Warriors trying to clear salary cap space so they can add the four-time scoring champion Durant to the Splash Brothers duo of Stephen Curry and Klay Thompson.
Other details of the trade are still being worked out, the person told The Associated Press on condition of anonymity because the deal hasn't been finalized and can't be official until league business resumes Thursday.
The person also said the Mavericks are set to sign restricted free agent Harrison Barnes of Golden State.
After the Mavericks initially agreed with Barnes on an offer sheet for a maximum contract, the Durant agreement will allow Dallas to sign Barnes to a four-year, $94 million deal because the Warriors will renounce their rights to Barnes to clear enough cap room for Durant.
The Mavericks missed out on their top two targets in free agency for the fifth straight year when Memphis guard Mike Conley and Miami center Hassan Whiteside stayed with their current teams.
But Dallas added three starters in two days, including bringing back point guard Deron Williams for a second season with his hometown team. The Mavericks also virtually assured the return of Dirk Nowitzki for a 19th season.
Bogut will get $11 million in the final year of his deal, and Williams has agreed to a one-year, $10 million contract. Those moves will give the Mavericks more flexibility next summer with expected strong classes in free agency and the draft.
The Mavericks should be competitive in the meantime after things looked bleak following the first day of free agency. The lineup is similar to last season, when Dallas was the sixth seed in the Western Conference with a 42-40 record, and lost to Durant and Oklahoma City in five games in the first round.
Bogut, a 7-footer who averaged 5.4 points, 7.0 rebounds and 1.6 blocks per game last season, is expected to be healthy after sustaining bone bruises around his left knee in Game 5 of Golden State's seven-game loss to Cleveland in the NBA Finals.
While he's not the same player who averaged a double-double for three straight seasons earlier in his career, the 11-year veteran is a stronger presence at the rim than Zaza Pachulia. Pachulia started for Dallas last season after DeAndre Jordan committed to the Mavericks, changed his mind and stayed with the Los Angeles Clippers.
Barnes has lacked consistency but will bring a 3-point threat similar to that of Parsons. The question is how efficient he will be without Curry and Thompson getting most of the focus from defenses.
Wesley Matthews is going into his second season as Dallas' shooting guard, with an expected improvement in his career-low 39 percent shooting because he came back sooner than expected after tearing his Achilles tendon late in his final season with Portland.
Nowitzki hasn't agreed to a deal, but that's likely a formality that might not be complete until after other signings.