Mavericks hold Jazz to 22 in 2nd half, win 118-68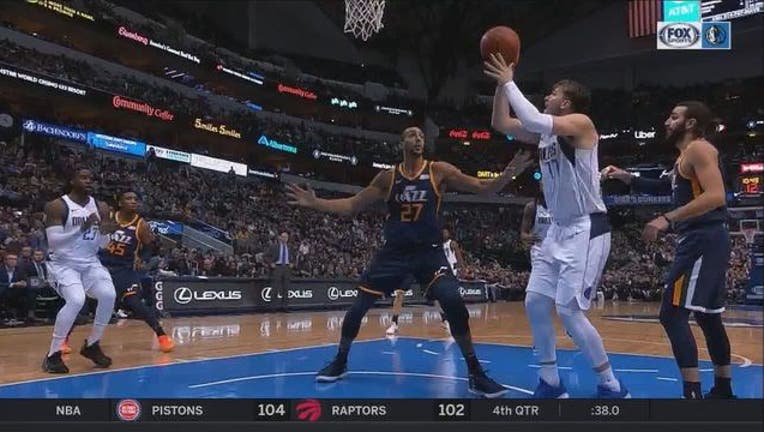 article
DALLAS (AP) - Harrison Barnes scored 19 points and the Dallas Mavericks handed the Jazz their worst loss since moving to Utah, 118-68 on Wednesday night.
While in New Orleans, the Jazz lost to Milwaukee by 56, 158-102 on March 14, 1979.
Dallas set a franchise mark for the fewest points allowed in a half at 22, giving up 13 in the third quarter and nine in the fourth. The previous record was 23 against Sacramento on Jan. 14, 2012. The 50-point margin of victory was the second-highest in team history behind a 53-point win over Philadelphia.
Utah was a point off its lowest-scoring half, set against the Los Angeles Lakers on Feb. 4, 2000.
The Mavericks shot 58 percent, making 43 percent of their 3-point shots.
J.J. Barea added 14 points, Luka Doncic and Dwight Powell had 13 each and Dorian Finney-Smith finished with 11. The Mavericks' backups accounted for 66 points, only two fewer than the Utah team.
Ricky Rubio led Utah with 11 points, Rudy Gobert had 10 points and 10 rebounds, and Donovan Mitchell also scored 10 points.
Utah's lowest-scoring half this season had been 38 points in the second half against Memphis on Oct. 22. The Jazz shot 31 percent from the floor and 17 percent on 3-pointers.
The lowest-scoring game for the Jazz was in a 96-54 loss at Chicago in Game 3 of the 1997-98 NBA Finals.
Tempers flared at times. Utah's Derrick Favors was charged with a Flagrant 1 foul, and three Mavericks receiving technical fouls.
Dallas extended its winning streak to a season-best three games. The Jazz had won three in a row and won the first two games between the teams this season.
TIP-INS
Jazz: Their 13 points in the third quarter were a short-lived season low, not even reaching the 15 they scored in the fourth quarter at Denver on Nov. 3. ... Utah has played Dallas three times in the last nine games. The teams will meet only once more this season, at Utah on Feb. 23.
Mavericks: Wesley Matthews (strained left hamstring) came back after missing Monday's game at Chicago but left Wednesday's game early in the third quarter with a similar injury. ... Before Wednesday, Dallas' low yield for a quarter had been 18 points by the Jazz in the fourth quarter on Nov. 7.
UP NEXT
Thunder: Stay on the road for their longest trip (five games) of the season with three more in four days, beginning at Philadelphia on Friday night.
Mavericks: Complete a two-game homestand against Golden State on Saturday night.
___
More AP NBA: https://apnews.com/tag/NBA and https://twitter.com/AP_Sports