Mavericks beats Thunder 85-84, ties series 1-1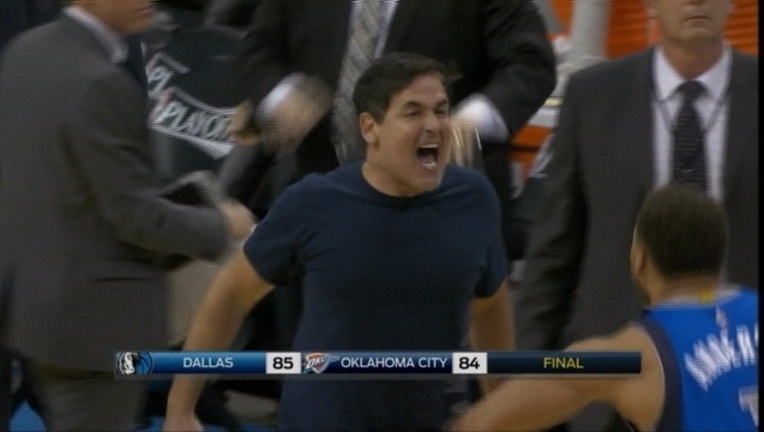 article
OKLAHOMA CITY (AP) — A putback at the buzzer by Oklahoma City's Steven Adams that would have won the game was disallowed upon review, and the Dallas Mavericks defeated the Thunder 85-84 on Monday night to even their Western Conference playoff series at one win apiece.
Dallas had been embarrassed 108-70 in the opener on Saturday, but the Mavericks bounced back and held Oklahoma City to 33.7 percent shooting on Monday.
Raymond Felton scored 21 points and Dirk Nowitzki added 17 for the Mavericks. Deron Williams, declared doubtful on Sunday with a left abdominal strain, scored 13 points, 11 in the game's first 5 minutes.
Kevin Durant scored 21 points for Oklahoma City, but he made just 7 of 33 shots in one of the worst postseason shooting performances of his career.
Game 3 is Thursday in Dallas.
Dallas led 85-84 with 7.1 seconds left when Felton missed two free throws. Durant got the rebound of the second and he missed in close. Adams rebounded the miss and made a basket, but the ball was in his hand as time expired.
Russell Westbrook had 19 points and 14 rebounds and Serge Ibaka added 12 points for the Thunder.
Dallas led 45-43 at halftime, but the Thunder opened the second half on an 11-3 run. A layup by Westbrook put the Thunder up 54-48 and forced the Mavericks to call a timeout. A driving layup by Durant pushed the lead to 58-50 and forced another Dallas timeout. The Thunder took a 62-59 lead into the fourth quarter.
Dallas led 69-68 before the Thunder went on an 8-0 run, highlighted by a dunk by Durant and a 3-pointer by Ibaka, to take a 76-69 lead.
Dallas rallied, and Felton's layup with 28.7 seconds left put the Mavericks up 83-81. After Durant missed a short jumper and a 3-pointer, Wesley Matthews scored a transition layup to push the lead to four with 14.4 seconds remaining.
Durant came back with a 3-pointer to trim Dallas' lead to 85-84 with 9.5 seconds to play, setting up the frantic finish.
___
TIP-INS
Mavericks: Charlie Villanueva and Justin Anderson interrupted Westbrook's pregame dance routine with Cam Payne. Villanueva stood between the two, and Westbrook shoved him and continued to dance. Anderson stepped behind Westbrook, who nudged him out of the way with his elbow. ... G J.J. Barea (right groin strain) and F David Lee (right plantar fascia injury) missed the game. ... Dallas shot 55.6 percent in the first quarter. ... Nowitzki's jumper rattled in with 2.8 seconds left in the first half to give the Mavericks a 45-43 lead.
Thunder: C Nazr Mohammed (right calf strain) sat out. ... F Mitch McGary (undisclosed personal reasons) wasn't with the team. He hasn't played for the Thunder since March 18. ... Oklahoma City made 5 of 16 3-point attempts in the first half and 7 of 32 overall.
___
Follow Cliff Brunt on Twitter: www.twitter.com/CliffBruntAP.