Marte homers, Angels sweep Rangers to get out of last place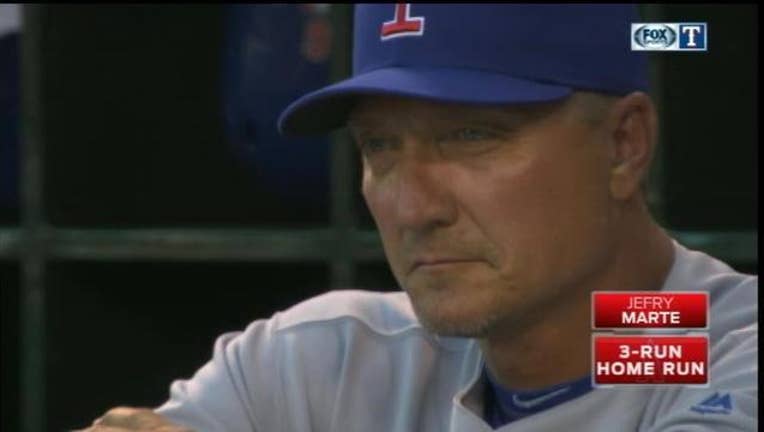 ANAHEIM, Calif. (AP) — The Los Angeles Angels have brought some fun back to Angel Stadium. All it took was two series.
Jefry Marte hit a three-run homer and the Angels shut down a late rally by the AL West-leading Texas Rangers in a 7-4 win Wednesday night that gave Los Angeles a three-game sweep.
It was the second straight sweep for the Angels, who won their season-best sixth in a row and moved out of last place in the AL West.
"We're having fun and that's what we said a couple weeks ago: Just go into the second half, try to have fun and let's see what happens," starter Hector Santiago said. "Right now it's working."
What's happening for Los Angeles is greater offensive production than the team has seen all season. The Angels have scored a league-high 110 runs in July, matching their total from June with 10 games left to play this month.
Albert Pujols had two hits and scored twice to spur the offense on Wednesday, while Yunel Escobar had two RBIs and Marte hit his sixth home run.
"It's much more fun when you're scoring runs and winning," Angels manager Mike Scioscia said. "It's going to look like you have a lot more life."
The Rangers rallied in the ninth inning when Ian Desmond homered, Adrian Beltre doubled and Ryan Rua singled to put runners on the corners with two outs. The rally fell short when Rougned Odor flew out to left field.
Desmond went with 2 for 4 with the home run and Mitch Moreland hit his 13th homer, a solo shot to lead off the fourth inning. Desmond's homer came with two outs in the ninth off Huston Street, his team-leading 18th this season.
"This is a club that's not going to quit, they always continue to play," Rangers manager Jeff Bannister said. "We were one more hit away, one more baserunner away from putting a little bit of pressure on their closer. Rua, I thought, put a pretty good swing on the ball and just missed it."
The Angels got a run in the first inning before Marte connected on a 3-0 fastball from Martin Perez for a three-run homer. Escobar then drove Johnny Giavotella home with a single to right in the second inning, putting Los Angeles up 5-0.
Santiago (8-4) pitched five innings for his third straight win, yielding three earned runs on five hits. His 24-inning scoreless streak ended in the third inning, when the Rangers scored twice to cut the Los Angeles lead to 5-3.
"He struggled with fastball command all night," Scioscia said. "Maybe instead of pitching his way out with a changeup or changing speeds, he kept trying to throw harder. .. He settled in and made better pitches as he went on but it just didn't seem like he got in sync tonight."
The Rangers scored in the third when Beltre tripled home Desmond and then scored on Rua's sacrifice fly.
But Perez's shaky command resulted in another run for the Angels in the third. With runners on second and third and Jett Bandy at the plate, Perez's appeared to wobble in his delivery and was called for a balk, scoring Pujols.
Perez (7-7) lost his third decision in as many games, giving up seven earned runs for the second time in July.
The Rangers have gone 4-14 since June 28.
TRAINER'S ROOM
Rangers: 1B Prince Fielder and LF Shin-Soo Choo were both placed on the 15-day disabled list on Wednesday. Fielder was diagnosed with a herniated disk in his neck and Choo has been dealing with inflammation in his lower back. Infielder Hanser Alberto and outfielder Delino Shields were called up from Triple-A Round Rock to fill their roster spots.
Angels: LHP Tyler Skaggs made his final start for Triple-A Salt Lake, completing his rehab from his 2014 Tommy John surgery. Skaggs threw 94 pitches over 5 2/3 innings, gave up one hit, walking three and striking out 12. He's expected to rejoin the team later this week.
UP NEXT
Rangers: RHP Yu Darvish will make his second start since coming off the disabled list Friday in Kansas City. Darvish, who is 2-1 with a 3.15 ERA in four starts this season, was on the DL from June 13 until July 16 with right shoulder discomfort.
Angels: RHP Matt Shoemaker will take the hill in Houston following the Angels' day off. The AL pitcher of the week is coming off his first complete game and shutout and is 1-1 with a 2.08 ERA in three starts against the Astros this season.