Major change for oft-injured Rangers pitcher Mike Minor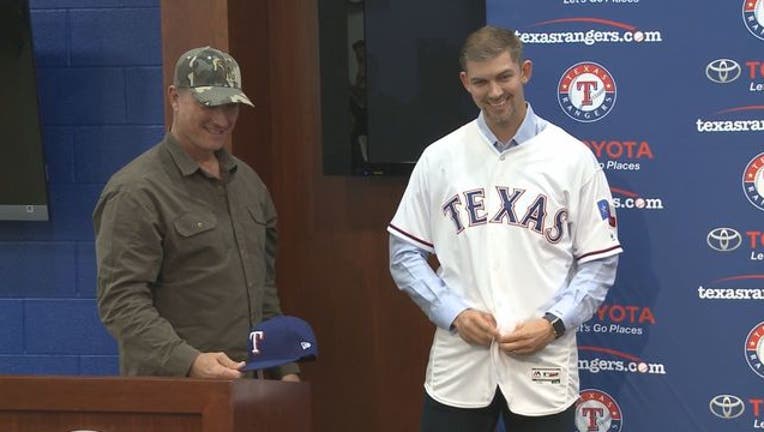 article
SURPRISE, Ariz. (AP) - Mike Minor is getting used to starting again, and knows there is some relief if that doesn't work out with the Texas Rangers.
The former first-round draft pick for the Atlanta Braves wasn't sure he would ever pitch again during the two full seasons he missed because of shoulder issues. He got over that hurdle with 65 games last year as a reliever for the Royals.
After turning down a $10 million player option to stay in Kansas City, he is now on the other side of the Arizona spring training complex in Surprise. The Rangers gave him a $28 million, three-year deal - and the chance he wanted to be in a rotation again.
"I feel like I have the stuff to be a starter," Minor said. "I just wanted to try it out again, and if it doesn't work out, I can always go back to the bullpen. ... I feel like I can succeed (starting), but also wanted to see, test the waters again."
Minor was 38-36 while starting 110 of his 111 games for Atlanta from 2010-14. He pitched 204 2-3 innings in 2013, when he was 13-9 with a 3.21 ERA.
With the Rangers possibly going to a six-man rotation, Minor could benefit with potentially extra rest as he extends his innings. He threw 77 2-3 innings and had a 2.55 ERA in his relief role for the Royals. Texas is also looking to solidify its bullpen.
Now 30, the pitcher from Vanderbilt drafted seventh overall in 2009 has a much different appreciation for the game after all that time rehabbing his shoulder and being away from the majors.
"It's a complete 180," he said. "I took everything kind of granted and kind of just wanted to like play for that next season, that next paycheck. I fell in that curse I guess, and now it's more like I'm happy to be here. I'm enjoying my time. I'm in the big leagues."
Rangers general manager Jon Daniels said the lefty was a primary target in the offseason, and the team signed him in December. Texas liked his potential flexibility and had watched him since his amateur days.
"Gets to the big leagues, promising starter, had a hiccup and then dominant last year again," Daniels said.
Minor said his lowest point came during the 2016 season, after he had signed with the Royals as a free agent and his shoulder started hurting again during rehab starts in the minors. He had more issues when trying again later that season.
"That was when I was like I'll never pitch again," he recalled. "I don't know why I'm still doing this."
But he went into that offseason determined to do everything he could to get ready to pitch again, doubling his rehab efforts and incorporating Pilates. He didn't have to throw as much after going into spring training as a reliever.
"I was like I actually feel pretty good, and then I kept going," he said. "I just wanted to make it out of spring training. I got to opening day, I was all right, I just want to make it through one month. Now I just want to make it to the All-Star break. Now I just want to make it to the end of the season."
And he did each time.
This spring, it is about building up innings. His longest outing last season was three innings, and he went more than two innings only five times.
"I'm not going to lie about it, I'm going to be curious," he said. "But I'm excited just because I feel like I'm three years removed, or whatever, from the surgery and all of that. I feel like I'm in a better spot than I was three years, two years ago, a year ago."
___
More MLB baseball: https://apnews.com/tag/MLBbaseball