Mahomes accounts for 6 TDs in 69-17 win over SFA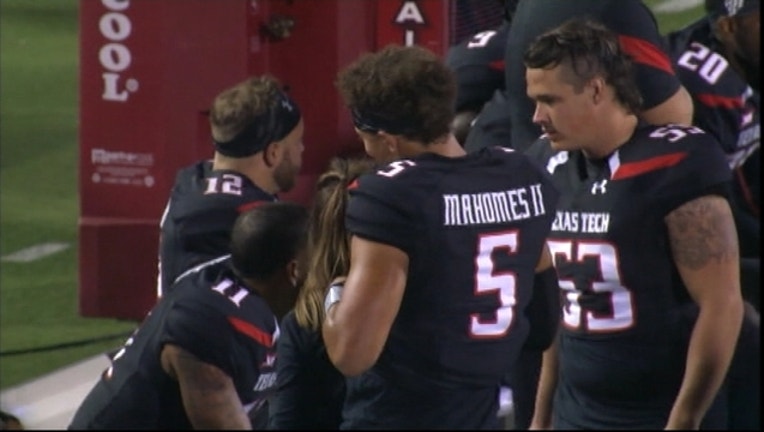 article
LUBBOCK, Texas (AP) — Texas Tech coach Kliff Kingsbury knows Patrick Mahomes' talent. But he also knows youth can bring dubious decisions.
Mahomes, a junior, threw for four touchdowns and ran for two more to lead Texas Tech past Stephen F. Austin 69-17 on Saturday.
"I thought he was a little loose, kind of doing his own thing a few times," Kingsbury said. "When things are there within the system, let's take it. And then when it's not, get out and work your magic."
The Lumberjacks couldn't stop the Red Raiders offense and couldn't get theirs on track for much of the game.
Mahomes, who was pulled midway through the third quarter, completed 30 of 43 passes for 483 yards; he rushed for 57 more.
Six Red Raiders receivers had yardage totals greater than 47 yards and the team had 10 plays of 20 yards or longer.
"This is a potent offense," Lumberjacks coach Clint Conque said. "We obviously realized it was going to be a tough get for us as a football team."
The win gave Texas Tech (1-0) its 16th straight win over FCS opponents, including three against the Lumberjacks (0-1).
SFA's offense needed a ground game badly.
"The first few drives we had a hard time establishing the run, and it's hard to sustain drives and win football games without having a decent running game, 'Jacks quarterback Zach Conque said.
Kingsbury wasn't too pleased with the offensive early on.
"I just didn't think offensively we played very technical — kind of some streetball going on early," he said.
THE TAKEAWAY
Texas Tech: The Red Raiders, who finished 126th in total defense last season (547.7 per game), looked improved. But the quality of their opponent probably didn't provide the most accurate test. The defensive line is benefiting from two transfers, Kolin Hill (Notre Dame) and Ondre Pipkins (Michigan), and freshman linebacker Jordyn Brooks looked strong and fast. The defense showed its grit when it stopped the Lumberjacks inside the 10-yard line in the second quarter and took over on downs.
"I really think their interior people gave us grief the whole night," coach Conque said.
Stephen F. Austin: The Lumberjacks have plenty of work to do to polish their offense. The Football Championship Subdivision team didn't score a touchdown until late in the third quarter and had just 60 yards rushing.
UP NEXT
Texas Tech: The Red Raiders schedule toughens significantly as they travel west next week to face Arizona State of the Pac-12. Texas Tech beat the Sun Devils 37-23 in the 2013 Holiday Bowl.
Stephen F. Austin: The Lumberjacks go to West Alabama of the Gulf South Conference, a Division II program. SFA has played the Tigers once, in 1993 when the Alabama school was known as Livingston University.
OODLES OF RECEIVERS
Eighteen different Texas Tech receivers caught passes from two quarterbacks on Saturday night. They caught 48 passes between them from Mahomes and Nic Shimonek, the backup.
ACROBATIC RED RAIDERS
WR Cameron Batson scored the Red Raiders first TD when he caught a ball over the middle and somersaulted into the end zone. Keenon Ward, a defensive back, had one of Texas Tech's two interceptions. He juggled the ball as he fought SFA receiver Aaron Piper for the ball deep in Red Raiders territory. Ward pulled it in on Texas Tech's 1-yard line. The Red Raiders got just a field goal off the turnover.
___
Follow Betsy Blaney on Twitter at www.twitter.com/betsyblaney
___
Online: AP college football website: www.collegefootball.ap.org