Louisville builds big lead, holds off Aggies for 8-4 CWS win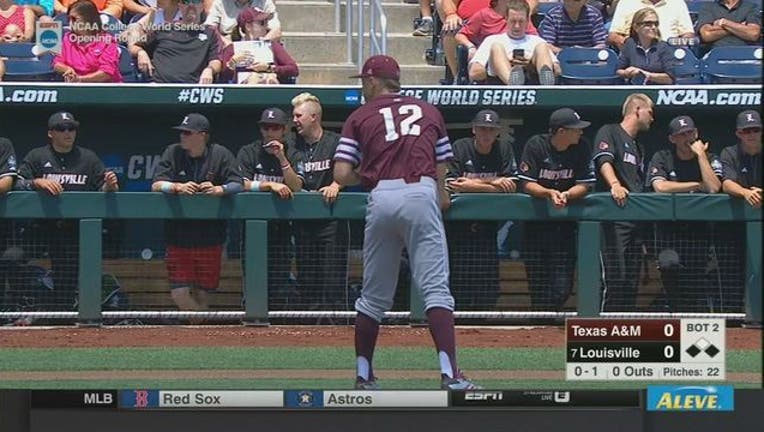 OMAHA, Neb. (AP) - Colby Fitch drove in four runs, Sam Bordner shut down Texas A&M after it cut Louisville's five-run lead to one, and the Cardinals beat the Aggies 8-4 on Sunday for their first win in six College World Series games.
The Cardinals (53-10) used six singles and a walk to build a 5-0 lead in the second inning against Corbin Martin (7-4). Texas A&M chipped away against national player of the year Brendan McKay (11-3) to make it 5-4 before Bordner entered.
Bordner pitched three innings of no-hit relief, and the Cardinals added two runs in the bottom of the sixth and another on Fitch's RBI double in the eighth.
Louisville had gone 0-5 over its last three appearances in Omaha. The Aggies (41-22) have lost seven straight CWS games.
The Cardinals knocked Martin out of the game in the second, and the Aggies called on season-long ace Brigham Hill to settle things down.
It was a bit of a surprise when Aggies coach Rob Childress announced Friday that Martin would get the start. Hill, the Washington Nationals' fifth-round draft pick, has been A&M's top starter since April 2016, but Childress indicated Martin had been the team's best pitcher the last three weeks.
Hill gave up no runs until the sixth, but the Aggies' offense couldn't overcome the big lead Louisville built. No team has overcome a five-run deficit to win at the CWS since the event moved to TD Ameritrade Park in 2011.
McKay lasted five innings, matching the shortest outing of the season by the first college player taken in the draft. The No. 4 overall pick by Tampa Bay allowed four runs on eight hits. He walked two and struck out six.
Bordner continued to flash his postseason dominance. The sophomore has given up no runs and one hit in his last 11 innings over four appearances.
BIG INNINGS ROUTINE
Louisville's five runs in the second inning marked the 26th time this season it has scored four or more in an inning this season.
HOME TEAM SUCCESS
Home teams have won the first three games of the CWS for the first time since 2007.
UP NEXT
Louisville will play Tuesday night against the winner of the TCU-Florida game Sunday night. The Aggies will play the loser in an elimination game Tuesday.