Lost timing? Romo, Bryant say no as Cowboys camp approaches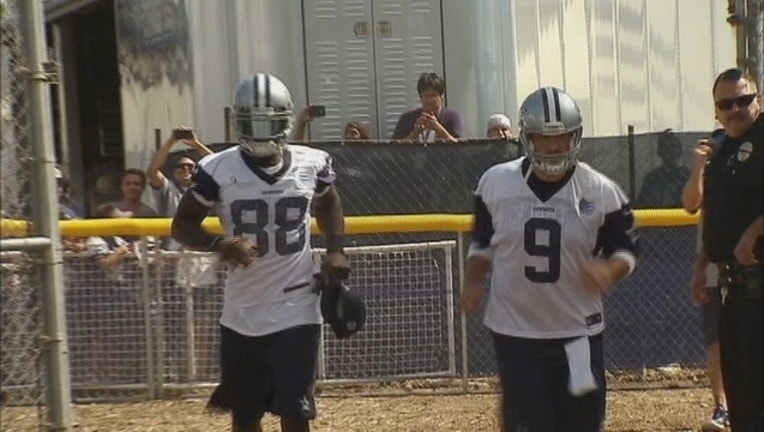 article
IRVING, Texas (AP) — Tony Romo and Dez Bryant planned to spend some time together throwing and catching during the break between offseason workouts and training camp.
Now that it's been four years since the last offseason together for the Dallas quarterback and his top receiver, logic says they're trying to make up for lost time after a lost season marked by major injuries to both.
Romo says otherwise.
"Timing and everything is going to be fine," Romo said on the final day of minicamp in mid-June. "It's just a matter of him feeling comfortable with the nuances of the game that really separate someone like Dez from others."
The 36-year-old Romo just enjoyed his first full offseason since 2012, talking confidently about being another year removed from a series of back issues — despite missing 12 games last year with a twice-broken left collarbone that was the biggest reason the Cowboys slid from first to worst in the NFC East.
But Bryant missed all the significant offseason work for the second straight year since his 2014 All-Pro season that helped Dallas to the division title and its first playoff victory since 2009.
Last year, he was out because he wanted a long-term contract instead of the one-year deal that came with the franchise tag. This year, the Cowboys took a cautious approach with the right foot that Bryant broke in the 2015 opener, ultimately sidelining him seven games and leading to a pair of surgeries, along with career lows in catches, yards and touchdowns.
As he watched an offseason practice alongside a few reporters last month, Bryant was asked if he expected to be at full speed for the opening of camp July 30 in Oxnard, California. With a nod toward associate athletic trainer Britt Brown, he essentially said it was out of his hands.
A few days later, though, he dismissed the same question with a curt "of course" while surrounded by reporters at his locker.
"Can't wait. But I have to be patient," said Bryant, who got his big contract at five years and $70 million just before camp last year. "As soon as training camp comes, you're going to see the big smile running on the field, ready to go. Get to do what I love. Can't wait."
Romo missed the offseason in 2013 because he was just a few weeks removed from back surgery. He was limited again a year later after another surgery when he injured his back late in the season against Washington. Then no Bryant in 2015, and a limited Bryant this year.
"The hard part is having the defensive back right in front of your face and dealing some of those other little things," Romo said about Bryant. "But he's played the game long enough that it won't take him much time. We just need him healthy. And when he's healthy, that stuff comes very fast."
Offensive coordinator Scott Linehan tends to take the optimistic view of such absences. When Romo was mostly on the sideline in the spring of Linehan's first year with Dallas in 2014, the former St. Louis coach spoke of valuable time for then-backup Brandon Weeden and others.
With Bryant mostly watching this spring, Linehan liked to speak of No. 2 receiver Terrance Williams, diminutive slot specialist Cole Beasley. and others. Plus, Linehan sees a difference between what amounted to a holdout from Bryant last year and the presence this year of someone eager to regain his All-Pro form.
"Dez has been here from the get-go, working extremely hard in the classroom," Linehan said. "He's in there front and center of every meeting. He wasn't able to do that last year. So there's a lot of benefits we're getting out of him while he's working with the trainers to get himself physically ready to go."
Don't be surprised if the Cowboys are cautious with Bryant at camp. Last year, he injured a hamstring just a few days in after he had been away from the team for months.
Dallas also has a history of protecting its biggest offensive stars before the regular season. The best example was Emmitt Smith, the all-time NFL rushing leader who would get precious few repetitions in camp and preseason games during the 1990s. The question is whether quarterbacks need more time with their receivers.
"I do think with quarterbacks and receivers, working together is important," coach Jason Garrett said. "They work together a lot of different ways. Throwing routes on air, throwing one on ones, seven on seven, and then ultimately in some team drills. Those progressions are important for those guys to get comfortable with each other."
Ultimately, though, Garrett echoed Romo. Health matters most with Bryant, whose broken foot ended a run of three straight seasons with at least 1,000 yards and 10 touchdowns, capped by an NFL-high 16 scores in 2014. And Bryant says not to worry about his timing with Romo.
"I just think it's something me and Tony established a long time ago," Bryant said. "It's something that can't fade because that's something that we had. We truly commit ourselves to being on the same page. It's all about tuning it and going to work."
___
Online: AP NFL website: www.pro32.ap.org and http://twitter.com/AP_NFL
___
Follow Schuyler Dixon on Twitter at https://twitter.com/apschuyler