Losses mounting for Texas Rangers in lineup, standings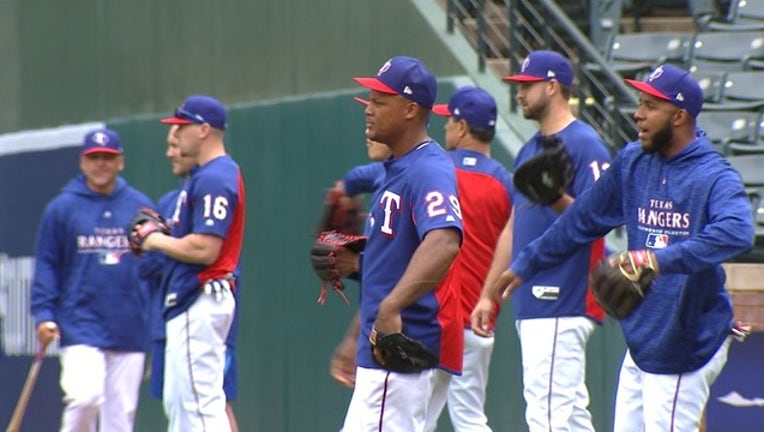 ARLINGTON, Texas (AP) - The losses are mounting quickly for the Texas Rangers, both in the standings and their starting lineup.
By time the Rangers finally had their first off day of the season Thursday, the last team in the majors to get a break, they were the first team with 10 losses.
They were also awaiting word on how long No. 3 hitter and 10-season starting shortstop Elvis Andrus will be out because of a broken right elbow. He was hit by a pitch on his throwing arm in the bottom of the ninth inning of their fourth straight loss, 7-2 to the Los Angeles Angels on Wednesday night.
Second baseman Rougned Odor (left hamstring) and center fielder Delino DeShields (left hand) were already on the disabled list, along with right-hander Doug Fister (right hip strain).
DeShields has been on the DL since March 31. Odor and Fister joined him Tuesday, a day after both aggravated previous issues in the opener against the Angels.
"In the interim, there is a toughness that you have to have as a group, as a team, as an organization, to maneuver through things like this," manager Jeff Banister said. "Not just on the field, but off the field and where the mindset is at. ... We still have to go play, and we will."
After 14 games in 14 days to open the season, Texas has its worst start since a 3-11 mark in 2002.
The Rangers start a three-game series Friday night at Houston, the defending World Series champion that opened the season by taking three of four games at Texas. The Rangers weren't making the short flight south until Friday to stretch the break at home as long as possible.
"Anytime you're faced with some tough times and adversity, I think there's obviously a reset here," Banister said. "In this business, at this level, there is no time down. Nobody pauses and waits for you. Good day for an off day. Good day to reset, recalibrate, exhale for a little bit. Just kind of reassess where we're at. And kind of count some heads a little bit."
Utility player Jurickson Profar, who started the last two games at second base for Odor, will shift to shortstop to fill in for Andrus, who was hitting a team-best .327 with two home runs.
Triple-A infielder Hanser Alberto could be recalled to play second base, or Isiah Kiner-Falefa could get the chance the same week of his big league debut. Drew Robinson has played second, but right now is the primary center fielder with DeShields out maybe another month.
Andrus was off to an impressive start after hitting .297 with career highs of 191 hits, 100 runs, 44 doubles, 20 homers and 88 RBIs last year. His previous career high in homers had been eight, in 2016 when he hit a career-best .302.
Texas moved five-time All-Star shortstop Michael Young to third base before the 2009 season to make room for the debut of Andrus, who was then 19. His 145 games as a rookie are the fewest in Andrus' career.
Andrus has never been on DL before. He was suspended one game in 2016 after the Rangers' brawl with Toronto that season ignited when Odor punched Jose Bautista. Andrus was on the paternity list for three days last July for the birth of his first child.
"That is one of the most impressive things about Elvis that I think does not get talked about enough is his durability and who he is," Banister said. "And he posts up every single day, wants to play, never wants to come out of the lineup and doesn't complain about anything. For this to happen, it's unfortunate. It's terrible."
___
More AP baseball: https://apnews.com/tag/MLBbaseball