'Limited' or not, Cowboys' Weeden carrying on as Romo sub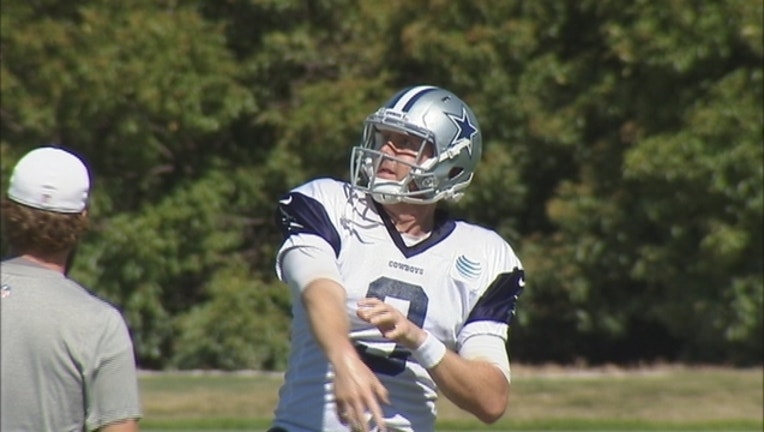 article
IRVING, Texas (AP) — Brandon Weeden didn't need Dallas owner Jerry Jones to tell him he's no Drew Brees.
And the Cowboys quarterback certainly doesn't believe anyone would confuse him with Tom Brady.
The backup filling in for Tony Romo, and now carrying the weight of a personal 10-game losing streak into a game against Brady and Super Bowl champion New England, is comfortable with who and what he is.
"I don't care what my limitations are or aren't, or what Drew can do or what Tom can do or the next guy can do," Weeden said. "My job is to find a way to get this team to win a game and do our part offensively and get in the end zone and score as many points and give our team a chance to win."
After the Cowboys (2-2) lost to New Orleans on Brees' 400th touchdown pass — an 80-yarder on the second play of overtime — Jones called Weeden "limited" while making a comparison to Brees in his postgame comments.
Also the team's general manager, Jones essentially repeated himself on his radio show two days later.
"I think the last two games when you look at the second half of our game against Atlanta and then you look at really the second half against New Orleans, you've got to include Weeden in the reason why we didn't win the game," Jones said.
"You don't have to in any way point the finger and say, 'You don't have Romo; you've got him.' I'm going to have to give it a bigger, 'You don't have Romo.'"
Weeden's best moment in three starts for the Cowboys, including one last season, was a tying 17-yard touchdown pass to Terrance Williams in the final 2 minutes.
But he never got a chance to have the next breakthrough — a victory — because Brees never let Weeden get the ball again.
His most recent win as a starter was Dec. 9, 2012, against Kansas City in his rookie season with Cleveland, where he spent two seasons after getting drafted in the first round.
"I've had my face beat in but I'm there Wednesday ready to go," said Weeden, who has just 23 starts despite turning 32 next week because he spent five years in pro baseball before playing at Oklahoma State.
"Maybe that goes back to baseball, but I have a pretty short memory. I wasn't blessed with much, but I was blessed with a short memory."
Weeden will get at least one more start Sunday against the Patriots (3-0). But the Cowboys have at least four more games following their bye without Romo, who broke his left collarbone in a Week 2 win over Philadelphia.
Dallas traded for Matt Cassel after Romo's injury, and he's getting closer to taking over the backup role from Kellen Moore, who hasn't played in a regular-season game. Cassel had 71 starts over seven seasons with New England, Kansas City and Minnesota.
Coach Jason Garrett called Weeden after the trade to tell him the coaching staff was behind him, and Garrett hasn't hinted at any erosion in that support.
"He has a great demeanor about him," Garrett said. "He works hard trying to understand what we are trying to do each week. He's engaged with his teammates. He has handled all aspects of it really, really well."
Weeden isn't showing any strain from the scrutiny of several weeks as the Cowboys' starter — rather than just the one week a year ago in a loss to Arizona when Romo had a back injury.
"I do a good job of blocking everything out," he said. "Is there pressure that comes with this position? Shoot yeah. It's the most pressure-packed position in all of sports. It's backing up Derek Jeter when he was in New York. That's about as big as it gets.
"If you let that pressure build on you and think about it worrying you, there's no way you can go out and function on Sunday."
Oh, and for anybody wondering, he quit paying attention to Twitter when he was a rookie with the Browns.
"I remember the people that talked ... never had a picture of themselves," Weeden said. "It was some cartoon or something, and it was always probably a 12-year-old kid who never played quarterback. I'm 32 years old. I don't need a 12-year-old telling me how to play quarterback."
And he's not worried about his owner calling him "limited."
___
Online:
AP NFL website: www.pro32.ap.org and www.twitter.com/AP_NFL
___
Follow Schuyler Dixon on Twitter at https://twitter.com/apschuyler