Lewis, Fielder lead Texas Rangers over Astros 2-1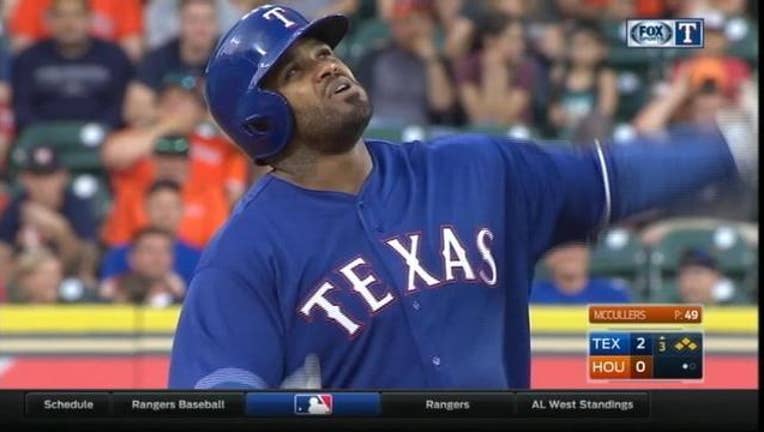 HOUSTON (AP) — Colby Lewis pitched seven scoreless innings and Prince Fielder provided the offense with a two-run double to lead the Texas Rangers to a 2-1 victory over the Houston Astros on Friday night.
Lewis (3-0) allowed four hits and struck out six in his first scoreless outing this season to pick up his first win since April 29. He had pitched well in his previous three starts but didn't factor into the decision in any of those games.
Jake Diekman struck out two in a perfect eighth and Sam Dyson gave up an RBI single to Colby Rasmus with two outs in the ninth before striking out Evan Gattis for his third save.
Shin-Soo Choo walked with one out in the third before Ian Desmond singled. Fielder sent them both home when his fly ball to left field sailed just over the head of 5-foot-6 rookie outfielder Tony Kemp for a double to make it 2-0.
Houston starter Lance McCullers (0-1) yielded five hits and two runs with seven strikeouts in six innings in his second start of the season since coming off the disabled list.
The Rangers had a chance to pad their lead in the fourth when Elvis Andrus doubled with Nomar Mazara on first base. But Mazara was tagged out at home by catcher Jason Castro to end the inning.
Lewis had a scare in the seventh inning when Carlos Correa hit a line drive, which bounced off the pitcher's glove that he had raised to his head and hit the back of his head before sailing into the air where second baseman Rougned Odor grabbed it for the out.
Lewis took a minute to get composed and talk to a trainer before remaining in the game.
The Astros couldn't string many hits together and didn't have more than one hit in an inning until the ninth. Lewis had retired 10 straight when Gattis singled with two outs in the seventh. But Lewis sat down Colin Moran to end that inning and his night.
NICE CATCH
Houston manager A.J. Hinch and bench coach Trey Hillman saved Texas catcher Bobby Wilson from crashing headfirst into the Astros dugout when he leaned too far over the railing trying to snag a foul ball in the first inning. Wilson was falling into the dugout, and both of his feet were off the ground when both men grabbed his shoulders and chest and pushed him back to his feet.
SKIPPER ON NEW STADIUM
Texas manager Jeff Banister weighed in on plans for the Rangers' proposed new $1 billion retractable-roof stadium, which was announced on Friday and could be authorized by the Arlington City Council on Tuesday.
"We've got a nice house. We really do," he said. "Yet the prospects of possibly having a house that with a retractable roof would be great for the fans, the experience, (we'd) never have to worry about losing a game ... to weather."
TRAINER'S ROOM
Rangers: OF Choo, who had been on the DL with a strained right calf since April 9, was activated before the game. He lasted just 2 1/2 innings Friday night before leaving the game with a tight left hamstring.
Astros: Hinch said OF Carlos Gomez, who is on the DL with a bruised left ribcage, could go on a rehabilitation assignment with Double-A Corpus Christi early next week.
UP NEXT
Rangers: Cesar Ramos (0-2, 4.32) will make his third start and fifth appearance on Saturday. Ramos didn't factor in the decision in his last start against the Blue Jays after giving up seven hits and one run in 4 1/3 innings of a 7-6 win.
Astros: Mike Fiers (3-1, 4.63) is scheduled to make his seventh start of the season on Saturday. Fiers allowed six hits and two runs in four innings in his first relief appearance this year on Sunday in a 10-9 loss to the Red Sox.