Late field goal lifts No. 24 Oklahoma State over Texas 30-27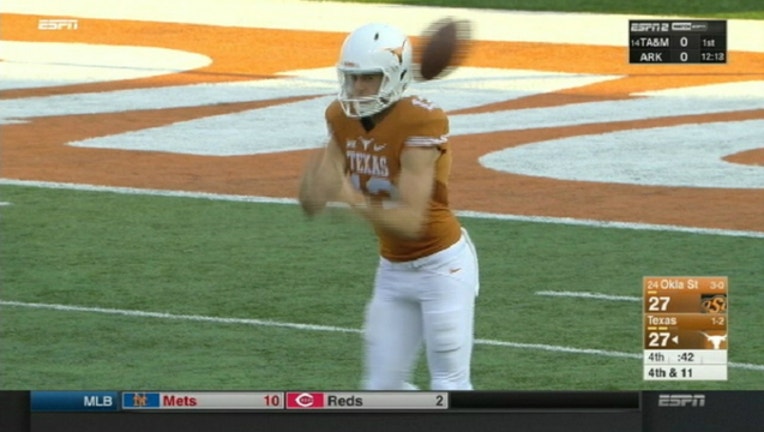 article
AUSTIN, Texas (AP) — Ben Grogan kicked a 40-yard field goal with 6 seconds left to lift No. 24 Oklahoma State to a 30-27 win over Texas on Saturday, giving the Cowboys their fourth straight win on the Longhorns' home field.
Grogan had tied the game with a 41-yarder with 1:33 left. The game appeared headed for overtime a minute later until Texas punter Michael Dickson, an Australian rules football player, fumbled a deep snap and scrambled to get off a 10-yard punt near his own end zone.
Oklahoma State (4-0, 1-0 Big 12) almost didn't get a chance at Grogan's game-winner when the Cowboys were penalized with 10 seconds left. But because they still had a time out, it did not force the 10-second runoff and Grogan calmly drilled the final kick.
Texas (1-3, 0-1) scored two defensive touchdowns but still fell to one its worst starts in more than 50 years.
It was the second straight week Texas was stung by a late special teams gaffe.
In a 45-44 loss to California, a missed extra point with 71 seconds left prevented a chance for overtime and spoiled a rally from 21 points down. In this one, Texas led 27-24 late before an unsportsmanlike conduct penalty against coach Charlie Strong gave Oklahoma State an extra 15 yards to set up Grogan's game-tying kick.
Then came the botched punt that allowed Grogan to come right back out and send the Longhorns to their 22nd loss in 27 games against ranked opponents. Strong is now 7-10 in his second season at Texas.
Texas last started 1-3 in 1956, the year before Darrell Royal arrived and built the program into a national power. In 1993, Texas started 1-3-1 but at least had the tie before its third loss.
Mason Rudolph passed for 290 yards and a touchdown for Oklahoma State but also had three turnovers and by the fourth quarter was rotating with J.W. Walsh. Jerrod Heard passed for 119 yards and ran for 48 for Texas, but the Longhorns managed only one offensive touchdown a week after Heard set a school record with 527 total yards.
Oklahoma State led 14-3 in the second quarter before Rudolph simply dropped the ball without any pressure from Texas and Hassan Ridgeway picked it up for a 34-yard touchdown return. A Walsh touchdown pass to Jeremy Seaton put Oklahoma State ahead 24-20 in the third.
Texas freshman quarterback Holton Hill intercepted a Rudolph pass into double coverage and zipped 41 yards along the sideline for a touchdown that put Texas up 27-20.
___
AP college football website: collegefootball.ap.org