Kyle Busch win at Texas 1st this season for Joe Gibbs Racing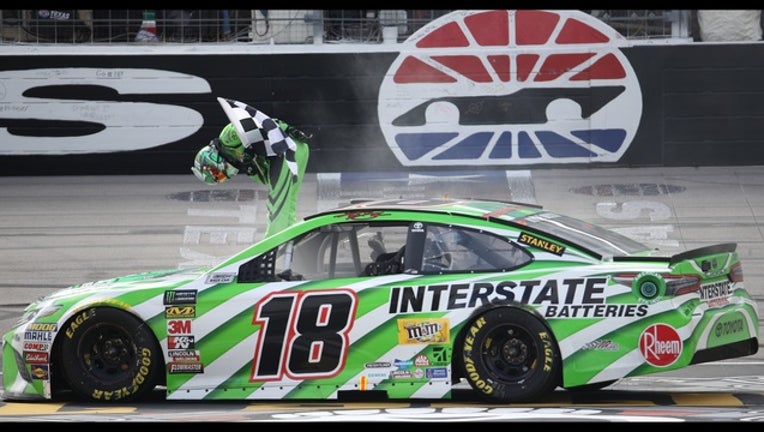 FORT WORTH, Texas (AP) -- Kyle Busch finished ahead of Kevin Harvick and the rest of the field this time, winning at Texas Motor Speedway on Sunday to give Joe Gibbs Racing its first victory of the season. 
Busch stayed in front of Harvick the last 24 laps after the final restart. It was Busch's third win at Texas , and the 44th of his career.  He led 116 of the 334 laps at the 1 1/2-mile track.
While Busch hadn't won in the first six races, he had finished second three times -- twice to Harvick -- and is the NASCAR Cup Series points leader. He also had a third-place finish in the No. 18 Toyota.
Harvick, who won at Texas in November, led 87 of the first 129 laps and won the first stage. But he had issues on pit road, including a strange incident during a caution when a lugnut popped loose and into the jack. He dropped from first to ninth on that stop, then had to come back in a few laps later because of a loose wheel. 
There was another stop when Harvick, who dropped back as far as 27th place and a lap behind the leader, got a penalty for an extra man over the wall when a tire got loose in the pit. 
Jamie McMurray finished third, ahead of Erik Jones. Ryan Blaney was fifth a day after winning the Xfinity Series race. 
A DIFFERENT 1.5 WINNER
Harvick and reigning Cup Series champion Martin Truex Jr. had won the previous eight Cup races on 1 1/2-mile tracks. 
Truex had won five and Harvick the other three, including the first two this season.
But Truex wasn't even around for the finish of this one. The first 85-lap stage ended under caution after a front right tire blew on his No. 78 Toyota, which shot up the track and slammed hard into the outer wall. Truex, second to Harvick at the time, finished last in the 37-car field. 
"Just blew a right-front tire out of nowhere. Not sure what happened there, if we run something over or what," Truex said. "All in all we were going to be in for a good day. We were making the car better and still had room to go. We were as fast as anybody. At least that's a positive."
TOP 10 FOR SHS WITH TOP 3
Kurt Busch, the pole sitter, finished seventh. Stewart-Haas Racing had the top three starters in a race for the first time with Harvick, Busch and Clint Bowyer, and all finished their Fords in the top 10. Bowyer, coming off a win two weeks ago at Martinsville to end his 190-race winless streak, was ninth. 
CHAMP'S STREAK TURNS 30
Jimmie Johnson's career-long winless streak reached 30 races after the seven-time Cup Series champion was taken out in a seven-car incident. 
Johnson, who has a record seven Cup wins at Texas, was running in the middle of the pack when he was caught in the melee on the first lap after the restart following the completion of the second stage. Denny Hamlin got loose and spun in front of Johnson, who has 83 career wins but hasn't been to Victory Lane since Dover last June. 
"Unfortunate circumstances, but a lot to build on from this weekend.  A strong Friday, a fantastic Saturday and then not the best Sunday," Johnson said. "We are getting closer each and every week. ... We will get back to our winning ways soon." 
Others cars involved were Brad Keselowski, Austin Dillon, Trevor Bayne, Aric Almirola and David Ragan.
UP NEXT
The series is back to short-track racing next Sunday at the half-mile Bristol Motor Speedway, where Johnson and Kyle Busch both won races last year. Johnson won in the spring and Busch in the fall night race.