Kyle Busch pulls away at Richmond for 3rd Cup win a row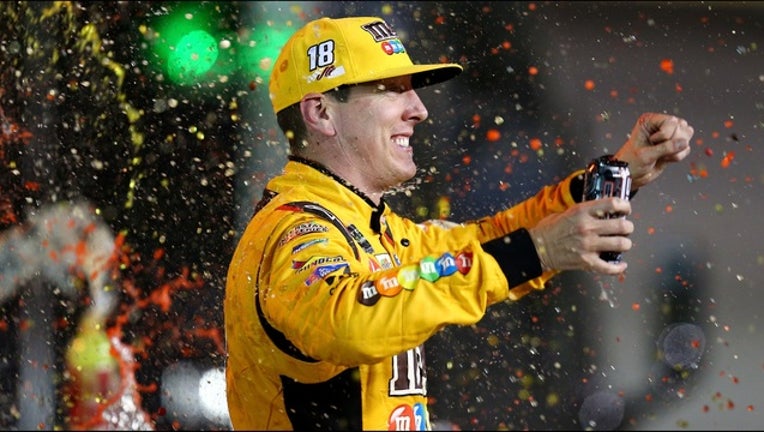 article
RICHMOND, Va. (AP) -- Kyle Busch pulled away on a restart in a two-lap overtime sprint to the finish Saturday night for his third consecutive NASCAR's Cup Series victory.
Busch, who started 32nd but quickly worked his way into contention, outran Chase Elliott and teammate Denny Hamlin for his fifth career victory at Richmond Raceway, the most among active drivers. The victory is his 46th overall and came from the deepest starting spot in the field of his career. The points leader also matched Kevin Harvick's three-race winning streak from earlier in the season.
The race went more than 350 laps with the only cautions coming after stages one and two, both won by defending race champion Joey Logano, and remained clean until Ryan Blaney and Ricky Stenhouse Jr. crashed on lap 353, bringing out the first on-track yellow.
Busch took the lead after the next caution, brought out by the smoking car of Ryan Newman, when he was running second to Truex heading onto pit road and got out first. He also beat Hamlin and Harvick off the line on a restart with six to go, and then never let anyone contend when the race went back to green for the final time on lap 400.
The end was a bitter pill for Truex, who ran up front all night.  He and Busch were dueling after a restart with 23 laps to go, and after Busch pulled away, Truex seemed to be closing ground until a spin by David Ragan brought out the yellow.
All the front-runners pitted, and while Truex's team struggled mightily in the No. 1 pit stall, Truex could only watch as contender after contender beat him off pit road. He lost at least seven spots by the time NASCAR had sorted out the next resstart starting order.
It marked the 75th time he has raced on a short track in NASCAR's premier series, and perhaps the best chance he's had in those 17 chance to come away with a victory, but instead he dropped to 0-for-75 on short tracks for his career.