Koepka overcomes early bogeys, Spieth for lead at Nelson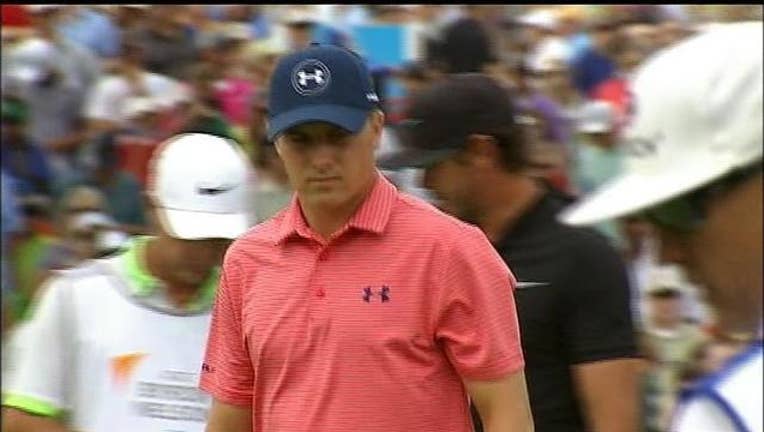 article
IRVING, Texas (AP) — Brooks Koepka knew all those spectators lined several deep along the fairways and around the greens were there to cheer for one his playing partners.
Many of them were lugging around some of the 8,000 Jordan Spieth bobbleheads given away Saturday at the Byron Nelson or using hand-held fans with his picture. They also got to watch the third-round leader play.
Koepka overcame two early bogeys and the huge shadow of playing alongside Spieth in his home event, shooting a 5-under 65 and matching the Nelson's best 54-hole score at 16-under 194. He had a two-stroke lead over Spieth going into Sunday's final round when they will be paired together again.
"Doesn't really bother me. I mean he's got a lot of support which is cool to see," said Koepka, describing himself as a chilled athlete. "He has grown up here. ... He should."
Spieth played his first PGA Tour event at the Nelson as a 16-year-old amateur six years ago. He is now the world's No. 2-ranked player and his image is everywhere at TPC Four Seasons, including those treasured bobbleheads and on signage for AT&T, which sponsors him and this tournament.
Playing in the final threesome with Spieth and second-round leader Ben Crane, Koepka hit his first drive way left on the way to an opening bogey. There were birdies at Nos. 3 and 5, but Koepka followed with another bogey at No. 6 when he hit his first two shots into the rough.
But Koepka was bogey-free the rest of the day and took the lead with a 20-foot birdie at the difficult 405-yard 14th hole. Spieth drained a 23-foot putt there to salvage a bogey after hitting his drive into the water and having to punch a shot back into the fairway.
"Powerful. Fearless and powerful," Spieth said when asked to describe Koepka's game.
Matt Kuchar (65), Bud Cauley (68) and Sergio Garcia (68) were tied for third at 13 under.
Crane, who turned 40 in March, shot 72 and dropped to 10 under and in a tie for 11th.
Even though Koepka played well enough to take a two-stroke lead, he felt like he hit the ball terrible and that his round "wasn't anything to brag about at all" with the exception of the round-low 22 putts.
"It wasn't good today. It was kind of embarrassing," Koepka said. "We both kind of hung in there, battled it out and we made some good, good key 10-footers."
A stressful round is what Spieth called it.
"I just don't have confidence over the ball right now," he said. "It's very frustrating and actually pretty incredible to still be in this tournament."
Garcia was 15 under and with the outright lead after his fourth birdie of the round, and second in a row, when he made a 25-footer at No. 8. But the 36-year-old Spaniard, the 2004 Nelson champion, then three-putted from nearly 60 feet at the 9th hole before missing the fairway with his drive for another bogey at No. 10.
That second bogey came about the same time Spieth, in the final group right behind him, made a 9-foot birdie at the 416-yard No. 9 to get to 14 under for the lead.
But Spieth had the bogey at 14 and his only other birdie after that was from about 20 foot at the par-3 17th to get back within a stroke of the lead — "Probably the loudest roar I think I ever heard on a golf course," Koepka said. Spieth gave the stroke right back with a wayward tee shot and bogey at No. 18.
This is Spieth's sixth Nelson, his fourth as a professional. The Dallas native's best finish was a tie for 16th as a 16-year-old in his 2010 debut.
At 26, Koepka is four years older than Spieth with one win (Phoenix in 2015) in his 54 previous PGA Tour starts.
"I feel like I'm pretty mentally tough," he said. "Nothing really bothers me but I know I've worked my tail off, so the results should come."