Knight throws for 3 TDs in No. 20 Texas A&M 67-0 win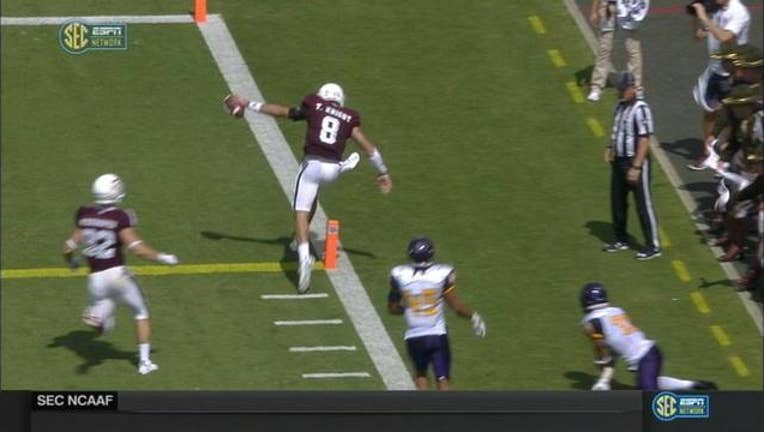 article
COLLEGE STATION, Texas (AP) — Trevor Knight and the Texas A&M offense took some time to get started Saturday, but when the Aggies got going, they were tough to slow down.
Knight threw for 344 yards and three touchdowns and ran for another score in a 67-0 rout of Prairie View A&M.
Knight finished 21 of 37 and threw touchdowns of 8 yards to Speedy Noil and 34 and 64 yards to Christian Kirk in the second quarter as the 20th-ranked Aggies (2-0) built a 38-0 halftime lead. Knight also ran for a 78 yards on seven carries in just over one half of play.
"We didn't start as quickly as I hoped we would," Knight said. "There's not a lot of explanation for that besides execution. We have to execute better out of the gates. We settled in obviously and got some big plays going, especially in that second quarter and to start the third quarter."
Noil made his debut after missing last week's game serving the second game of a two-game suspension he received before A&M's bowl game last season.
The Aggies extended their home non-conference win streak to 23 games and are 2-0 for the fourth straight season.
"As a coach, when you set out and have a plan — not necessarily X's and O's plan but what you ask guys to do — and that happens, you feel good about it," Texas A&M coach Kevin Sumlin said. "The key to any successful team is to be able to duplicate that week in and week out."
Texas A&M outgained the Panthers 672-205 in earning its largest shutout since defeating Missouri 73-0 on Sept. 18, 1993.
"Shutouts are hard to come by," Texas A&M cornerback Nick Harvey, who also had a 73-yard punt return for a touchdown, said. "Getting a shutout doesn't happen every day. We feel great right now, but we made some mistakes."
Texas A&M managed a 22-yard field goal in the first 10 minutes before busting the game open over the final 18 minutes of the half.
Keith Ford, who had two touchdowns, had an 11-yard scoring run with three minutes left in the opening quarter before Knight tight-roped the sideline for the final 5 yards of a 32-yard TD scamper to end the first.
"With us, it's getting up to our tempo," Kirk said. "All we need is one explosive play to get us going. Once we get that first explosive play, we take advantage of the tempo and get right back on to the ball and start running our plays."
Prairie View (1-1), which plays in the FCS Southwestern Athletic Conference, had a 38-yard field goal blocked and missed a 42-yard field goal in the first half.
"We knew going into it that we were going to have to play above ourselves to have a chance against a top 20 SEC program," Prairie View coach Willie Simmons said. "I thought they competed for 60 minutes. They didn't quit. We have them our best punch, and that's all you can ask for."
Trey Green threw for 160 yards on 13 of 39 passing, but the Aggies' defense had pressure on Green throughout the game.
TAKEAWAY
TEXAS A&M: The Aggies played well in every facet of the game ahead of their SEC opener. The first-team offense was balanced, while the defense kept pressure on Prairie View throughout. The one miscue was a Knight interception in the end zone to end a drive in the second quarter.
BY THE NUMBERS
PRAIRIE VIEW A&M: Demarquo LaStrappe caught six passes for 88 yards. The Panthers totaled 32 rushing yards led by Dawonya Tucker's 28 yards.
TEXAS A&M: Kirk had 106 yards receiving on five catches to go with his two touchdowns. The Aggies had 30 first downs. The defense finished with two sacks, including a safety.
THEY SAID IT
"We put 67 points on the board and pitched a shutout on the defensive side," Knight said. "That's about us. Do I think we can still improve in so many different areas? Yes. We didn't play our best game of football today."
POLL IMPLICATIONS
After entering the top 25 last week, the Aggies should maintain their spot in the poll after their resounding win over this FCS opponent.
UP NEXT
PRAIRIE VIEW A&M: The Panthers will travel to Alabama A&M Sept. 17.
TEXAS A&M: The Aggies start SEC play with the first of three away from Kyle Field when they go to Auburn Sept. 17.
___
AP college football website: collegefootball.ap.org