Kingsbury trying to move past comments about Bielema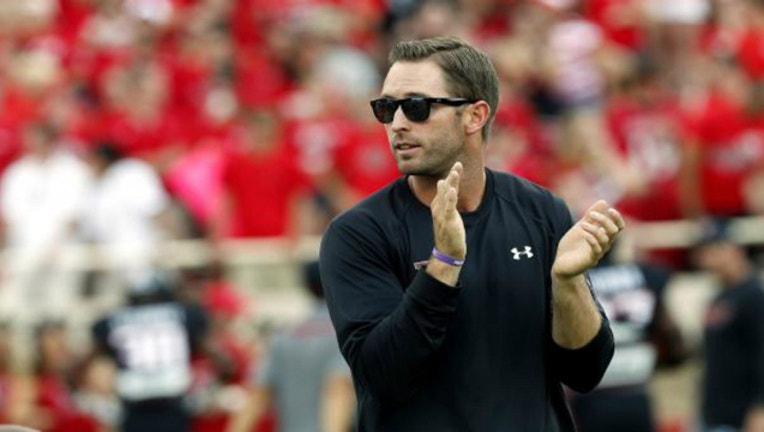 article
DES MOINES, Iowa (AP) — Texas Tech coach Kliff Kingsbury is done talking about Bret Bielema.
Kingsbury made headlines following last weekend's 35-24 win over the Razorbacks by blasting the Arkansas coach (http://apne.ws/1MmrdEB ). According to Kingsbury, some comments Bielema made at a recent Texas high school coaches' convention insinuated that spread offenses were soft.
Kingsbury turned down multiple opportunities to elaborate on the matter Monday on the Big 12 coaches' call, preferring instead to focus on Saturday's league opener against No. 3 TCU (3-0).
"I'm moved on from that," Kingsbury said. "I really don't want to revisit it."
Kingsbury did confirm that he and Bielema shook hands after the game, refuting suggestions that the two ignored each other. Kingsbury also clarified that it wasn't his intent to stick up for the spread offense, which is by far the attack of choice in Texas prep football.
"I've never had to defend that ever. I wasn't defending anything. Just kind of stating facts," said Kingsbury, whose team is 3-0 after losing eight of 10 to close 2014.
West Virginia coach Dana Holgorsen, a longtime proponent of the spread, dismissed the idea that spread offenses can't be tough, adding that he believes his Mountaineers (2-0) are as physical as "any team out there."
"I've seen spread offenses be soft. I've seen power, old school, pro (style) teams be soft as well. If you coach them to be soft, they're going to be soft. If you coach them not to be soft, it doesn't matter what offense you run," said Holgorsen, whose team hosts Maryland on Saturday.
HAVE YOU HEARD? Texas might be 1-2. But the Longhorns have apparently found a quarterback. During last weekend's heartbreaking 45-44 loss to California, redshirt freshman quarterback Jerrod Heard broke the school record with 527 yards in total offense, with 364 passing and 163 rushing. The previous record of 506 yards was set 10 years ago by Vince Young, who would go on to lead Texas to a national title. "Just to watch the way he operated Saturday night was amazing. And the thing he does is he gets everyone on the team just charged up knowing that when he takes the field something good is going to happen," Texas coach Charlie Strong said. Texas opens Big 12 play Saturday by hosting Oklahoma State (3-0).
EXTRA POINTS
— Count TCU coach Gary Patterson among those who think Saturday's game against the Red Raiders will be a lot closer than the 82-27 blowout win the Horned Frogs posted in 2014. TCU has already lost nearly half its starting defense to injuries, and Tech is unbeaten. "We understand...that Tech's a better football team than they were a year ago," Patterson said. "They're completely different. Our kids see that."
— Oklahoma coach Bob Stoops said the Sooners spent more time practicing "Hail Mary" defense this year than ever before. It didn't seem that way in Saturday's 52-38 win over Tulsa though, as Keyarris Garrett caught a 43-yard TD pass at the first half whistle. "We need to do it more," Stoops said.
— Like a lot of Power Five teams, Kansas State is 3-0 but with a lot of work left to do. The Wildcats needed three overtimes to beat Louisiana Tech 39-33 on Saturday. "We left a lot to be desired," Kansas State coach Bill Snyder said. "We made a vast variety of mistakes and errors." The Wildcats join the Sooners (3-0) and Iowa State (1-2) on byes this weekend, while No. 5 Baylor (2-0) hosts Rice and Kansas (0-2) travels to Rutgers.
___
Follow Luke Meredith on Twitter at www.twitter.com/LukeMeredithAP and on Facebook at www.facebook.com/LukeMeredithAP