Jones and Goodell chatty and chummy at draft event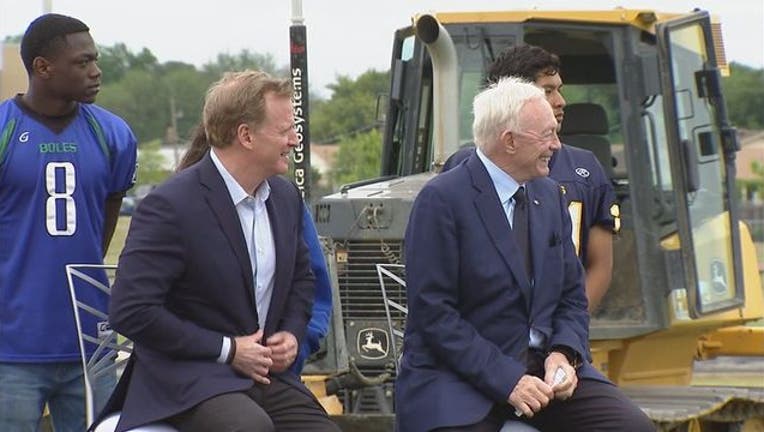 ARLINGTON, Texas (AP) - As Roger Goodell and Jerry Jones sat side by side chatting, then grabbed shovels at a junior high school to dedicate a new field, they sure seemed chummy.
Then again, this was for a worthy cause, so any and all past animosities over suspensions and lawsuits and contract extensions were, uh, buried on Wednesday.
Instead, they spoke from the stage at Workman Junior High School about the latest NFL Draft Legacy Project. Soon, youngsters will be making footprints on the turf field being built. The NFL commissioner and Dallas Cowboys owner were more interested in a different sort of footprint.
"It's giving kids the opportunity, resources and facilities to play sports," Goodell said. "It gives kids the opportunity to find out about themselves and grow. It stays with them for a lifetime."
The Cowboys funded $1.4 million of the project, and Goodell praised Jones helping not only this school and the city of Arlington, but for his role in the North Texas area and in the league.
"Without the Cowboys, we wouldn't be here," Goodell said on the day before the Cowboys host the draft. "We're here because of his leadership, because of his drive and because of his commitment to this community as well as making everything bigger and better. He does that, and every time we give him an event, he finds a way to make it bigger and better. He's been an extraordinary leader for us."
Jones, who arrived by private helicopter - Goodell came by car - spoke of how Goodell began in the mailroom at the league and that the commissioner "always is about growing the pie." He then veered away from NFL policy and economics to tell an enlightening and, Jones hoped, an inspirational story to the school kids on hand for the ceremony.
"The biggest point of all - and I am talking to the young people here," Jones said, "I was a senior in college. Our coach took us to Houston to get away from all the hoopla of New Year's; we were playing in the Cotton Bowl, and we had to get down to business in Houston. He took us on a field trip to the Astrodome, the eighth wonder of the world. There had never yet been a game played in it.
"I walked in, and the first thing that hit me was what would it be like to compete in this stadium? It was like Mars.
"Where to you start to build something like this, where do you hit the first nail or turn the first screw?
"Thirty-five years later, when I thought about AT&T Stadium: How do you pay for it, make it work, get our leaders to be part of it? But I didn't have to wonder if I could do it. I knew I could do it. I'd seen it done.
"And," he added, drawing laughs from Goodell, other dignitaries on hand and, most notably, the students in the bleachers, "you could put five of those stadiums into our stadium."
The message, of course, went beyond building a sports and entertainment palace.
"Seeing something like that does something for young people," Jones noted. "It gives them confidence that they can do this.
"You can do it. That's what it's all about."
___
For more NFL coverage: http://www.pro32.ap.org and http://www.twitter.com/AP_NFL