John Petty, Alabama topple No. 5 Texas A&M 79-57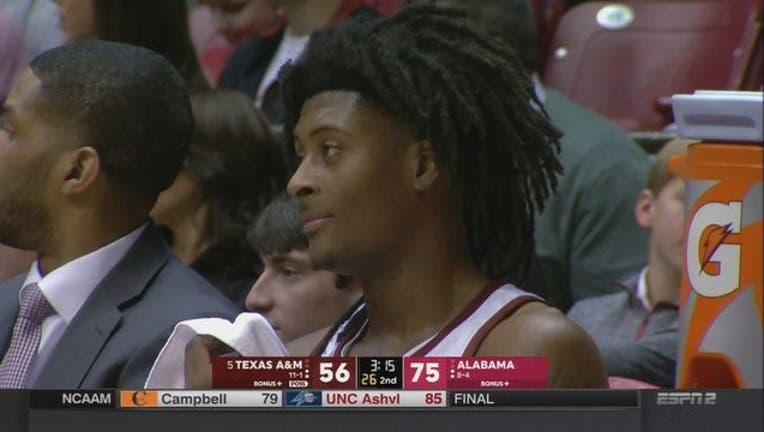 article
TUSCALOOSA, Ala. (AP) - Avery Johnson saw his Alabama players hit shots, divvy the scoring load four ways and basically do the things they didn't last time out.
John Petty made five 3-pointers and scored 18 points to help the Crimson Tide knock off No. 5 Texas A&M 79-57 on Saturday night in the Southeastern Conference opener for both teams.
The Tide (9-4) rebounded from a lackluster performance against Texas in a 66-50 loss an hour away in Birmingham to easily upset the short-handed Aggies (11-2). Johnson said he was on the bench wondering, "Where was this team in Birmingham?"
"That's what went through my mind," he said. "Where was this team? What team did we see in Birmingham? That wasn't Alabama. It wasn't Alabama, 'Bama, it wasn't 'ma.' It was none of the above. That's what irritates me."
Alabama big man Donta Hall had 17 points and six rebounds as four players accounted for 67 points. Collin Sexton, the SEC's leading scorer, had 16 points. He was just 3-of-12 shooting but missed only once in 10 foul shots. Dazon Ingram also had 16 points, along with six rebounds and three assists.
For Alabama, Petty thinks this performance was a sign of things to come.
"We had some great practices after Texas," Petty said. "We were all a little hurt after that game, because we just felt we could have played better. We came out and had one of our better games this season and that's what you can look forward to the rest of the season. We're going to be playing as hard as we can and all together."
Texas A&M matched its highest ranking in the AP poll this week after a four-game winning streak but got off to a rough start in league play.
The Aggies were without leading scorer D.J. Hogg, serving the second of a three-game suspension for violating school policy. With starting guard Admon Gilder also out with a knee injury, the Aggies struggled offensively.
"We've got guys playing out of position at times and we looked like a dysfunctional team because we were," Texas A&M coach Billy Kennedy said.
Tyler Davis and Robert Williams both had 14 points for the Aggies. Williams added eight rebounds in 21 minutes, and Kennedy said he hurt a knee in the first half that limited his playing time. The Aggies didn't make a field goal over the final 5:24, missing nine in a row.
Petty hit two 3-pointers in a 20-second span to give Alabama a 57-41 lead six minutes into the second half. The Aggies cut it back to single digits before Alabama started an 11-1 spurt with Hall's layup to reclaim control of the game.
Hall made 7 of 8 shots to complement the drives of Sexton and Petty's outside shooting.
"He rolled hard to the basket," Kennedy said. "When Petty's making shots and Sexton's a threat off the ball screen, his rolls to the basket hurt us at times. It makes it hard to help and shift."
Alabama had closed the first half on a four-minute scoring drought, allowing the Aggies to cut a 12-point deficit down to 35-28.
Texas A&M's Duane Wilson appeared to hurt his right knee with about 7 minutes left in the game, staying in before crumpling to the court with the first clock stoppage. He scored nine points.
The two teams meet again in the regular season finale.
BIG PICTURE
Texas A&M: The Aggies missed all 10 3-point attempts in the first half and finished 2 of 21. Shot 30 percent (21 of 70) from the floor.
Alabama: Made 26 of 57 shots (45.6 percent) against the fourth-rated defense in field goal percentage (36.1 percent allowed).
NORRIS OUT
Riley Norris, Alabama's most experienced player, is out for the season with a hip injury. Johnson announced before the game that Norris will have surgery Friday morning. He has started 57 games in his career and played in 110, averaging 4.8 points this season.
SEXTON'S START
Sexton, the SEC's leading scorer, scored Alabama's first seven points but got some rest with seven minutes on the bench in the first half. "He used a lot of energy in the first three minutes of the game because those first nine points that he had was pretty incredible," Johnson said.
UP NEXT
Texas A&M: Hosts Florida on Tuesday night, again without Hogg and probably Gilder, Kennedy said.
Alabama: At Vanderbilt on Tuesday night.