Jinxing themselves? Cowboys create Facebook event for NFC Championship game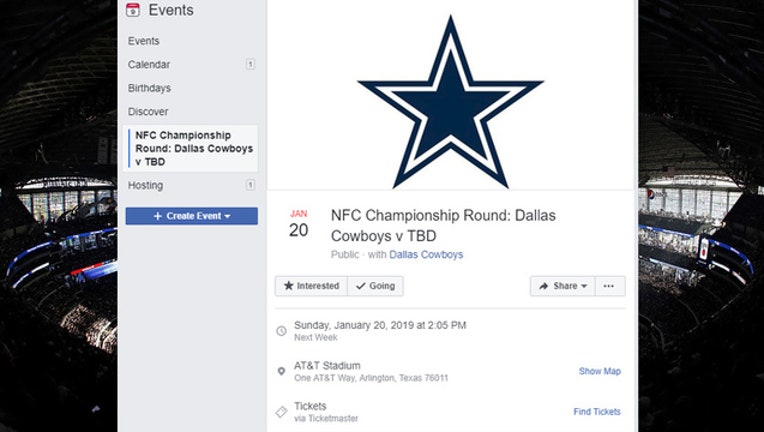 UPDATE: 1/9 7:30 p.m. - The Dallas Cowboys deleted the NFC Championship event from its official Facebook page after a growing fan backlash online and the following story from FOX 4 News.
-----------------------------------------------------
Dallas sports fans are a superstitious bunch and a move by the Dallas Cowboys on Wednesday could go down in the city's sports history depending on the outcome of Saturday's playoff game.
The official team Facebook page created an event for hosting the NFC Championship game at AT&T Stadium. The event also links out to a Ticketmaster resale page with tickets for the game. The move came three days ahead of the divisional playoff game in Los Angeles between the Cowboys and Rams.
Most fans commenting on the Facebook event were not happy the team is testing the football gods. Several hot Cowboys teams in the past decade have stumbled in the divisional round.
"Love my Cowboys but whose dumb--- idea was it to post this?" wrote Joey Caudle.
"TAKE THIS EVENT DOWN!!!!! Wtffff not yet!" wrote Sean Lopez.
"Fire the idiot that posted this on the team page and fire them! You don't bring that bad juju in here," wrote Chance Murphy.
Two things would have to happen for the Cowboys to be playing next Sunday at AT&T Stadium. Dallas would need to beat Los Angeles and then Philadelphia would need to win at New Orleans.
The last time the Cowboys advanced to the NFC Championship game was in January 1996 – the last year the team won a Super Bowl. Dallas beat Green Bay 38-27 at Texas Stadium en route to a win over the Steelers in Super Bowl XXX.