Jerry Jones admits the Cowboys drafted Ezekiel Elliott 'too high'
ARLINGTON, Texas - Dallas Cowboys owner Jerry Jones admitted the team used too high of a draft pick on now former Cowboys running back Ezekiel Elliott.
The front office and head coach held a news conference ahead of the NFL Draft later this week.
Jones was asked about the seemingly declining value of the running back position since taking Elliott fourth overall in 2016.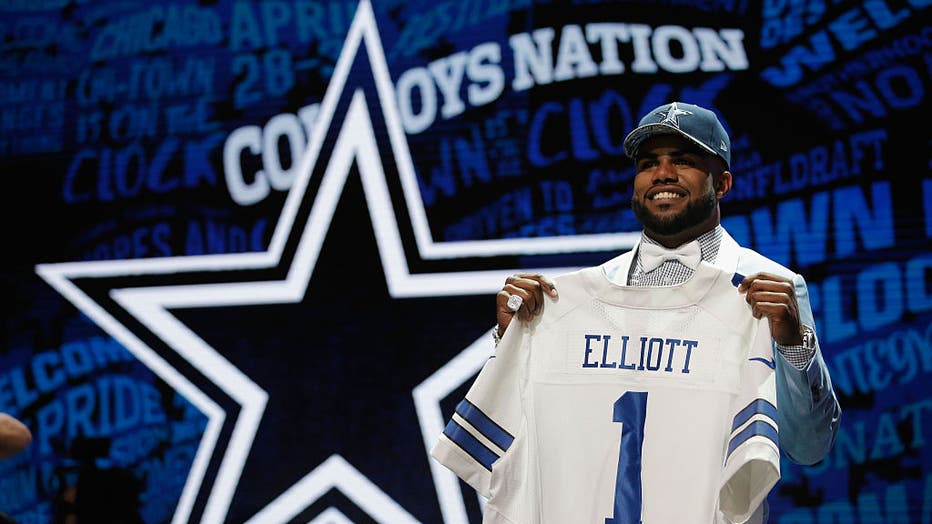 CHICAGO, IL - APRIL 28: Ezekiel Elliott of Ohio State holds up a jersey after being picked #4 overall by the Dallas Cowboys during the first round of the 2016 NFL Draft at the Auditorium Theatre of Roosevelt University on April 28, 2016 in Chicago, I
The Cowboys cut Elliott earlier this offseason and Jones explained they learned a hard lesson.
"There's a bunch of nuances that go into this running back conversation. When you start loading up, Zeke's a good football player, still a very outstanding, I'm going to say the word outstanding football player. He's too high for us where he was. So, that has a lot to do with this conversation about running back right now with us," said Jones.
So where will the Cowboys turn during the draft?
QB Dak Prescott could use another pass catcher, maybe a receiver or a tight end.
The run defense was also a bit problematic at the end of the year, so there is room for improvement across the board.
After back-to-back 12-win seasons, head coach Mike McCarthy has tasted a little bit of success.
Cowboys enter NFL draft believing they have max flexibility
Entering his 4th year at the helm, McCarthy has just one playoff win with Dallas and will now assume offensive play calling duties this upcoming season.
Jones joked at the end of the press conference that "coaching," not drafting was this team's problem.
The Cowboys owner and GM said McCarthy is much more involved in the draft process than he ever was in Green Bay.
The 2023 NFL Draft begins Thursday.
The Cowboys have 7 selections this year. Their first coming up with the 26th overall pick.