Jason Garrett breaks silence on Dez Bryant's release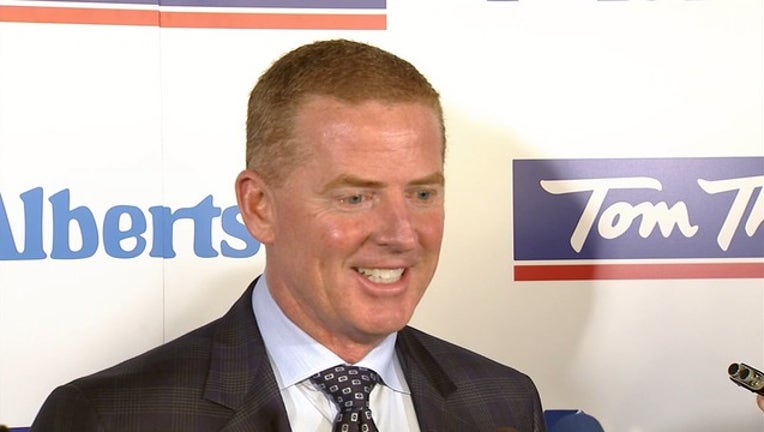 Cowboys head coach Jason Garrett broke his silence on the release of Dez Bryant.
Garrett was at The Star Tuesday night for a gala honoring the community service work of Hall of Famer Emmitt Smith and his wife, Pat Smith.
The head coach would not specify exactly why the team decided to move on, saying simply it was in the best interest of the Cowboys.
"It's a challenging situation. A lot of different factors go into these kinds of decisions," Garrett said. "The guidepost for all of us is what's in the best interest of the Dallas Cowboys, and that's why we made this decision. We wish Dez nothing but the best going forward. He's a special guy. I love him. I will always love him. The impact he made on this franchise has been significant."
Bryant's contributions were significant, and so was the reaction to his release. Dez accused the so-called 'Garrett guys' of conspiring to drive him out of Dallas.
"It's certainly an emotional time. It's not an easy decision for us to make. He's been such a great player and such a big part of this organization," Garrett said.
Bryant implied that the team captains were among those out to get him. Jason Witten, one of those captains, stepped up to the microphone to address the issue.
"Friday was an emotional day for all of us," Witten said. "To see Dez, his time here come to an end, one of the most prolific receivers in franchise history. I was fortunate enough to see it and live it every day and the way he played, the way he practiced."
Witten says there is no truth to the Dez conspiracy theory having to do with the 'Garrett Guys' and the captains.
"My job and everybody else's is to go play and try to lead the best we can by example," Witten said. "Decisions were made. And we have to embrace them and move forward."
"We have a great locker room. We have captains that come in and try to set the standard every single day," said Cowboys tight end Sean Lee. "This is the closest locker room I've ever been a part of. That's nothing we can control."
"Being a quarterback, being a captain, I take the blame," said Cowboys quarterback Dak Prescott. "I take all the blame. When you win, you lose. Things like this happen. Dez knows how we feel. We shared messages and he knows my stance on everything. I wish him well.
Dez joins a long list of Cowboy standouts who were forced to leave the franchise, including the league's all-time leading rusher, Emmitt Smith, who ended his career in Arizona.
"Not only I didn't but a whole lot more people didn't get a chance for their careers to finish here," Smith said. "It happens. You just have to be prepared to deal whatever you have to deal with."
And what about the possibility of dealing with Dez in another uniform next year?
"It'd be torture to play against a guy like that who plays hard like he does," Lee admitted. "As a linebacker, I always felt like it was tackling a running back. How hard he ran. How tough he was. So that would be extremely tough for us."