J.J. Watt wins Walter Payton Man of the Year Award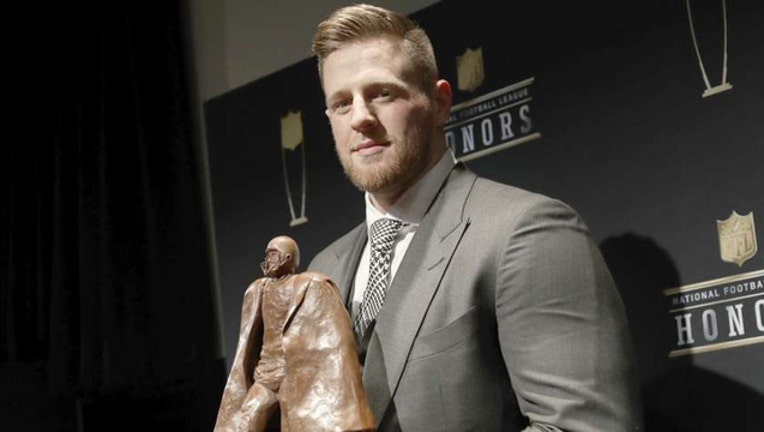 article
MINNEAPOLIS (AP) - Houston Texans star defensive end J.J. Watt won the NFL's Walter Payton Man of the Year Award on Saturday night.
The award recognizes a player's contribution in his community and to society in general. It was given out at NFL Honors, when The Associated Press announced its individual NFL awards.
Tight ends Benjamin Watson of the Baltimore Ravens and Greg Olsen of the Carolina Panthers also were finalists.
Watt, in his seventh NFL season and a three-time Defensive Player of the Year, had the goal of raising $200,000 for Hurricane Harvey relief in Houston. His fundraising did a whole lot more, bringing in an incredible $37 million in 19 days.
Watt has dedicated himself to finding organizations that will apply the funds in a fair and effective manner.
"I cannot express how humbled and honored that I am to be mentioned in the same sentence as Walter Payton, a man who did everything right not only on the field but off of it," Watt said in his acceptance speech. "And I'm going to continue to try to live that legacy and make that family proud.
"This award is called The Man of the Year Award, but I promise you it is so much bigger than that. This award is about the inherent good that lies within humanity. It is about the city of Houston and its ability to overcome adversity at a time when it all seemed lost. It is about the hundreds of thousands of people from all over the country and all over the world that donated to a city they may never have been to, to people they may never meet. But they donated simply because they saw their fellow human going through a difficult time and they wanted to help out."
Peyton Manning presented the award to Watt.
"Whether we realize it or not, we are affecting everyone around us with our every move," Watt added. "The more than we can shine a light on the positivity and the good that we are in this world, the better off we're going to be. We all have to go through this crazy journey together, so why not help each other out and make it as great of a journey as possible.
"I'm incredibly grateful, I'm incredibly thankful to receive this award and I will cherish it for the rest of my life. The only thing that I ask of you is to join me in trying to carry on the legacy that Walter Payton left behind of leaving this world better than we found it. Take a moment, ask yourself, 'How can I make a difference? No matter how big, no matter how small, how can I make a difference?' And when you have your answer, go out and do it."
___
For more NFL coverage: http://www.pro32.ap.org and http://www.twitter.com/AP_NFL