It's finally opening day for the Texas Rangers at Globe Life Field... with no fans
ARLINGTON, Texas - It may not be the opening day the Rangers had hoped for,  but Opening Day finally came.
Friday was a historic day for the Texas Rangers. It was their first regular season game at the new Globe Life Field, although no fans were in the stands to witness the moment in person because of the pandemic.
The Rangers opened a three-game series against the Colorado Rockies. The teams met for two exhibition games earlier this week at Globe Life Field. The Rockies won both.
But starting Friday, it was much more serious. Major League Baseball has shortened the season to just 60 regular games so every game counts.
MLB and the player's union did agree to expand the playoffs, though. There will be 16 teams instead of the usual 10. It's only for this year.
There are understandably tens of thousands of Rangers fans who are dying to get a look at the new, ultra-modern, $1.2 billion ballpark with a retractable roof and air conditioning.
Fans may be allowed into the ballpark sometime in August. For now, there will be lots of cardboard cutouts of Rangers fans in the stands.
The team said roughly 2,700 "Doppelrangers" are scattered throughout the ballpark, including some famous faces like Stars forward Jamie Benn, former Rangers great Adrian Beltre and former President George W. Bush.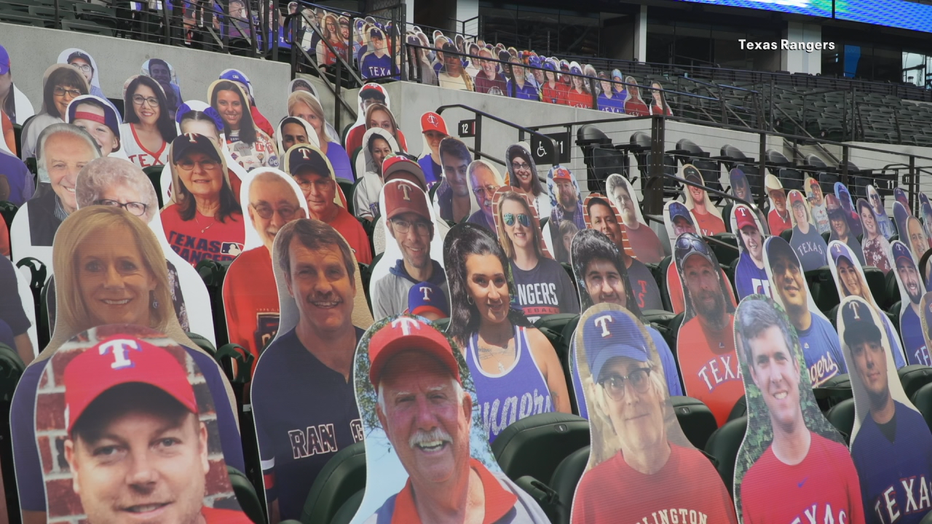 Lisa Michael was there for the opening of Globe Life Park. For the Globe Life Field, she — like everyone else — settled for as close as they could get.
"We're season ticket holders, and a little bit sad we're not inside today," she said.
Although no fans were allowed inside the ballpark, Texas Live!, located just outside, welcomed Rangers fans. While open inside, the venue flaunted its outdoor spaces and TVs as spots for people to gather and safely distance.
It was something fans say was an important factor in coming out.
And for a sport that revolves around its traditions, it was a way for friends and family to live out modified versions of their own traditions.
"I would definitely have been tailgating since 7am depending on if it's an afternoon or evening game. We may have had a few cocktails," said fan Keely Gillmore.
"We always come out here and tailgate every year in the north parking lot at the old stadium," said Brandon Heuirre. "And this year it's just a bummer."
It's proof that part of the fun in baseball isn't the shiny venue or crack of the bat. It's all about the collective experience of having something to cheer for together.
Before Friday night's game, country music legend and North Texan Charley Pride sang the national anthem for the Rangers' 49th opening day in Arlington.
Many Rangers wore Black Live Mater t-shirts while taking pre-game batting practice, while others wore shirts that said "Together We Stand."
Major League Baseball allowed about 150 Rangers employees to watch the game while social distancing in the park.
Governor Greg Abbott threw out the ceremonial first pitch during a virtual ceremony. The governor was in front of the Texas Capitol building in Austin.