Home ice may not be advantage for Stars in Game 7 vs Blues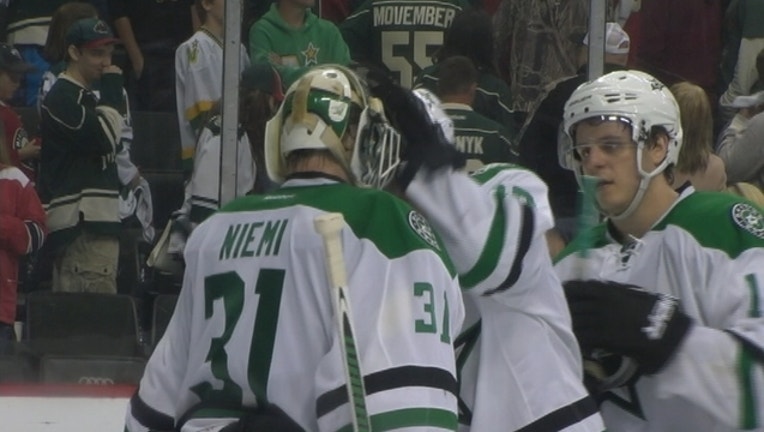 article
DALLAS (AP) — Home ice belongs to the Dallas Stars for Game 7 of their second-round playoff series against the St. Louis Blues.
The advantage? Well, the visiting team has dominated so far.
"I have the benefit of the match at home," Stars coach Lindy Ruff said. "I don't know if that's going to make any difference in the game, though."
Dallas hosts Game 7 on Wednesday night (8 p.m. EDT, NBCSN) after avoiding elimination with a 3-2 win at St. Louis on Monday. The Stars led 3-0 in the first period and held on for the third consecutive victory in the series by the visiting team — and fourth overall.
"We've been able to put some good road games together, some simple road games together," Blues right wing Troy Brouwer said.
The Blues, who finished only two points behind Dallas in the regular-season standings for the Western Conference's top seed, are 4-2 on the road this postseason and have already played a seven-game series. St. Louis won its first-round clincher at home, when Brouwer scored the Game 7 winner against defending Stanley Cup champion Chicago.
"We obviously know the stage," Blues defenseman Alex Pietrangelo said. "It's going to be a little different now that we're on the road, but I think overall, we know what the pressure is, we know what it's going to be."
Brouwer is playing in his NHL-record eighth consecutive playoff series to go seven games. He also had Games 7s with Washington and Chicago the previous five seasons.
"Same mindset we had last series, going to take one more win to finish the series and it's what we want to do," Brouwer said.
The Blues won 4-1 in Game 5 at Dallas to go home with a chance to clinch the series. But now they need a third win this month at the American Airlines Center, which hadn't even opened the last time the Stars hosted a Game 7 — on May 27, 2000, when St. Louis coach Ken Hitchcock was still coaching the Stars, and they beat Colorado at Reunion Arena in the Western Conference final.
Dallas has played only one seven-game series since, losing at Vancouver in the first round of the 2007 playoffs. That was just weeks before the Stars used their fifth-round pick in the draft to select Jamie Benn, now their captain and with a NHL-high 15 points this postseason.
"I'm sure there's going to be some nerves for the first couple shifts," Benn said. "But after that, I think it'll be fun."
___
The other Western Conference semifinal series will also have a Game 7, with Nashville at San Jose on Thursday night.
With the only two-day break between games the Predators have had in the playoffs, they spent Tuesday resting. No game, no jumping on a plane as they have done every day since their first game this postseason on April 15.
Nashville beat the Sharks 4-3 in overtime Monday night to stave off elimination. The Predators also went seven games in their first-round series against Anaheim.
Predators coach Peter Laviolette pitched that two-day break to his players to push them through Game 6 — their 13th game in 25 days.
"I'm not making excuses. If we didn't like going out to the West Coast, then we should have done better in the regular season," Laviolette said.
The Predators will practice Wednesday before hopping on an airplane for their fifth trip to California adding to the approximately 15,000 miles they've traveled.
"Another trip to Cali, but at least we have two days off between the games," goalie Pekka Rinne said. "It's nice. We haven't had that in a long time. I think by now we all know what we need to do."
The Sharks, who missed out on the chance to close out this series, had a full week off after ousting the Los Angeles Kings in five games in the first round. This break offers them a chance to refocus.
"Based on how this series has been played, this should come down to one game in Game 7," Sharks coach Pete DeBoer said. "That's what hockey is about and like I said we're excited that it's in our building. We worked all year for home-ice advantage in this advantage in this situation, and we intend to take advantage of it."
___
AP Sports Writer Teresa M. Walker contributed to this report.