Holland Ks 11 for Rangers in 6-0 win over O's for 3-game sweep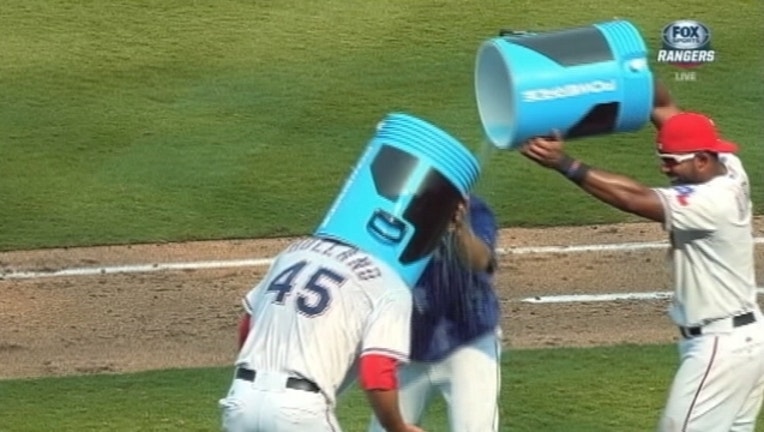 ARLINGTON, Texas (AP) — Derek Holland struck out every Baltimore batter while throwing a three-hitter for his eighth career shutout, leading the Texas Rangers over the Orioles 6-0 Sunday to complete a three-game sweep.
Holland (2-1), in his third start since coming off the disabled list, matched a career high with 11 strikeouts. He walked none and hit a batter with a pitch. The left-hander struck out each of the Orioles' nine starters at least once, getting Adam Jones and Chris Davis twice.
The final out was a swing-and-miss by Davis on Holland's 116th pitch, though there was a slight delay in everyone reacting as the bat helicoptered toward the right-field line.
At 68-61, the Rangers are seven games over .500 for the first time since the end of the 2013 season. Their 68 wins are already one more than all of last year — and they still have 33 regular-season games to play.
The Orioles have lost 10 of 11, falling 5 1/2 games behind the Rangers in the AL wild-card chase.
Miguel Gonzalez (9-11) allowed four runs in 5 1-3 innings. The right-hander is 0-5 in his last seven starts.
It was the Rangers' seventh shutout this season, and Baltimore was held scoreless for the ninth time.
Holland went on the DL after straining his left shoulder one inning into the home opener April 10. His previous shutout was Sept. 23, 2013, against Houston.
Texas started with three consecutive singles in the first before Adrian Beltre's sacrifice fly made it 1-0. Shin-Soo Choo, whose single marked his 34th consecutive start since the All-Star break reaching safely, then scored on a wild pitch.
Beltre had a two-out double in the third, scoring when Elvis Andrus hit a single. Andrus led off the sixth with a bunt single and scored on Hanser Alberto's single.
TRAINER'S ROOM
Orioles: RHP Chaz Roe, on the disabled list since Aug. 10 with right shoulder tendinitis, is scheduled to throw an inning Monday for Double-A Bowie and could rejoin the Orioles later in the week.
Rangers: C Carlos Corporan (left thumb strain) will travel with the team for its trip to San Diego, and likely will be activated Tuesday when rosters can expand to 40. He hasn't played since July 12. ... C Robinson Chirinos (left shoulder strain), out since July 30, is expected to take batting practice Monday with Double-A Round Rock, and could begin a rehab assignment Tuesday.
UP NEXT
Orioles: After a 1-6 trip, the Orioles are home Monday night to start a three-game series against Tampa Bay that will end a stretch of 20 games in 20 days. They then hit the road again for six more games.
Rangers: Colby Lewis goes for his career-best 15th win when the Rangers play Monday night in San Diego, the start of a 11-day, 10-game road trip that is their longest of the season.