Hitchcock earns 800th win as Stars blank Blackhawks 4-0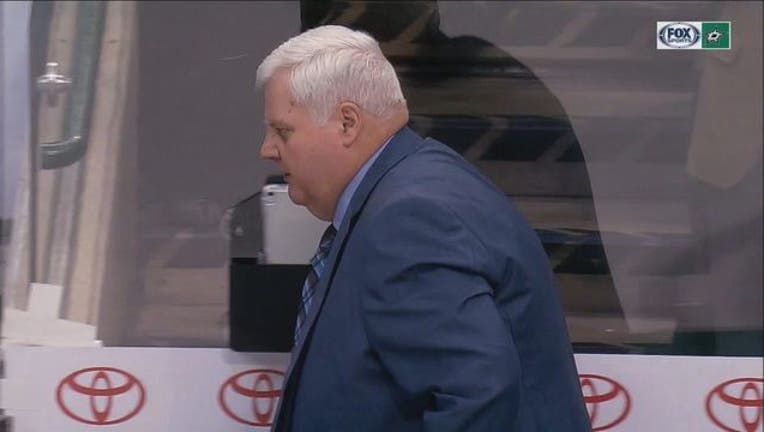 article
DALLAS (AP) - Tyler Seguin scored two goals in the second period, Ben Bishop earned his 22nd career shutout and the Dallas Stars beat the Chicago Blackhawks 4-0 on Thursday night.
Bishop made 24 saves for his third shutout of the season.
Dallas had lost its previous three games and Chicago arrived with a five-game winning streak, but the Stars improved to 3-0 against the Blackhawks this season.
The win was the 800th of coach Ken Hitchcock's career.
Jamie Benn scored the only goal of the first period. Antoine Roussel scored barely a minute into the second before Seguin's two goals made it 4-0.
Corey Crawford stopped 18 shots. He won all five games during the Blackhawks' streak, allowing only seven goals. Crawford hadn't lost in regulation since Nov. 12.
The Blackhawks dominated early. They had the best scoring chance at 11:44 of the first period when Connor Murphy's wrist shot hit Bishop in the chest. On the rebound, the puck sat in the paint with an easy chance for Patrick Kane, but his tap-in hit the right post.
Kane, who leads Chicago with 34 points in 34 games, had seven points in his previous four games.
Dallas scored three seconds after the only first-period power play ended. Remi Elie passed from the left side through the slot to Benn, who put a wrist shot into the open right side of the net at 17:11.
Roussel scored 1:07 into the second period when he redirected Dan Hamhuis' shot from the left point into the net off Crawford. Hamhuis had two assists.
Seguin scored on the power play at 5:55. He picked up a partially blocked shot by Jason Spezza at the left of the net and backhanded the puck past Crawford.
Seguin set up his second goal himself, at 16:14. He dug the puck out of the right corner and passed to Devin Shore. While Shore skated toward the net, Seguin crossed over to the left side and was in position for a short wrist shot when the puck came to him.
NOTES: Since ending a 12-game stretch in which they scored only one goal on the power play, the Stars have connected three times in the last four games. . The Blackhawks are 0 for 15 on the power play in the last five games. . Nashville (2-1 vs. Chicago) is the only other team with more than one win against the Blackhawks this season. . Crawford stopped Seguin's bid for a hat trick with less than six minutes to play. . Benn has seven points (four goals, three assists) in the past seven games.
UP NEXT
Blackhawks: Play on Saturday at New Jersey in the second game of a coast-to-coast-to-coast six-game trip, their longest this season.
Stars: Complete a three-game homestand vs. Nashville on Saturday.
___
More AP NHL hockey at https://apnews.com/tag/NHLhockey