Headley scores on passed ball in 9th, Yankees beat Rangers 2-1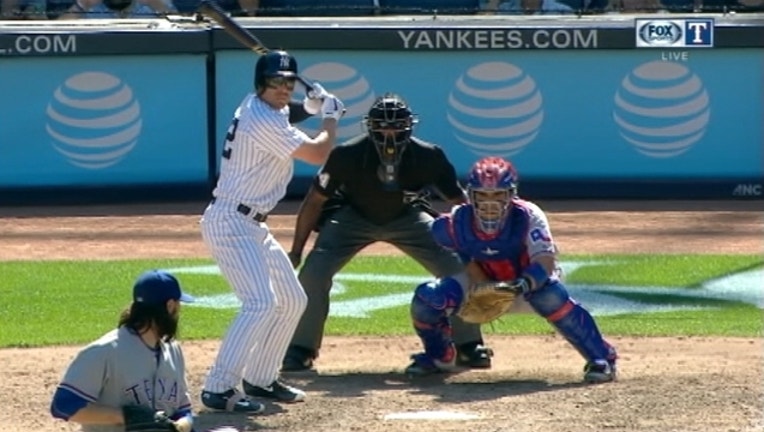 NEW YORK (AP) — Chase Headley scored on a passed ball with two outs in the bottom of the ninth, and the Yankees won in their final at-bat for the second straight game to beat the Texas Rangers 2-1 on Thursday afternoon.
Four New York pitchers combined to strike out 16 Rangers as the teams split the four-game series. Didi Gregorius, who had the winning home run Wednesday night, hit a solo shot in the fifth to tie the score after Shin-Soo Choo homered to lead off the game.
Tony Barnette (5-3), the third Rangers reliever of the afternoon, walked Headley to lead off the bottom of the ninth. With runners on second and third and two outs, his pitch got through catcher Robinson Chirinos and Headley just beat the throw.
Aroldis Chapman (2-0) earned the win after pitching a scoreless ninth. Michael Pineda struck out 12 in six innings, allowing two hits and the one run with three walks. He did not allow a hit after the first, when Choo crushed the fourth pitch of the game for his 18th career leadoff homer.
Pineda struck out Rougned Odor with two runners on to prevent further damage. Then Mark Teixeira struck out with two on to end the bottom of the inning against A.J. Griffin.
But after both pitchers labored through shaky first innings, each struck out the side in the second and cruised from there. Nine straight batters struck out from the bottom of the first through the top of the third before Nomar Mazara grounded out sharply to short.
Griffin retired 12 in a row before Gregorius' solo shot to right in the bottom of the fifth to tie the game 1-1.
Griffin departed after throwing 88 pitches in five innings. He allowed the one run on two hits with two walks and eight strikeouts.
The Yankees hard-throwing bullpen trio of Dellin Betances, Andrew Miller and Chapman took it from there.
After Headley walked in the bottom of the ninth, Gregorius came up again with a chance to win it — but this time he sacrificed, bunting Headley to second with one out. Aaron Hicks then walked.
Starlin Castro, who hit a walk-off home run of his own eight days earlier, grounded out to first to put the runners on second and third with two outs.
TRAINER'S ROOM
Yankees: Carlos Beltran didn't start for the second straight game because of right hamstring tightness but pinch-hit for No. 9 hitter Ronald Torreyes in the seventh. He walked, then Castro, who didn't start with a day game after a night game, pinch-ran for him. Manager Joe Girardi was concerned over his ability to play the field during this weekend's interleague series at San Diego. ... 1B Mark Teixeira returned to the lineup after getting the night off to rest his balky knee. ... C Brian McCann played a day game after a night game even though tendinitis in his knee flared up Wednesday night, when he homered twice.
Rangers: Manager Jeff Banister hadn't decided before the game what the next step would be in Yu Darvish's return from shoulder discomfort. Darvish threw a simulated game Wednesday.
UP NEXT
Rangers: Texas continues its 10-game road trip with a three-game series at Minnesota, with LHP Martin Perez (7-4) seeking his seventh straight victory when he faces RHP Ervin Santana (2-7) on Friday.
Yankees: New York opens a 10-game road trip with an interleague series at San Diego, when RHP Nathan Eovaldi (6-5) looks for his first win in more than a month in a matchup against RHP Colin Rea (4-3).