Hamilton twice puts Texas ahead in 5-3 win over Rays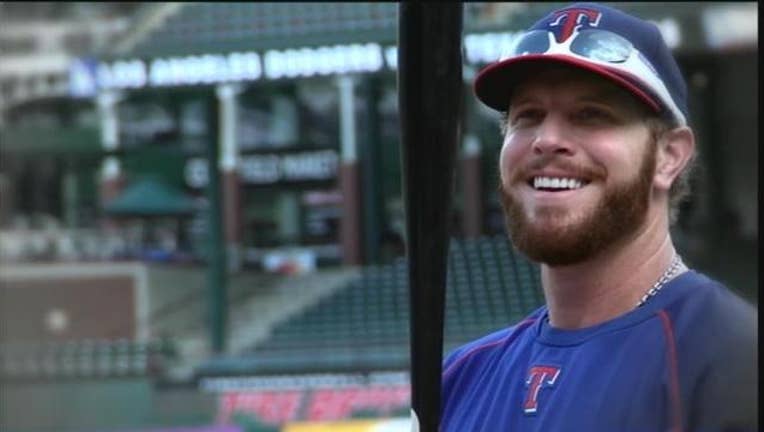 article
ARLINGTON, Texas (AP) — Josh Hamilton homered and delivered the tiebreaking sacrifice fly for the Texas Rangers in a 5-3 victory Friday night to snap Tampa Bay's four-game winning streak.
Hamilton's sixth homer of the season was a 437-foot blast to right-center field in the second inning for a 2-1 lead. His sac fly to deep center in the eighth broke a 3-3 tie.
Adrian Beltre's one-out single in the eight started the go-ahead rally off Jake McGee (1-2). Beltre went to third on a single by Mitch Moreland, who moved to second on the throw. Hamilton followed that before Elvis Andrus had an RBI single.
Sam Dyson (1-1) worked two scoreless innings in relief of starter Martin Perez. Shawn Tolleson worked the ninth for his 22nd save in 23 chances — all since May 20.
Hamilton had missed the previous two games because of left knee soreness. He was back in the lineup after an MRI earlier Friday showed no structural damage.
Evan Longoria's two-run double in the third put the Rays up 3-2, and came after the first of three umpire calls overturned on replay review.
One of the runners to score on Longoria's liner into the left-center gap was Rays leadoff hitter Brandon Guyer, who initially was called out on what appeared to be a double play. A 1-minute, 22-second review determined first baseman Mitch Moreland's foot had just slipped off the base.
The Rangers got even in the seventh when Delino DeShields hit his first career homer, a towering shot that was just fair and landed several rows deep into the left-field seats.
The other two overturned calls also came with Tampa Bay batting, and both were safe calls that became outs.
It was the 13th time since MLB started replay last season that there have been three overturned calls in the same game. There have never been four.
Tampa Bay rookie right-hander Nathan Karns, who went to high school on a few miles from the Rangers' ballpark, allowed two runs and two hits in 4 2/3 innings with four strikeouts. But he also walked five and was gone after 81 pitches over 4 2/3 innings.
TRAINER'S ROOM
Rays: LHP Drew Smyly is scheduled Sunday to make his first start since May 5 because of a torn left labrum. He threw a bullpen Friday with no problems. ... LF Desmond Jennings was back in the lineup after being reinstated from the 60-day disabled list. He missed 96 games because of left knee bursitis.
Rangers: RHP Nick Tepesch is scheduled to have surgery Wednesday to relieve Thoracic Outlet Symdrome. ... C Robinson Chirinos, out since July 31 with a left shoulder strain, took batting practice Friday. He could catch a bullpen session Saturday. ... CF Leonys Martin, sent to the minor leagues Aug. 4, has a broken bone in his right hand that could end his season.
UP NEXT
Rays: RHP Chris Archer (10-8, 2.62 ERA) had a career-high 12 strikeouts in his only previous start at Texas, and he struck out six consecutive batters last August. He had 10 strikeouts while wining his last start Sunday against the New York Mets.
Rangers: Colby Lewis (12-5, 4.61) is coming off his eighth career complete game, the third one he has lost. Lewis threw 104 pitches in the loss at Seattle on Sunday.