Hamels, MVP Hosmer help lift AL to All-Star win, Series home field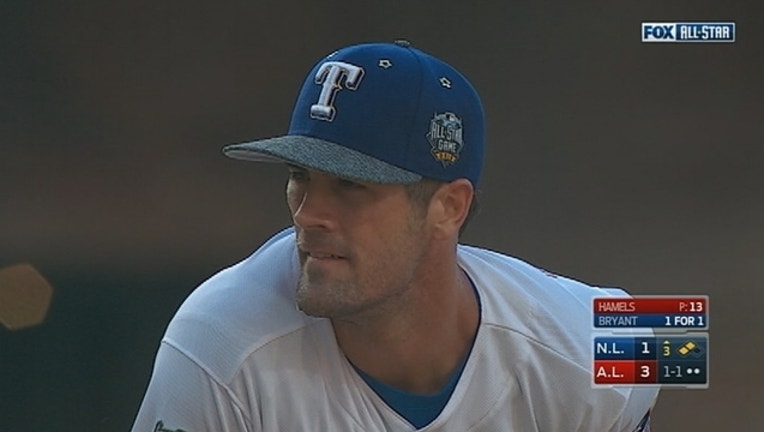 article
SAN DIEGO (AP) — Eric Hosmer and Salvador Perez made sure the Kansas City Royals will start at home, sweet, home if they get a chance to defend their World Series title.
The Royals duo homered off former Kansas City teammate Johnny Cueto during a six-pitch span in the second inning, Hosmer added an RBI single to become MVP of the All-Star Game and the American League beat the Nationals 4-2 Tuesday night for their fourth straight win.
David Ortiz found himself in the middle of the most touching moment at Petco Park, embraced by his AL teammates near first base after exiting his final All-Star Game. The popular Big Papi plans to retire at 40 after this season with Boston.
Kris Bryant of the Cubs led the parade of sparkling young talent with a first-inning home run. Dellin Betances flashed his 100 mph heat and Astros reliever Will Harris came on to throw a called third strike past Cardinals rookie Aledmys Diaz on a 3-2 pitch on the outside corner with the bases loaded to end the eighth.
Royals reliever Kelvin Herrera pitched a hitless sixth for the AL, which will open the Series at home for the 11th time in 14 years since the All-Star winner was used to determine the hosts for Games 1 and 2.
Kansas City became baseball royalty last fall, bursting to a 2-0 lead over the New York Mets at Kauffman Stadium, where Cueto pitched a two-hitter in the second game. The Royals won in five games for their first title since 1985.
This year, Kansas City is languishing at 45-43, seven games off the AL Central lead and in the middle of the wild-card race as attention turns to which teams will be buyers and sellers as the Aug. 1 trade deadline approaches.
Cleveland's Corey Kluber pitched a 1-2-3 second inning for the win, and Zach Britton got the save for the AL, which cut its deficit to 43-42 with two ties
Ortiz, Boston's beloved designated hitter, wore spikes with gold-colored bottoms and matching batting gloves to mark his 10th All-Star selection and delivered the AL batting order to umpires at home plate.
Ortiz hit a smash down the first-base line that Anthony Rizzo snagged to rob him of a potential RBI double in the first and walked against Jose Fernandez in the third.
When Edwin Encarnacion came out to pinch run for him, Ortiz waved to the crowd and then spent his AL teammates came out of the dugout to exchange hugs as the crowd of 42,386 rose in tribute.
"I was supposed to hit a home run in my second at-bat. My boy told me he was going to throw me a fastball, and the first pitch was a changeup," Ortiz said.
"Then 3-2 he threw me a slider and I'm like, "Are you trying to break my back?" But he said it was the catcher's fault."
Fernandez admitted "I couldn't believe that I was actually pitching to him. We both looked at each other and smiled."
"He signed the jersey I brought for him," the 23-year-old Miami Marlins ace said.
Ortiz delivered a pregame speech to his mates.
"You don't get here with a good name or a good family," he said. "You have to put up the numbers. I told them that they have to do that for their whole career."
The All-Star Game returned to San Diego for the first time since 1992 at Jack Murphy Stadium. Just before this first pitch, commissioner Rob Manfred joined Rod Carew, his family and the family of late Padres great Tony Gwynn and named the batting titles after the two Hall of Famers, giving Gwynn the NL honor and Carew the AL championship.
Gwynn died of salivary gland cancer two years ago at age 54.
Sailors dressed in white lined the foul lines and outfield warning tracks for the national anthems. The Tenors, a British Columbia-based group, changed an "O Canada" lyric to "We're all brothers and sisters. All lives matter to the great," and one held up a sign reading "All Lives Matter."
Randy Jones threw out the ceremonial first pitch and former Padres All-Star closer Trevor Hoffman helped open, bringing the game ball to the mound from the bullpen accompanied by AC/DC's "Hell's Bells."
With an NL ballpark hosting for the second year in a row in a streak of at least four, the AL wore white uniforms, hit last and used the Padres clubhouse on the first-base side. Ball boys in retro-style mustard-and-mud Padres uniforms lent a San Diego feel to Petco, which opened in 2004.
There was a home run on the game's fourth pitch for the second straight year; Bryant connected on a 96 mph Chris Sale fastball with two outs as hitters swung early in the count to beat the shadows creeping in from the left-field corner in the late-afternoon start.
Bryant, who had struck out in all of his regular-seat at-bats against Sale, was part of an all-Cubs infield — the first starting infield quartet from a single team since the 1963 St. Louis Cardinals.
"I think a lot of us were looking first pitch," said Bryant, who played college ball for the University of San Diego. "A lot of pitchers are coming into the game trying to light up the radar gun a bit."
That was the highlight for the NL Central-leading Cubs, whose fan base was pumped up by a fast start and dreams of the team's first title since 1908.
Mike Trout, the All-Star MVP in 2014 '15, singled in the first for a five-All-Star Game hitting streak — only Mickey Mantle, Joe Morgan and Dave Winfield (seven each) and Stan Musial, Willie Mays and Nellie Fox (six apiece) strung together more.
The lead was short-lived, with Hosmer and Perez going deep for a 3-1 lead in the second, sandwiched around Mookie Betts' single. Cueto was hard to miss in the center of the field, wearing lime green and orange spikes.
"This morning I got up and didn't feel well. That is not an excuse," Cueto said. "I just left two pitches up, and that was the story."
Hosmer, the first Kansas City player to homer in an All-Star Game since Bo Jackson in 1989, made it 4-1 in the third against Fernandez when he hit a one-hopper off Bryant's left arm and into left field for an RBI single.
Marcell Ozuna cut the gap with an run-scoring single off Aaron Sanchez in the fourth.