Graham leads No. 8 Kansas to 104-74 rout of Oklahoma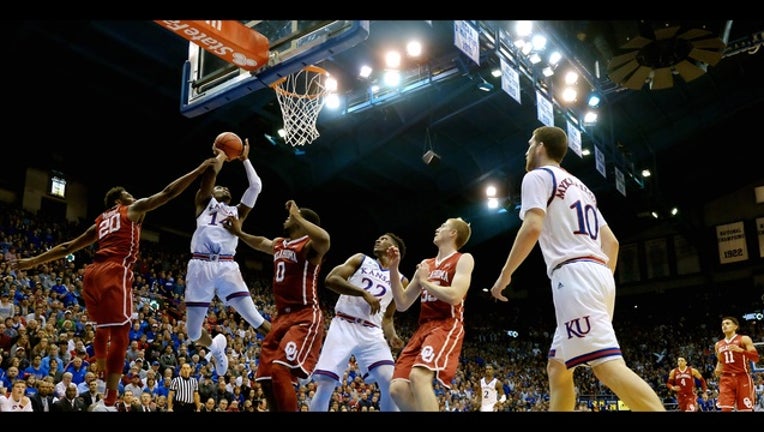 LAWRENCE, Kan. (AP) - Devonte Graham had 23 points and seven assists, Malik Newman added 20 and No. 8 Kansas beat Oklahoma 104-74 on Monday night.
The Jayhawks (22-6, 11-4 Big 12) controlled things early, jumping out to a 10-0 lead less than four minutes into the game and forcing Lon Kruger to burn a timeout before the first media break. The Sooners (16-11, 6-9 Big 12) never recovered.
Kameron McGusty led the way for Oklahoma with 22 points while Jamuni McNeace added 18 in his first career start.
It was a cold shooting night for Trae Young, who missed 10 of his 13 shots. His 11 points were a season-low. He did have nine assists.
Kansas broke the 100-point threshold for the first time since December as six Jayhawks scored in double figures.
The win marks No. 300 all-time in Big 12 play for the Jayhawks. Only two other schools (Texas, Oklahoma) have surpassed the 200 mark.
BIG PICTURE
Kansas now sits a half-game ahead of Texas Tech atop the Big 12 standings after gaining a game on the Red Raiders when they fell to Baylor Saturday.
Oklahoma has now dropped its last six games, and has fallen to No. 8 in the Big 12. The skid has led some to speculate that the Sooners could miss the NCAA Tournament.
UP NEXT
Kansas has a road clash with Texas Tech Saturday, serving as a battle for the outright Big 12 lead.
Oklahoma will look to rebound at home against a hot Kansas State team on Saturday.