Gostisbehere scores 2, Flyers beat Stars 2-1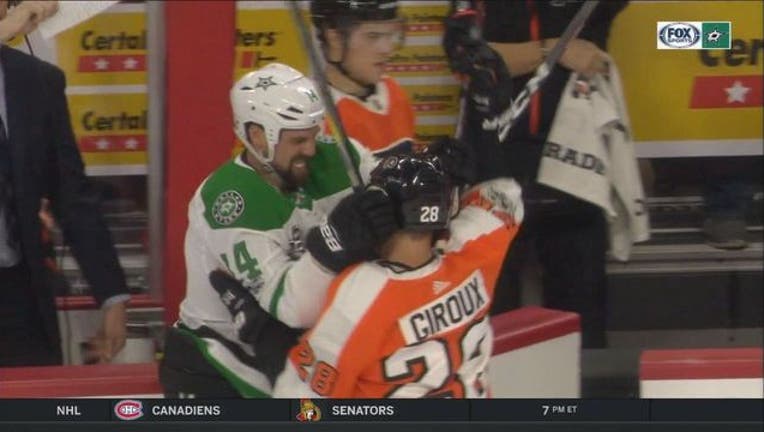 article
PHILADELPHIA (AP) - Shayne Gostisbehere scored two goals, including the game-winner 3:50 into overtime to lead the Philadelphia Flyers to their sixth straight victory, 2-1 over the Dallas Stars on Saturday night.
Brian Elliott made 26 saves and Jakub Voracek had two assists for the Flyers, whose winning streak has followed a 10-game skid.
Gemel Smith scored for Dallas, which ended a four-game road trip 2-1-1. Stars coach Ken Hitchcock was denied his 800th career victory for the second straight game. Hitchcock is vying to become the third NHL coach to reach the milestone.
Gostisbehere scored the winner on the power play after Alexander Radulov was called for hooking. The defenseman's wrist shot through traffic got past Stars goalie Ben Bishop as Wayne Simmonds provided a screen. Officials reviewed the goal to determine whether Simmonds interfered with Bishop, but the goal was confirmed by the replay.
Voracek, who entered tied for the NHL lead with 31 assists, has 10 helpers during the winning streak.
Bishop returned to the net after backup Kari Lehtonen played the last three games and finished with 28 saves.
Gostisbehere tied it at 1 with 10:50 left in the second period on the power play after arguably one of the Flyers' best shifts of the season. Philadelphia peppered Bishop with shots during the shift, and Gostisbehere finally broke through with his fifth of the season. Voracek's initial shot from the point went wide, but Gostisbehere hustled to the rebound off the boards and dived as he shot off Bishop's left arm and in.
Smith put the Stars on top after a nifty, backhanded feed from Remi Elie that Smith finished with a wrister past Elliott's blocker side.
Philadelphia hasn't allowed more than two goals in a game during its winning streak while outscoring opponents 21-9. Elliott has been in net for every contest during the streak.
NOTES: The teams will wrap up their two-game regular-season series on March 27 in Dallas. ... Stars F Tyler Seguin has gone seven games without a goal. He is tied for the team lead with 29 points (14 goals, 15 assists). ... Hitchcock recorded 131 of his wins while leading the Flyers for three-plus seasons from 2002-2006. Hall of Famer Scotty Bowman (1,244 wins) and Blackhawks coach Joel Queenneville (866) are the others who have eclipsed 800. . Bishop fell to 13-10.
UP NEXT
Stars: Return home for the first of three straight at home on Tuesday night against Washington.
Flyers: Play the fourth of a five-game homestand Monday night against Los Angeles.