Giants win 9-7 in 11 innings to spoil Texas debut for Cole Hamels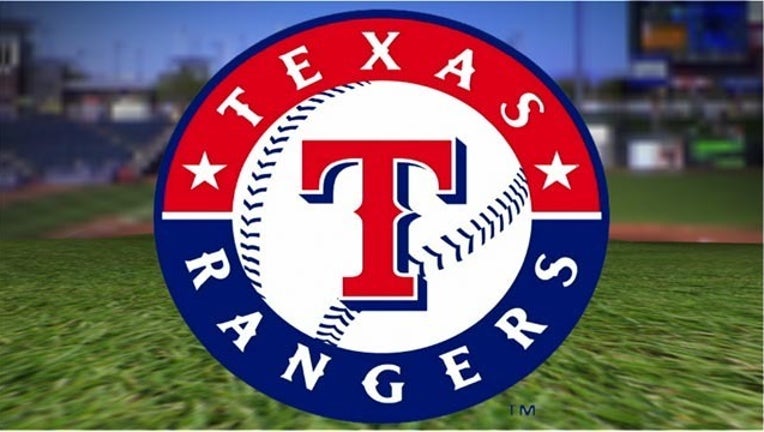 ARLINGTON, Texas (AP) -- Cole Hamels followed up his no-hitter by pitching into the eighth inning of his Texas debut without a decision as the Rangers lost 9-7 to the San Francisco Giants in 11 innings Saturday night. 
 
Hunter Pence led off the 11th with a homer off Sam Dyson (0-1), another pitcher in his first game for Texas.
 
Brandon Belt homered twice for the Giants, who have won 14 of their last 17 games. Belt led off the third with his 11th homer, and added another solo shot in the 11th off Sam Freeman, who hadn't allowed a run in his previous 17 appearances.
 
Hamels, the first pitcher traded during a season immediately after throwing a no-hitter, left with the Rangers up 7-4 after Joe Panik's two-out double in the eighth. Reliever Tanner Scheppers then allowed three consecutive run-scoring hits to the only batters he faced. 
 
Exactly one week after he no-hit the Chicago Cubs at Wrigley Field in his last start for the Philadelphia Phillies, Hamels gave up eight hits to the Giants -- who on July 10 at home had nine runs and 12 hits in 3 1/3 innings against the left-hander. 
 
Hamels struck out six and walked one before Scheppers surrendered back-to-back doubles to Matt Duffy and Buster Posey before Pence's RBI single in his hometown that made it 7-7.
 
New Rangers catcher Bobby Wilson had a pair of RBI singles and Mitch Moreland drove in three runs, with a first-inning double and a sacrifice fly. 
 
Dyson, who was 3-3 for Miami before being acquired in a trade before Friday's non-waiver trade deadline, gave up a leadoff single in the top of the 10th before three consecutive groundouts -- against the Giants' Nos. 2-4 batters. 
 
Hunter Strickland (2-1), the seventh Giants pitcher, threw two scoreless innings before Santiago Casilla worked the 11th for his 27th save in 31 chances. Strickland has pitched 12 2/3 scoreless innings over his last 14 appearances. 
 
Hamels started with two no-hit innings before Belt's homer just beyond the reach of the glove of leaping center fielder Delino DeShields, who an inning earlier caught Buster Posey's towering flyball against the wall. 
 
Belt's first homer was the first of five hits in a span of seven batters for the Giants. 
 
The Rangers completed an eight-player deal Friday that brought Hamels, who is signed through 2018 with a club option for 2019, and reliever Jake Diekman from Philadelphia for Matt Harrison and a package of prospects. They also acquired Wilson on a waiver claim from Tampa Bay on the day of the non-waiver trade deadline. 
 
Diekman has been unhittable for Texas. The left-handed reliever made his debut Friday night by retiring all five batters he faced and then relieved Scheppers on Saturday night with an inning-ending strikeout of Gregor Blanco. 
 
Like 2008 World Series MVP Hamels, Giants rookie starter Chris Heston threw a no-hitter this season. But Heston, who was 5-0 with a 2.11 ERA his previous seven starts, didn't make it out of the fifth and left in a tie game. He gave up seven hits in 4 2/3 innings.
 
After Posey had a leadoff single in the fourth, he was retired on a double-play grounder and Hamels didn't allow another base runner until Posey's 15th homer leading off the seventh. Posey is a .422 career hitter (43 for 102) in his career against Hamels. 
 
TRAINER'S ROOM
 
Giants: RHP Tim Lineceum (7-4) started doing some soft toss Saturday, and manager Bruce Bochy said he's making progress. The two-time NL Cy Young last pitched June 27, when he got hit on his right arm by a line drive. Lincecum said he is confident that he will pitch again this season. "I don't see any reason why not," the pitcher said. 
 
Rangers: C Robinson Chirinos was put on the 15-day disabled list with a left shoulder strain. Chirinos, who throws and bats right-handed, said he hurt himself taking on a swing in his final at-bat Thursday night. 
 
UP NEXT
 
Giants: Mike Leake (9-5) makes his San Francisco debut. The 27-year-old right-hander, acquired from Cincinnati late Thursday night, allowed only two earned runs winning his last four starts for the Reds.
 
Rangers: Lefty Martin Perez (0-2) makes his fourth start since coming back from Tommy John surgery. He allowed eight runs in only one inning Tuesday in the Rangers' 21-5 loss to the New York Yankees.