Georgia advances to national title game, edging Oklahoma 54-48 in 2OT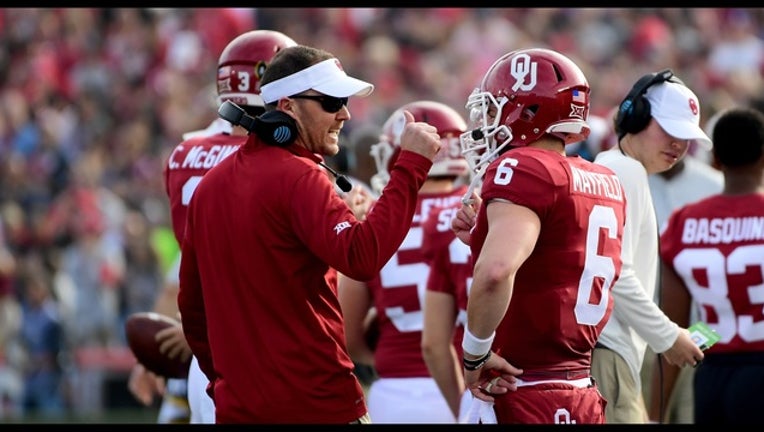 article
8:17 p.m.
Georgia is going to the national championship game.
Sony Michel's 27-yard touchdown run in double overtime gave Georgia a 54-48 win over Oklahoma in a Rose Bowl thriller.
-----
8:07 p.m.
Georgia and Oklahoma have traded field goals in the first overtime game in Rose Bowl history, making it 48-48 heading to double OT.
Rodrigo Blankenship made a 38-yarder after the Bulldogs' opening drive didn't do much, but the Georgia defense responded by stopping Oklahoma's offense cold on third and 2. Sooners coach Lincoln Riley decided not to go for it, and Austin Seibert made his 33-yard kick.
------
7:55 p.m.
The Rose Bowl is going to overtime for the first time in its 104 editions tied at 45-all.
Georgia tailback Nick Chubb scored the tying touchdown with 55 seconds to play, and Baker Mayfield couldn't get Oklahoma past midfield on its final drive of regulation. The Sooners punted, and the Bulldogs kneeled out the final seconds to take this College Football Playoff semifinal into extra possessions.
Oklahoma barely outgained Georgia 512-498 in total yards and each team made one key turnover in the second highest-scoring edition -- for now -- of the Granddaddy of Them All.
-----
7:48 p.m.
The Georgia Bulldogs have tied the Rose Bowl at 45-45 with 55 seconds to play.
With the Bulldogs trailing late, freshman quarterback Jake Fromm engineered a seven-play, 59-yard drive. Fromm hit Terry Godwin with two big passes before star tailback Nick Chubb took a direct snap and scored from 2 yards out.
The game is now the second-highest scoring Rose Bowl in 104 of them, trailing only last year's 52-49 win by USC over Penn State.
-----
7:33 p.m.
Steven Parker has scooped and scored to put the Oklahoma Sooners back in the lead at the Rose Bowl.
Parker recovered a fumble by Georgia's Sony Michel and sprinted 46 yards for the go-ahead touchdown for the Sooners, who benefited from the latest wild swing in this remarkable game. The extra point put the Sooners up 45-38 with 6:52 to play.
A replay review showed Parker managed to keep both feet inbounds while running up the sideline.
The turnover was the first of the game by the Bulldogs, who scored 24 straight points to take a second-half lead.
-----
7:24 p.m.
Baker Mayfield and the Oklahoma Sooners have struck back and evened the Rose Bowl.
Mayfield hit Dimitri Flowers with an 11-yard touchdown pass with 8:47 to play, and the extra point made it 38-38 in the 104th edition of the Granddaddy of Them All.
Mayfield's offense was scoreless in the second half until the Heisman Trophy winner engineered a six-play, 88-yard scoring drive capped by his gorgeous TD throw to the Sooners' fullback.
The drive gave Oklahoma 485 yards of total offense, but the Bulldogs have plenty of time to reply. Georgia had scored 24 consecutive points until Mayfield's scoring throw.
-------
7:02 p.m.
Here come the Georgia Bulldogs. They've scored 24 consecutive points against Oklahoma to take a 38-31 lead early in the fourth quarter of the Rose Bowl.
The defense is finally getting to Baker Mayfield, who threw a long interception to Dominick Sanders in the opening minute of the final period. Mayfield shoved Sanders out of bounds to prevent a pick-6, but Javon Wims caught a 4-yard touchdown pass from freshman Jake Fromm for the tiebreaking score with 13:57 to play.
Mayfield's interception was the first turnover of this frenetic game.
Georgia already has two 100-yard rushers in Nick Chubb (138) and Sony Michel (142). Oklahoma's offense has stalled after a 31-point first half, putting up just 29 yards after halftime.
------
6:51 p.m.
It's all tied up at the Rose Bowl.
Georgia has scored 14 points and shut down the Sooners so far in the third quarter to knot the score at 31-all. The Bulldogs have a shot to become just the third team to rally from a double-digit deficit to win a Rose Bowl.
After Oklahoma and Georgia combined for 55 points in the first 33 minutes of the game, the two battered defenses finally tightened up and forced three straight combined punts as the second half got rolling.
But on third and 7, Georgia's Sony Michel broke past the right side of the line and went 38 yards for his second TD of the day. The extra point made it 31-31 with 41 seconds left in the third quarter of a wild game.
----- 
6:25 p.m.
Georgia has scored on its first offensive snap in the third quarter of a crazy Rose Bowl.
Immediately after Georgia's defense forced Oklahoma's second punt of the game, Bulldogs star Nick Chubb went 50 yards for a touchdown to trim Oklahoma's lead to 31-24. The run gave Chubb 139 yards on the ground already, to go with Sony Michel's 95.
Georgia then sacked Baker Mayfield on third down to force another punt.
The Sooners and Bulldogs are past halfway to the Rose Bowl combined scoring record, set last season in USC's 52-49 win over Penn State.
-----
6 p.m.
Oklahoma is one half away from a trip to the national championship game.
Baker Mayfield and Oklahoma's offense have shown Georgia a little bit of everything in the first half of the Rose Bowl and just about all of it has worked in taking a 31-17 lead. 
The final piece of a 31-point outburst was a reverse pass from CeeDee Lamb to Mayfield, all by himself in the back of the end zone. It was Mayfield's first career reception. 
Georgia got a 55-yard field goal at the end of the half but the Sooners get the ball to start the second. 
Oklahoma and Georgia combined for 48 points and 651 total yards in the half. Georgia averaged 10.4 yards per play while the Sooners went 6 of 8 on 3rd downs and scored on all four red zone possessions.
Oklahoma has already gained 360 yards, the second most Georgia's defense has allowed in any game this season, and punted just once. Georgia has gashed Oklahoma on the ground for 182 yards on 11 carries, but the Bulldogs have thrown it more than they have passed. Jake Fromm is 12 for 17 for 109 yards. 
The winner advances to the Jan. 8 title game against the winner of the Sugar Bowl between Alabama and Clemson.
-----
5:25 p.m.
Georgia finally held Oklahoma out of the end zone, getting a third-down sack to push the Sooners out of the red zone and force a 38-yard field goal by Austin Seibert that put the Sooners up 24-14 in the second quarter. 
Georgia didn't take advantage of what amounts to a successful series for its defense, punting on its next possession in what has been a breathless Rose Bowl so far.
-----
5:02 p.m.
Moments after Rodney Anderson put Oklahoma up 21-7 with a 41-yard touchdown run, Georgia responded with a 75-yard run by Sony Michel. 
One minute into the second quarter and the Rose Bowl was on a record-setting pace Monday with the Sooners up 21-14.
Last year's 52-49 USC victory against Penn State was the highest-scoring Rose Bowl ever. That might not make it through Monday. 
------
4:40 p.m.
Two possessions and it's two touchdowns for Oklahoma. 
Rodney Anderson did most of the damage for the Sooners on their second long scoring drive, with a 45-yard run and then a 9-yard touchdown, breaking through Georgia tacklers. 
Little more than halfway through the first quarter and Oklahoma is up 14-7. Sooners coach Lincoln Riley is showing Georgia a little bit of everything offensively and it is pretty much all working.
------
4:32 p.m.
There could be a lot of points in the Rose Bowl if this keeps up. 
Georgia responded to Oklahoma's long touchdown drive with one of its own. 
Freshman Jake Fromm hit Sony Michel for a 13-yard touchdown and the College Football Playoff semifinal was tied at 7, less than halfway through the first quarter.
------
4:24 p.m.
Baker Mayfield is fine. 
On Oklahoma's first possession, the Heisman winner completed all four of his passes in an 80-yard drive that was capped by a 13-yard touchdown pass to Marquise Brown. 
The Sooners lead 7-0 less than four minutes into the first quarter at the Rose Bowl.
------
4:13 p.m.
The Rose Bowl has kicked off, with No. 3 Georgia getting the ball. 
The first spot in the College Football Playoff championship game will go to either the Bulldogs or second-ranked Oklahoma.
------
3:53 p.m.
With both teams wearing varying shades of red, it is hard to tell Sooners fans from Bulldogs fans from afar at the Rose Bowl. 
But expect a majority Georgia crowd. 
Rose Bowl officials anticipated a better showing from the Dawgs because their team has not played in the Granddaddy of Them All since 1943. 
Plus, with the College Football Playoff championship game in Atlanta, 90 miles from Georgia's Athens campus, Bulldogs fans would only have to pay for one long trip to see their team play twice -- if it wins. Figure the crowd will be at least 60-40 Georgia and that's being conservative.
------
3:01 p.m.
Baker Mayfield is going through his usual pregame warmup as Oklahoma gets ready to play Georgia in the Rose Bowl.
Mayfield has been fighting flu-like symptoms in the week leading up to the College Football Playoff game.
Wearing a white, long-sleeved T-shirt and head band, Mayfield did more running and catching than throwing as a few dozen of his teammates came out early to get warmed up. 
Mayfield got a big ovation from Sooners fans gathered behind the corner of the end zone when he was appeared.
------
More AP college football: www.collegefootball.ap.org and https://twitter.com/AP--Top25