Frosty feelings: Browns fans protest 0-16 season with parade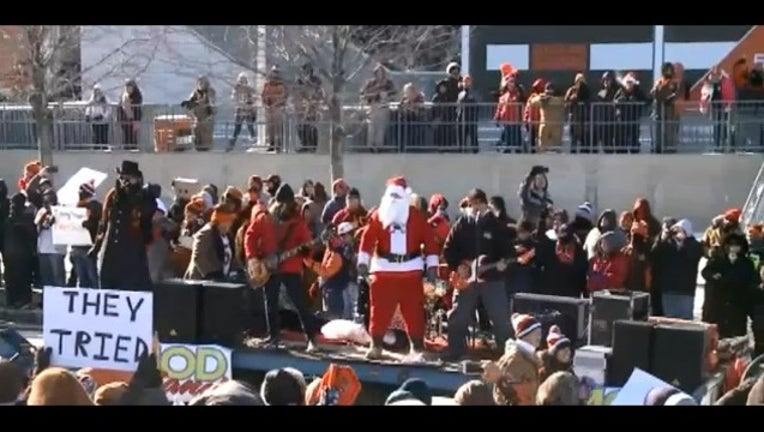 article
CLEVELAND (AP) - Chanting through chattering teeth, Browns fans finally felt victorious.
Maybe the winless season wasn't a total loss.
Thousands of disgruntled Cleveland fans, some of them calling for owners Dee and Jimmy Haslam to sell the franchise or jump in Lake Erie, paraded once around the team's stadium in frigid conditions Saturday following a historic 0-16 season.
It was a protest and it was a party as fans showed their outrage and creativity following a season many would gladly forget.
Despite wind chills below zero, fans lined the street around FirstEnergy Stadium, which has been dubbed the "Factory of Sadness" in recent years, to cheer as 80 vehicles, a rock band on a flatbed truck and a group carrying 28 tombstones to represent the team's 28 starting quarterbacks since 1999, took a "no victory" lap.
Cleveland police conservatively estimated the crowd at 3,200, and reported no major incidents or arrests.
This was frozen fun mixed with some fury.
"I'm here to protest," said Patty Szylakowski, who grew up in a football-loving household with five brothers. "We don't deserve this. We deserve better people in the front office.
"We deserve better people coaching and we deserve better players. We're buying Browns gear every year. We support them every year no matter what. Something has to be done and this is not a black eye on Cleveland.
"Every fan in all the NFL cities should be thinking about this. If they got crap like we did, they would be doing the same thing."
That was the overriding sentiment among the frosted faithful who gathered on the sidewalks just feet away from a statue honoring legendary Browns running back Jim Brown.
This was a day for fans to express frustration at their football team, and most of the anger was aimed at the Haslams, who bought the team in 2012 but have been unable to produce the winner they've promised.
One fan held a sign that read: "Jimmy and Dee Go Jump in the Lake." Another carried by a fan dressed as a bishop said: "Deliver us from Jimmy and Dee."
The biting cold may have deterred some fans from attending, but it did nothing to curb Cleveland's creativity or sarcasm.
Prompted by a fan with a bullhorn, one group of marchers chanted, "What do we want? Watchable football. When do we want it? Now." There were floats, a few of them with obscene themes, fans wearing paper bags on their heads, and a Big Bird wearing Johnny Manziel's jersey. A band played John Mellencamp's "Hurts So Good," a song that underscores the pain and passion Browns fans feel for a team whose glory days are long gone.
For Chris McNeil, the day was a triumph for Cleveland.
A season-ticket holder, McNeil became the event's unintended organizer - and a pariah to some - when his sarcastic post on Twitter last season that the winless Browns "deserve a parade" spawned a revolt by some Cleveland fans.
McNeil endured severe backlash by fans who felt he was only embarrassing a city that has taken its share of shots over the years.
"No fights, no violence," he said as the parade unfolded. "I didn't have to wear a flak jacket, none of that would reflect badly upon us. I don't think anybody's looking at this thing and going, 'look at these idiot Clevelanders who are celebrating 0-16'. I don't think that's the message. This is a clear message to those people (the Haslams) inside the building. That's who we were looking for."
McNeil's only goal was to give Browns fans a voice. He felt he had done just that.
"This stuff matters in this town," said McNeil, who is donating nearly $15,000 raised for the event to the Cleveland Food Bank. "That's why I care about this stuff. I almost get choked up when I think about it, because people don't realize that. You go to other markets, and people enjoy their teams and I get that. But there's a connection here where it's like family. And to see something like the Browns be bad, it's easy for me to make jokes, it's either you do that or you cry.
"But then you look at something like this and you say, 'Man, we had this. In the '80s, this is when you'd leave a ballgame. I remember that. As a kid I'd be sitting in the backseat people honking, people yelling. You'd see that all the time after wins. To get that, we have to create this parade. It just says so much about the character of this city, the character of the people here.
"This is all positive and fun."
___
For more NFL coverage: http://www.pro32.ap.org and http://www.twitter.com/AP_NFL