Former Texas Longhorns baseball coach Augie Garrido dies at 79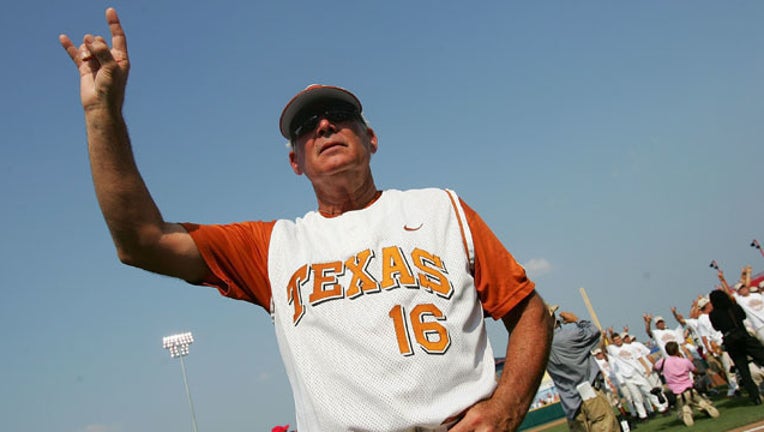 article
AUSTIN, Texas (AP) - Wherever Augie Garrido went in his six decades in college baseball, wins and championships always followed.
His ability to motivate and innovate produced five College World Series titles with two schools and the most wins of any coach in college baseball history.
"I coached against him and watched hundreds and hundreds of other coaches, and he's the best I've ever seen," said Skip Bertman, the retired coach who won five national titles at LSU.
Garrido, who had been hospitalized in California following a stroke on Sunday, died Thursday. He was 79. The University of Texas, where Garrido wrapped up his career in 2016, announced his death.
"We lost one of the greatest coaches of all time, a truly special Longhorn legend and college athletics icon," athletic director Chris Del Conte said. "If you were fortunate enough to have spent time with Augie, or if you followed him in any way, he had a great effect on you with his brilliant combination of wisdom, wit and charm. He was just an incredible coach, molder of men and a great person."
Garrido won three national championships with Cal State Fullerton in 1979, 1984 and 1995. He also won titles at Texas in 2002 and 2005. He stepped away from coaching two years ago and was inducted into the College Baseball Hall of Fame the same year. His 1,975 career wins date to 1969.
"Augie dedicated his life to making young men better people. He will be deeply missed by myself and many others," said Florida State coach Mike Martin, who is 18 wins from overtaking Garrido as the all-time leader.
Garrido also coached at San Francisco State, Cal Poly and Illinois. He was a special assistant in the Texas athletic department since his final season with the Longhorns.
Garrido got the most out of his teams playing a small-ball style reliant on the bunt to move runners along.
"He played 90 feet at a time and had great instincts on the field," Bertman said. "I don't think he really tried to be anything but himself. He had a wonderful sense of humor and was a fun guy. Most of all, he's the best baseball coaching mind for college that I know of."
Garrido won 25 conference championships and national coach of the year honors six times. He was the first coach to win national championships with different schools. Over his career, Garrido's teams played in the College World Series 15 times.
He spent 20 years at Texas, which hired him away from Fullerton in 1997 to replace Cliff Gustafson, who won two national championships with the Longhorns and had the program on a regular rotation at the College World Series.
"The fact you can win three national championships on the West Coast and then come to a different part of the world for our sport and win two more ... ," Texas A&M coach Rob Childress said. "He's the guy who set the bar higher than any of us will ever get to."
Garrido's personality was California cool and his aura as a Zen-master coach who talked as much about thinking about winning as swinging a bat took some time to take root at Texas. But once he did, Garrido had the Longhorns back among the nation's top programs. His best years with the Longhorns were from 2002 to 2010 when he won the two national titles and had six 50-win seasons.
"When we were looking for a baseball coach, we already knew that Augie was the guy we needed, and he did not disappoint," former Texas athletic director DeLoss Dodds said. "He and his kids set the standard that caught fire within the athletics department when they won the national championship in 2002, showing all of our sports what could be done at the highest level."
Garrido's teams produced 15 first-round draft picks in the Major League Baseball and 27 players won All-America honors 34 times.
The Vallejo, California, native played college baseball at Fresno State, where he played in the College World Series in 1959. He played six seasons in the minors with the Cleveland Indians organization before taking his first head coaching job at Sierra High School in Tollhouse, California, in 1966.
"This is a dark day for our sport," Childress said. "Augie Garrido was the godfather of college baseball."
___
AP Sports Writer Eric Olson in Omaha, Nebraska, contributed.